In a short period of time, cryptocurrencies have developed from novelty on the internet to trillion-dollar solutions that have the ability to fundamentally alter the world's financial system. Bitcoin, along with hundreds of other cryptocurrencies, is widely held as an investment and is used to purchase goods and services ranging from software to real estate.
Cryptocurrencies, according to its admirers, are a democratizing force that can wrest the authority of creating new money and controlling it away from central banks and Wall Street. To compete with the recent surge in the value of cryptocurrencies, central banks throughout the world, including the Federal Reserve in the United States, are contemplating the launch of their own digital currencies.
Why are cryptocurrencies still popular?
The value of cryptocurrencies, notably Bitcoin, has exploded in recent years, despite the fact that they were formerly considered a weird hobby of computer enthusiasts. In 2021, the price of a single Bitcoin broke beyond the $68,000 dollar threshold for the first time.
The popularity of cryptos largely arises from their decentralized nature, which allows them to be transferred remarkably quickly and anonymously, even across borders.
Many industry professionals believe that digital assets are primarily useful as investing instruments. However different types of crypto can be used for different purposes, explained in more detail in our recent article on the different cryptocurrency types.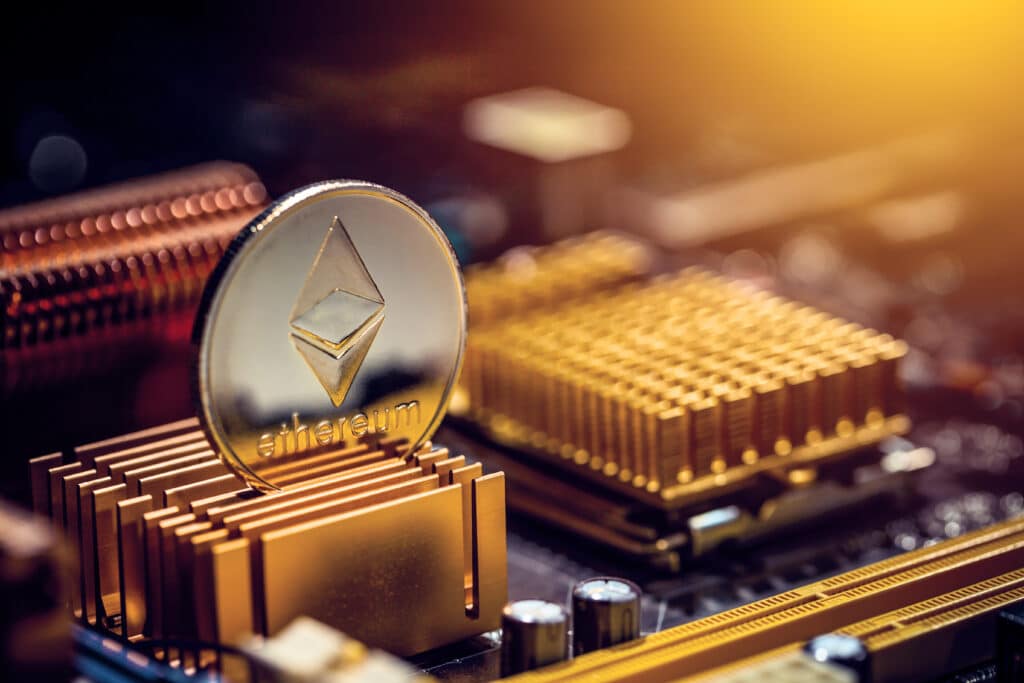 Some financial analysts believe that the dramatic price swings experienced by Bitcoin and other cryptocurrencies reduce the value of using these assets as a form of transactional currency. Despite this, a number of companies now accept Bitcoin.
Bitcoin is sometimes compared to gold, and many investors view it not as a means of exchange but rather as an asset with real value that should be held over time. This is why it has gained extra popularity among residents of countries whose currencies have a long history of instability, such as a number of nations located in Latin America and Africa.
El Salvador particularly has made headlines in 2021 when it became the first government in the world to recognize bitcoin as a form of legal money. As a result, citizens of the country are now able to use bitcoin to pay taxes.
Experts believe that stablecoins have the ability to compete with fiat currencies and become the most common method of payment in the future. Their value maintains a reasonable degree of consistency, and they may be transferred instantaneously without incurring the transaction costs that are often associated with the use of credit cards or international money transfer services.
Moreover, given that stablecoins may be used by virtually anybody, this opens the door for millions of individuals who do not have access to the traditional banking system.
Now, let's get to the real reason you are here, crypto newsletters to stay up to date on the latest cryptocurrency news. Here's our list of the best newsletters on crypto you want to follow.
1. CoinMarketCap
CoinMarketCap sends out a free weekly email (Monday through Friday) detailing the week's top cryptocurrency winners and losers as well as covering global crypto news. The website was founded back in 2013 by Brandon Chez but it still remains one of the leaders in the crypto world.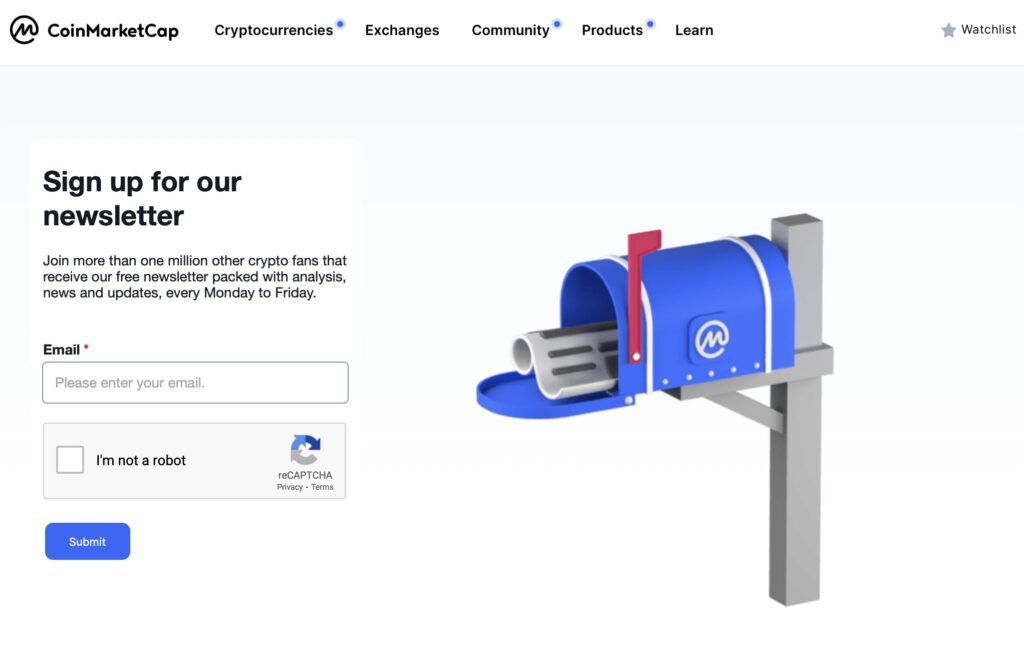 CoinMarketCap, which tracks cryptocurrency prices and provides market statistics by multiplying prices by the total number of coins in circulation, is frequently cited by major media sources like Bloomberg and Fortune. CoinMarketCap, which is now held by Binance Capital Management, also hosts annual conferences and offers an informative blog for crypto enthusiasts.
2. Marty's Bent
Rather than bury you in a mountain of reading material, Marty Bent compiles a short and quick newsletter every weekday that covers anything relating to Bitcoin (BTC) or cryptocurrencies that he found insightful during the past 24 hours.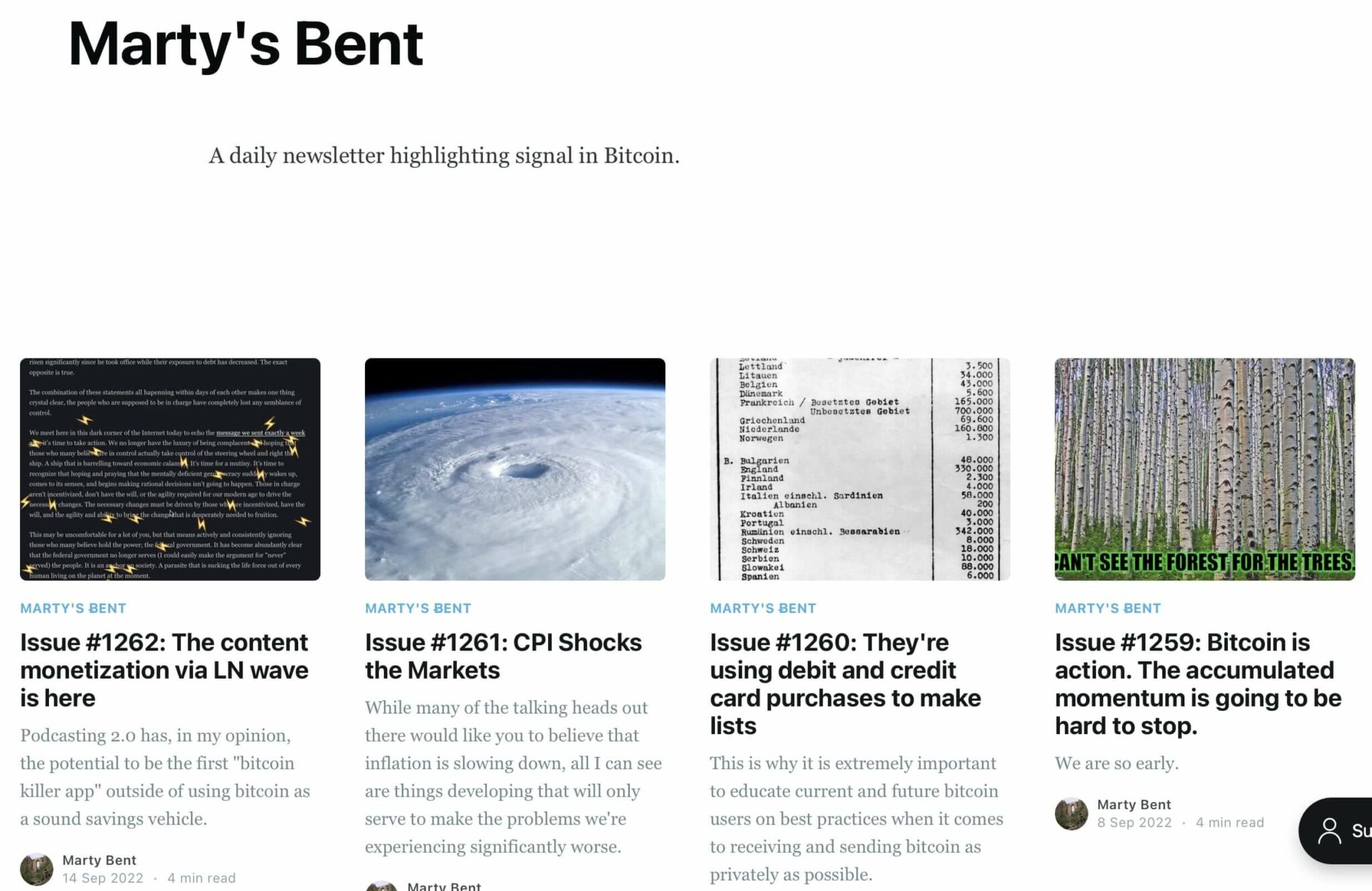 Marty's perspective isn't for everyone, particularly given that he leans slightly toward Bitcoin (BTC) maximalism. If you get offended easily when someone criticises your favorite coin, then you should probably stay away. For anyone else, sign up to his bold and frank opinion on the world of Bitcoin (BTC) and cryptocurrencies.
3. CoinSnacks
CoinSnacks, formerly known as CryptoWeekly, is a newsletter that gathers and revises the week's top cryptocurrency news and publications. The platform was launched in 2017 and since then it has been providing summarised cryptocurrency news and easy-to-understand analysis via its free weekly newsletters. They are targeted at different categories of readers: beginners, investors, and traders.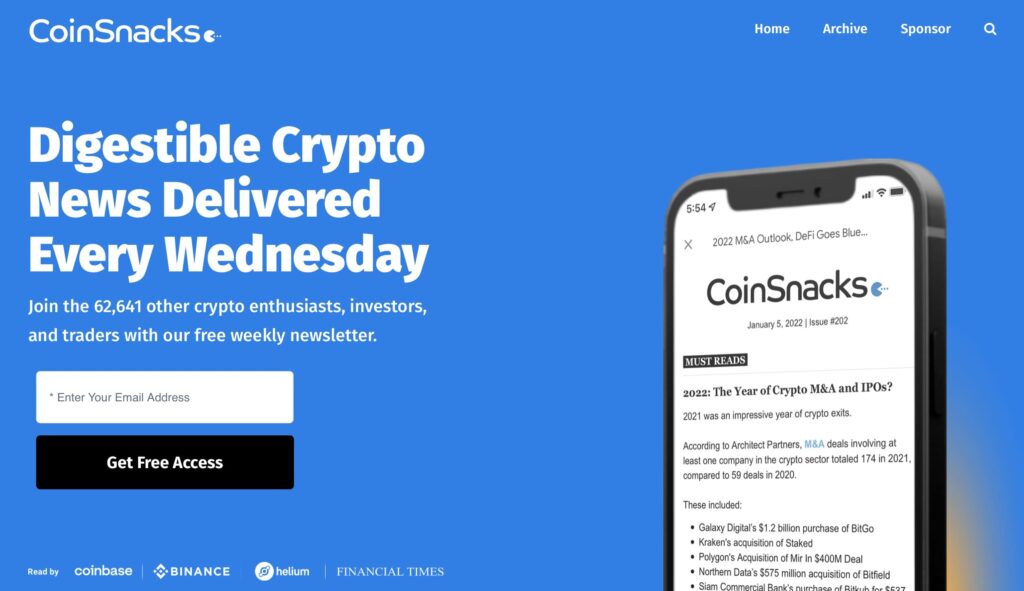 The newest CoinSnacks emails are available to about 62,000 recipients every Wednesday.
4. Bloomberg Crypto
Bloomberg Crypto is an excellent choice if you are searching for a trustworthy source. One of the largest financial and media corporations, Bloomberg, offers over 40 newsletters on a daily and weekly basis. Bloomberg Crypto distributes periodic monthly updates covering the cryptocurrency industry, blockchain technology, digital assets, and related topics.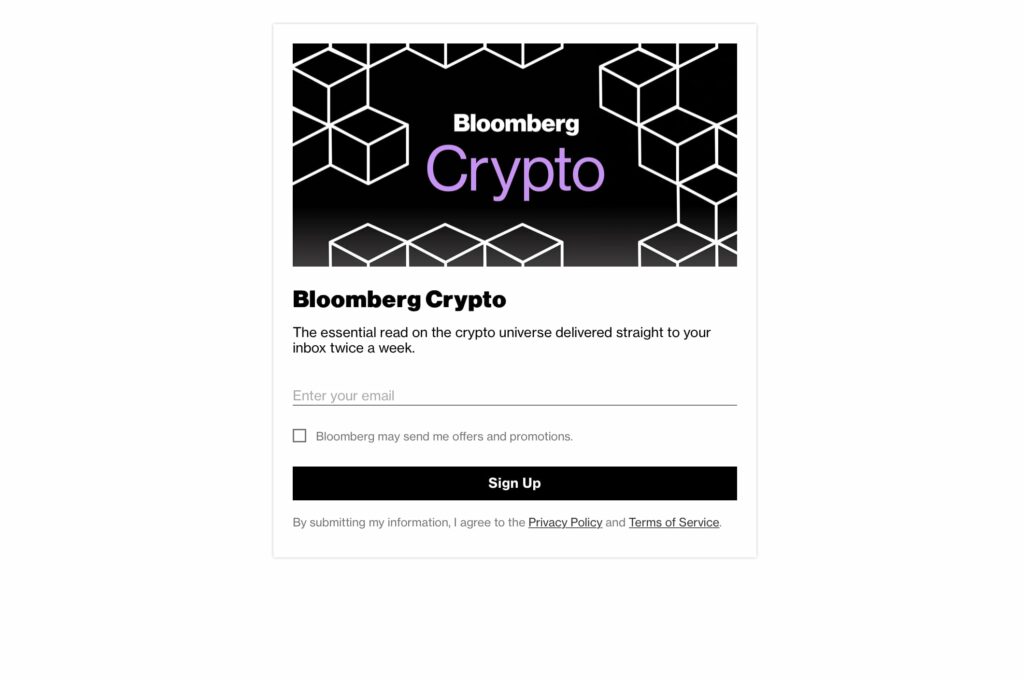 With references to relevant publishings on Bloomberg and other reliable news sources, the newsletter outlines the crypto forecast for advisers and investors. Bloomberg also hosts a daily podcast about cryptocurrencies called Bloomberg Crypto.
5. Coindesk
The ever-changing landscape of digital money and its impact on the global economy are topics explored at CoinDesk. Since 2013, the Digital Currency Group's (DCG's) CoinDesk has served as a source for news related to cryptocurrencies and other digital assets. Those interested in personal finance and investing can choose from eight different weekly newsletters, all of which are available for free.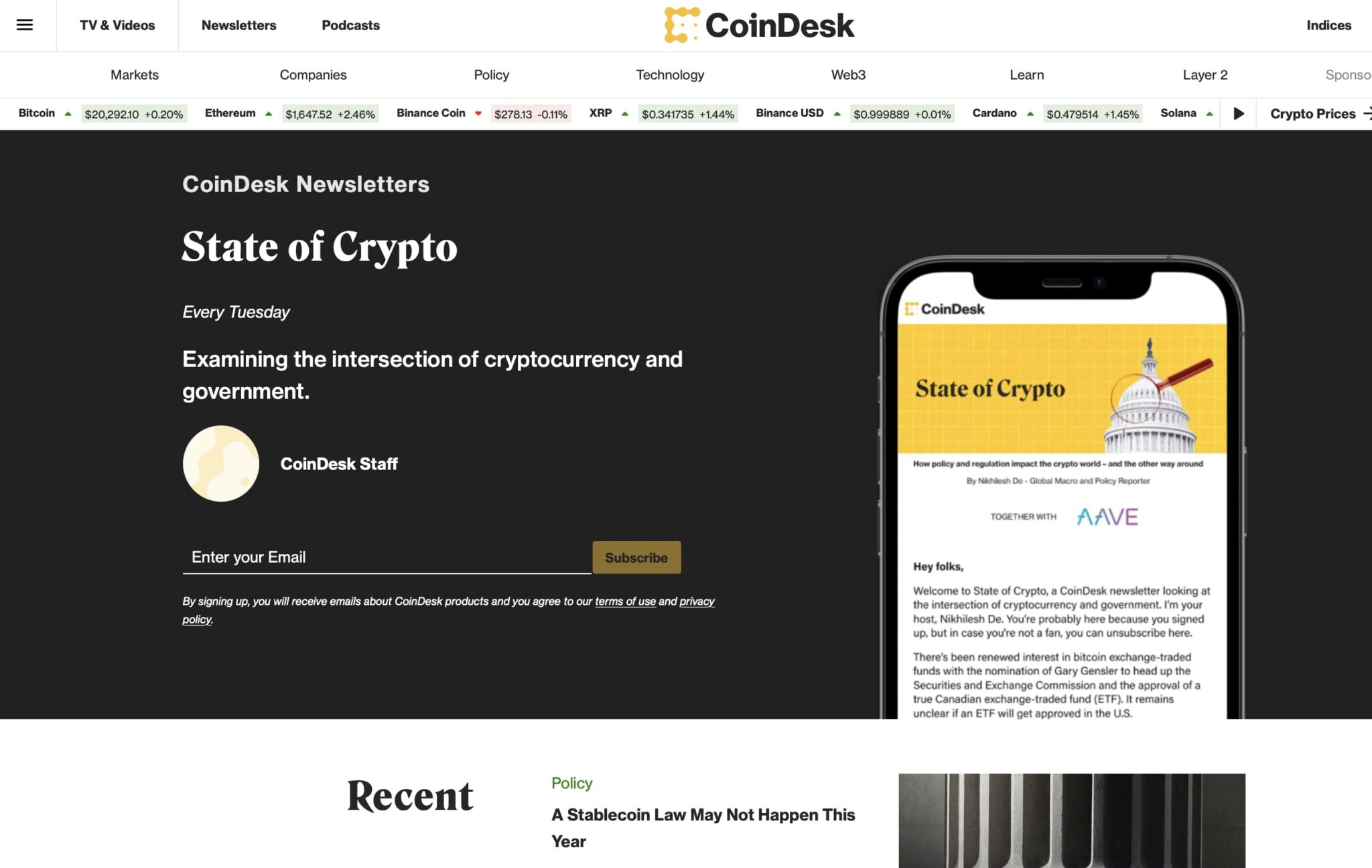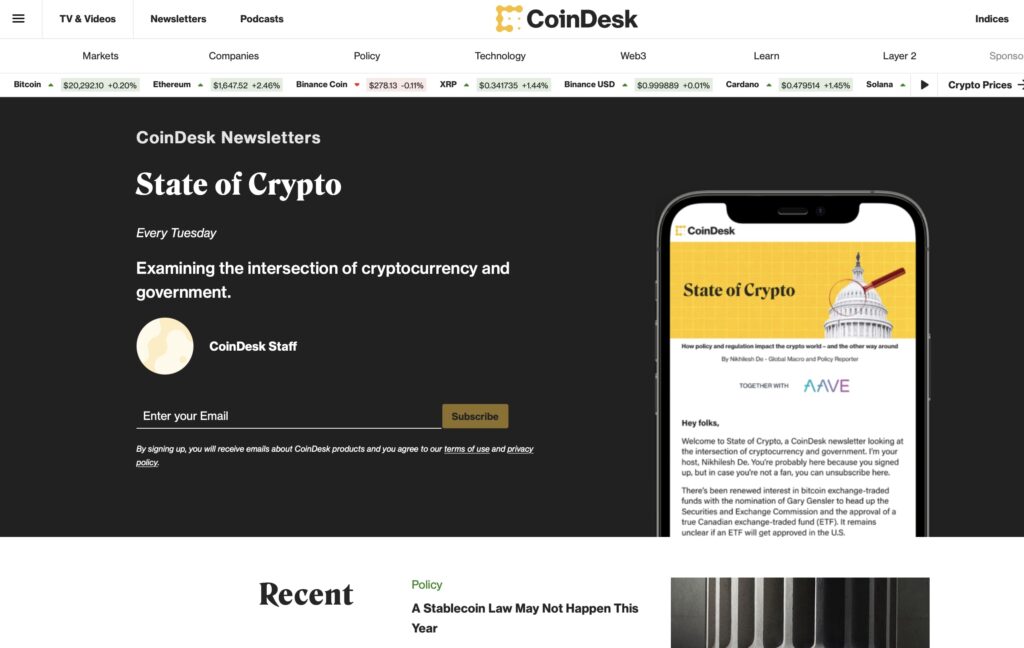 CoinDesk's Market Wrap, which explains the day's events in the cryptocurrency markets, is delivered by email every weekday. Crypto for Advisers is a Thursday issue that educates financial and registered investment advisors about cryptocurrencies so they may better counsel their customers. The Node, Money Reimagined, and State of Crypto are just a few of the other publications in this space.
6. Bankless
David Hoffman and Ryan Sean Adams established the crypto community Bankless in 2020. The name was inspired by the "unbanked" characteristics of cryptocurrencies. Bankless is a website, podcast, and YouTube channel that has amassed tens of thousands of registered subscribers.
It offers beginner-friendly explanations while delving into more advanced topics for experts. When it comes to keeping up with developments in the worlds of DeFi and Web3, Bankless is one of the best newsletters out there. They do an excellent job at breaking down difficult concepts into easily digestible chunks. The highest possible recommendation.
7. The Pomp Letter
The American businessman and investor Anthony Pompliano (also known as "Pomp") publishes a newsletter called The Pomp Letter. Everything from business and technology to money and cryptocurrency is covered in this newsletter. It provides a summary of recent events that have captured Anthony's interest as well as some excellent commentary.
You can only get the Monday edition for free, despite the fact that it is published every day. If you want every publication, you'll need to subscribe. When you subscribe, you can listen to episodes of "The Pomp Podcast" that aren't available to the general public.
8. Unbankd
Unbankd, based in Minneapolis, was founded in 2018 to help customers with keeping up with the volatile crypto space. You may sign up for Unbankd's daily email with brief crypto market updates, for free. Or you can upgrade to the premium version every month for $9.99.
News, market updates, studies and surveys, jokes of the week, and op-eds are included in the ad-free edition available to paying members. Unbankd's aim is to demystify the worlds of investment, digital assets, and cryptocurrency.
9. The Wolf Den
Cryptocurrency fan Scott Melker publishes a newsletter called Wolf Den, which has over 39,000 readers and 500+ issues. Every workday a brand new newsletter is released, and there is no charge for it.
Melker publishes his opinions on the cryptocurrency market, offers guidance on current issues, and reveals his own financial investment in the industry. Analysis of cryptocurrency markets, graphs, trading lessons, and guidance for dealing with the psychological and emotional aspects of the market are all presented in the newsletter.
10. Decrypt
Decrypt was established in 2018 by editor and author Josh Quittner, whose work has featured in publications including Fortune, Time, and Newsday. There are four different newsletters that Decrypt provides for free, they are the Daily Crypto News Highlights, the Weekly DeFi News Report, Decrypt's Weekend Roundup, and Job Openings in Crypto.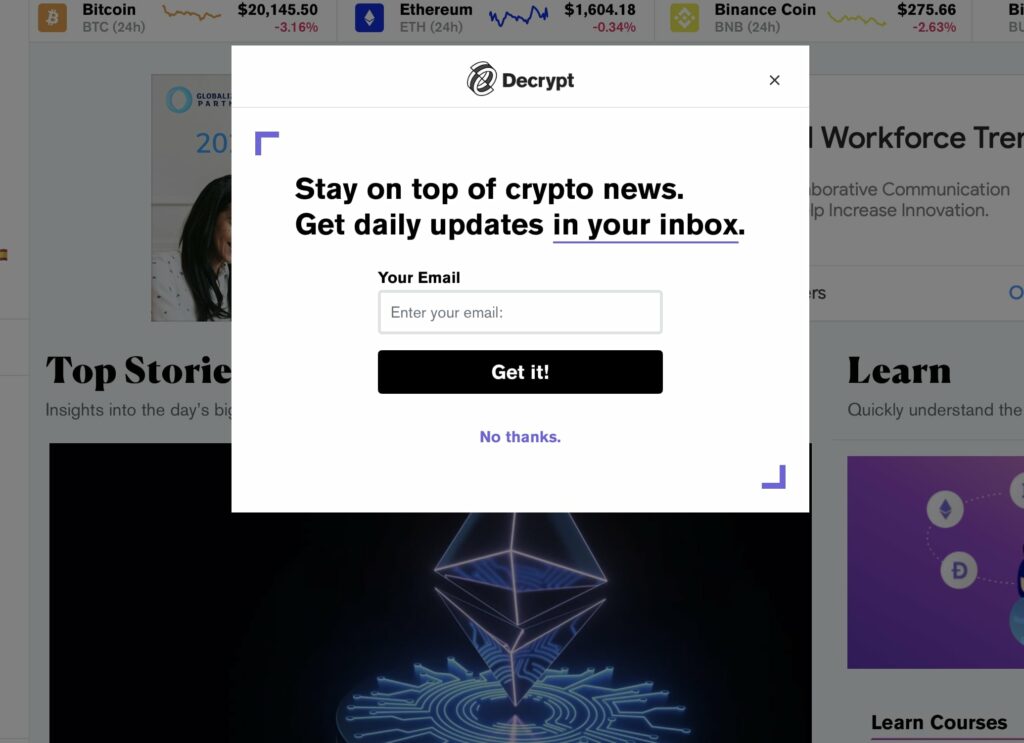 With Decrypt, you can gain complete access to the latest updates on blockchain technology and cryptocurrencies. Its daily roundup of cryptocurrency-related news is sent right to your inbox, so you never miss a beat. All subscribers get free daily access to Decrypt's podcast. Members of the Decrypt staff who have financial stakes in digital currencies like Bitcoin, Ethereum, or NFT are allowed to report those holdings in their bios.
11. Coin Bureau
"Guy," a popular YouTuber, launched the Coin Bureau in 2017 with the goal of providing people all around the world with easier access to knowledge on blockchain technology. Through its weblog, YouTube channel, and Telegram, the Coin Bureau connect with around 2 million users.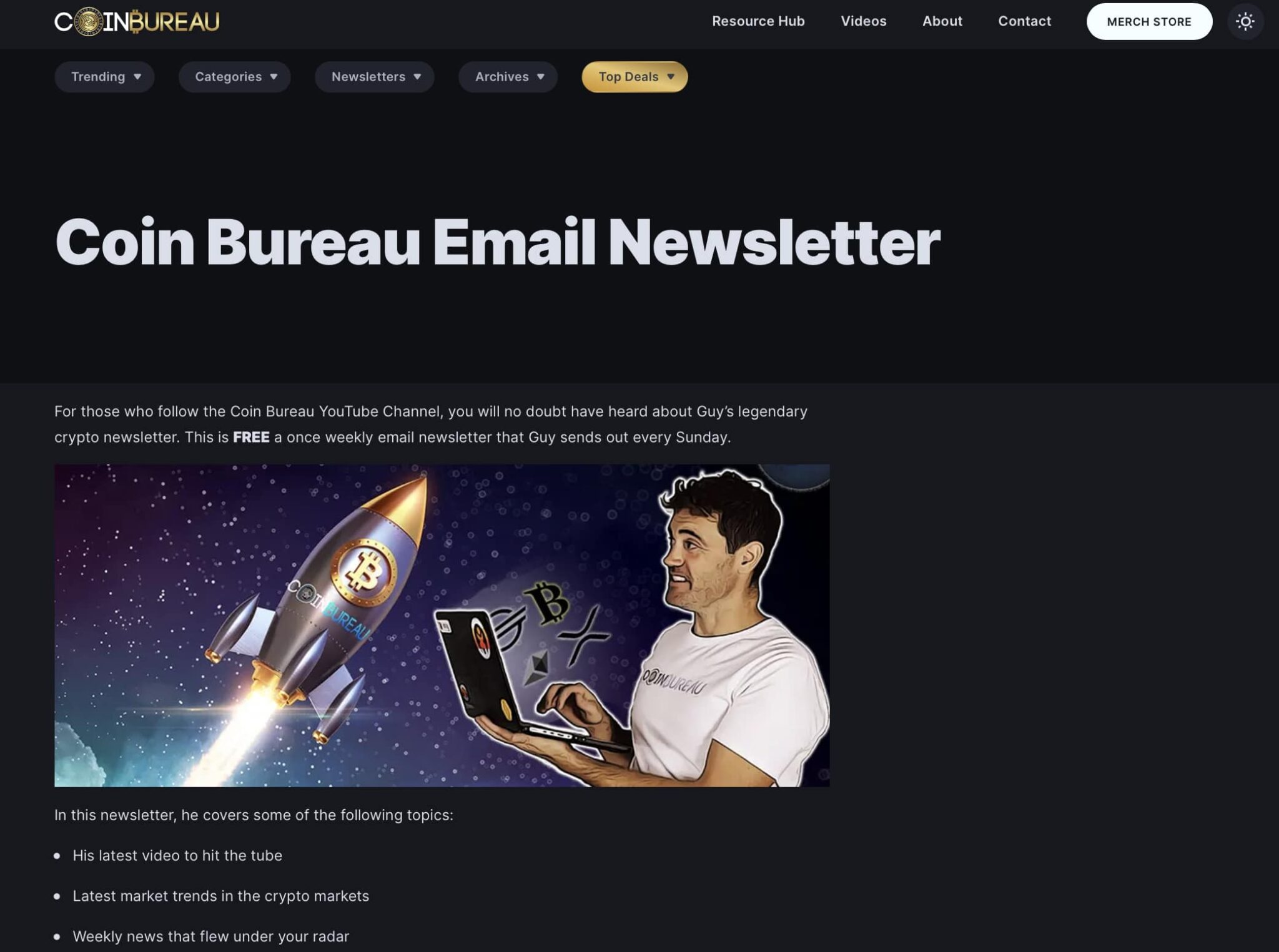 Every Sunday, at no cost at all, people may get the most recent news sent directly to their inboxes. There are a lot of followers because they want to monitor how the market shifts impact Guy's portfolio (read about crypto trackers for your own portfolio). However, in addition to market reports and recommendations for hot coins and videos from the most recent uploads on YouTube, the newsletter also provides helpful hints for newcomers.
12. Defiant
Defiant is an indispensable information platform for providing insights on DeFi, NFT, Web3, and the Open Economy. It's a source of expert information on the interplay between technology and economics.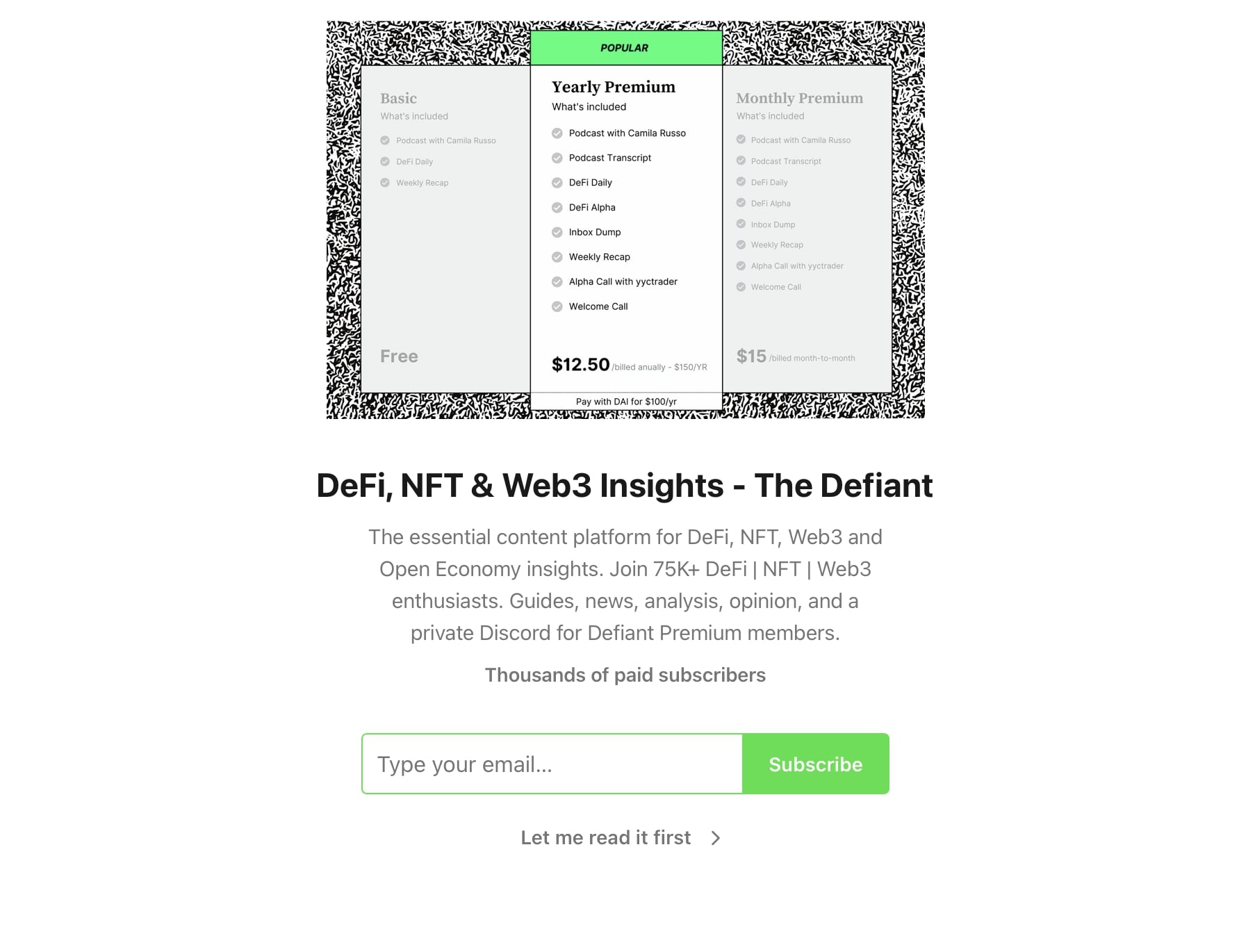 More than 75,000 DeFi, NFT, and Web3 fans have subscribed to the newsletter. You can receive guides, updates, analysis, and comments on crypto in one place. Premium subscribers may benefit from private Discord.
13. Rekt Capital
Today, the Rekt Capital Newsletter is regarded as one of the world's top technical analysis newsletters for the cryptocurrency market, ranking in the Top 4 Crypto Newsletters on Substack. The Rekt Capital Newsletter strives to inform and educate cryptocurrency traders and investors about the principles, significance and functionality of Technical Analysis.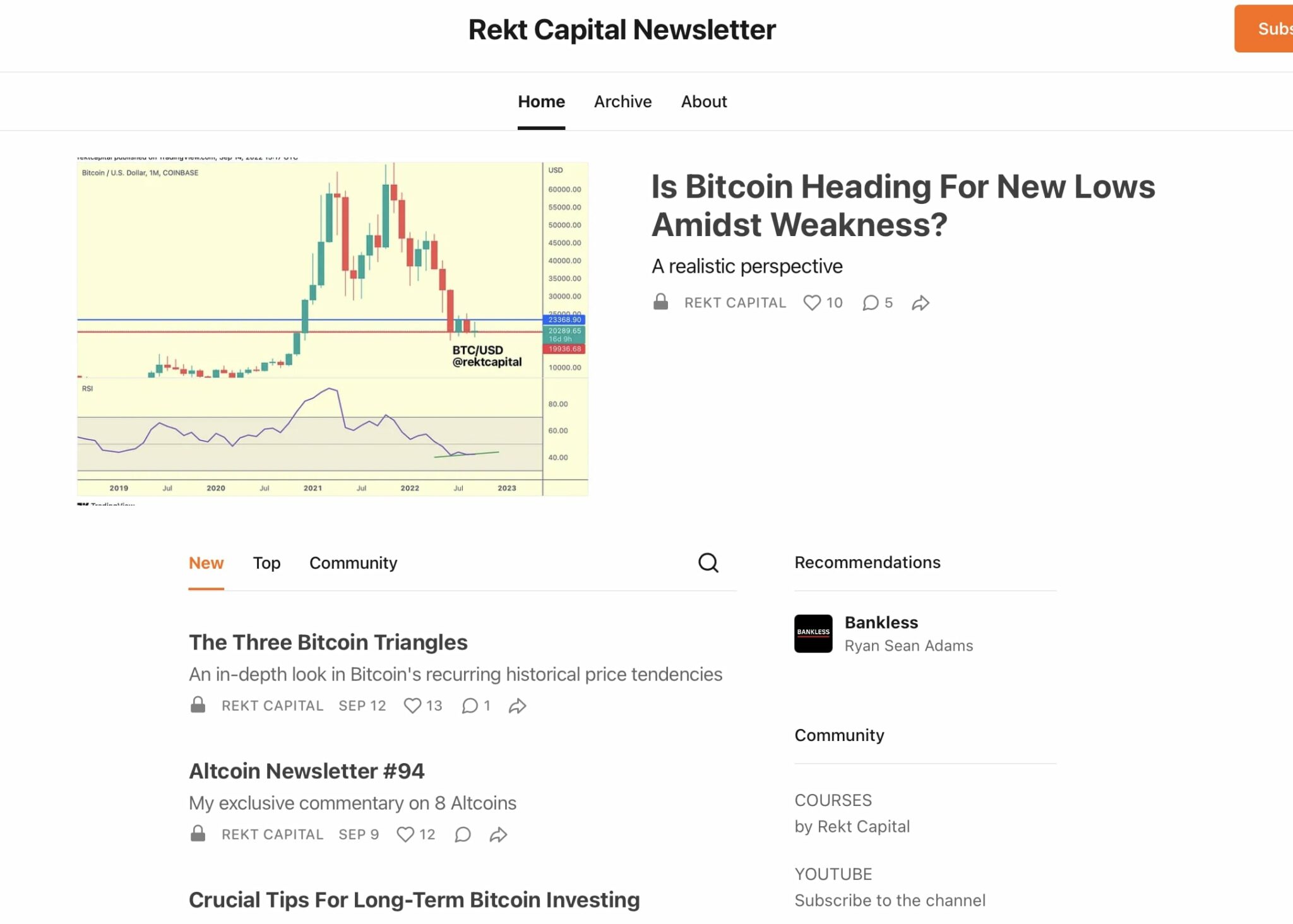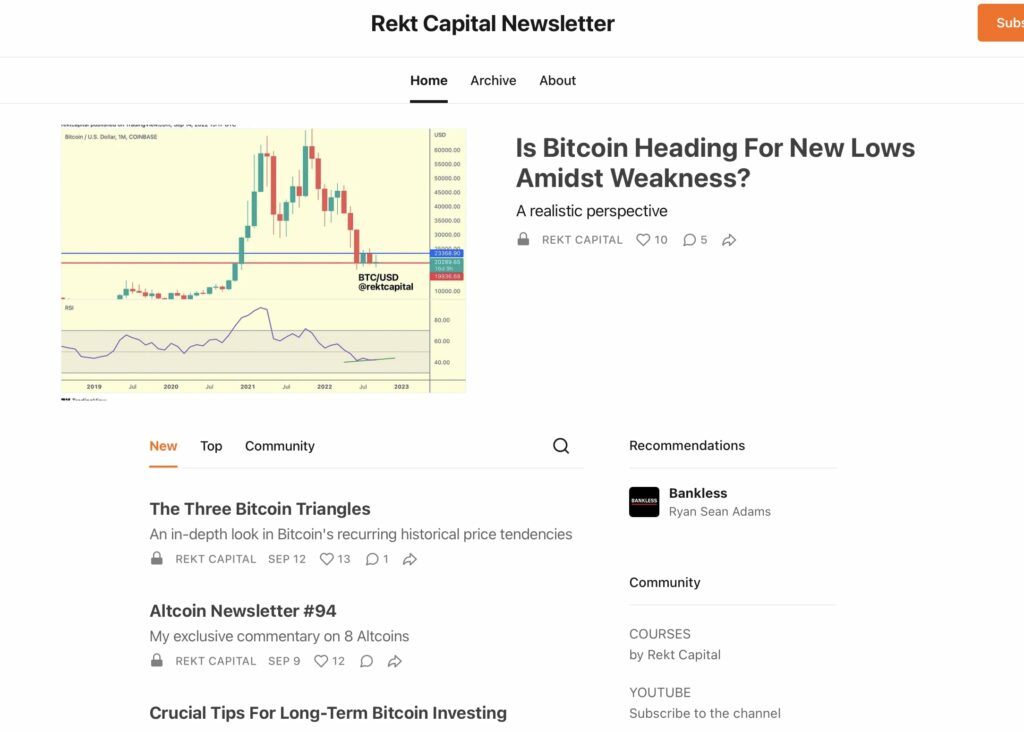 The newsletter is an independent, up-to-date market study on Bitcoin and altcoins by a cryptocurrency analyst who has been featured in Forbes and CoinTelegraph. More than 45,000 crypto enthusiasts and experts are already subscribed to Rest Capital.
14. The Weekly Update
This weekly email from Arcane Research will keep you updated on all the latest happenings in the world of cryptocurrencies. Their content is educational and backed by solid evidence. Studies of specific cryptocurrencies, blockchain activity, capitalization, analysis of market psychology, price movement, and critical crypto news are among the primary subjects addressed.
Professionally written content with unique charts and illustrations is provided to the newsletter's paying subscribers.
The Weekly Update's goal is to increase trust in digital assets and facilitate their widespread use.
Should you read this, that, or neither?
Get yourself caught up on the crypto news that is relevant to you by reading and subscribing to the outlets that align with your mindset. Don't waste your time reading irrelevant information, pick something that specifically meets your needs and select what is right for you.
Which crypto newsletter is your favourite? Let us know in the comments below!