With the crash in cryptocurrency last June, tracking your portfolio has become more crucial than ever before. The Terra Blockchain ecosystem that resulted in $40 billion worth of tokens worthless along with bitcoin falling approximately 70% has become the worst nightmare for crypto investors.
While tracking your different wallets and blockchains can be a pain in the neck, you don't want to be caught by surprise with another crash in the future. 
Using crypto portfolio trackers is the best solution to this problem. The tracker helps you assess your gains and losses in real-time, enabling you to plan your next move. They can even track your PnL, which is not easy to do with most wallets.
A crypto tracker can also monitor the value of your assets if you keep them on a hardware wallet for protection.
In this article, we chose the best crypto portfolio trackers that are available on the market. We have analyzed the features, pricing and pros and cons of each crypto tracker to help you choose the one that suits you the most.
So are you going to sit and speculate about your crypto investment or will you grab a crypto tracker and know for sure?
What Are Cryptocurrency Portfolio Trackers?
A crypto tracker is a digital tool designed to help you monitor the changes in the price of your cryptocurrencies in real-time. The apps can be linked to a range of different wallets, platforms, and blockchains.
Instead of tracking your wallets separately, the crypto portfolio tracker unifies all of your assets on one ‌screen. You can even oversee your transactions, their source, and worth with these apps.
The most common features of crypto portfolio trackers are:
Conversion rates for various cryptocurrencies
Filters to categorize your cryptocurrencies
Personalized portfolios
Now let's get started tracking that investment of yours.
Best Crypto Portfolio Trackers
Here's the list of best crypto portfolio trackers to stay on top of your investments.
1. eToro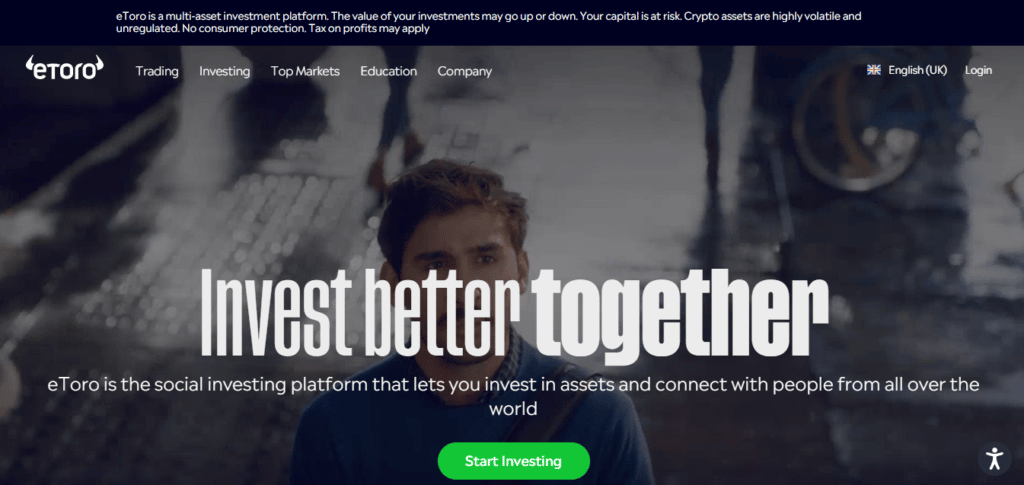 eToro is a crypto trading platform that acquired the coin tracker Delta in 2019. The platform now enables tracking of your portfolios for all cryptocurrencies from its dashboard. With eToro, you can do your market research, and get ProCharts and technical analysis.
eToro offers more than tracking your portfolio. You can also customize your watch lists with your chosen crypto, monitor the gains and losses, and find the new trends before anyone else. Compared to other crypto portfolio trackers, eToro takes a 1% commission for selling and buying crypto.
The platform also has an amazing insurance policy from Lloyd's of London that covers up to 1 million GBP, AUD, or Euro. However, non-CFD or crypto assets trading is not covered in this assurance.
Etoro Pricing
eToro platform is free to use. However, there is a 1% commission fee that is calculated for selling and buying cryptocurrencies. eToro includes this fee in the market price.
Etoro Features
Tracks over 40 cryptocurrencies
Copy-trading crypto investors for beginners with minimal skills
1% commission fee
Smart portfolio groups where people are assembled based on a common strategy or theme.
All funds are kept in a separate account to keep your money safe if ever eToro goes bankrupt.
Pros and Cons
| | |
| --- | --- |
| Pros | Cons |
| Easy process for opening an account | Offers only one base currency account |
| Social trading | Expensive non-trading fees |
| Low minimum amount to open an account and start trading | |
2. Pionex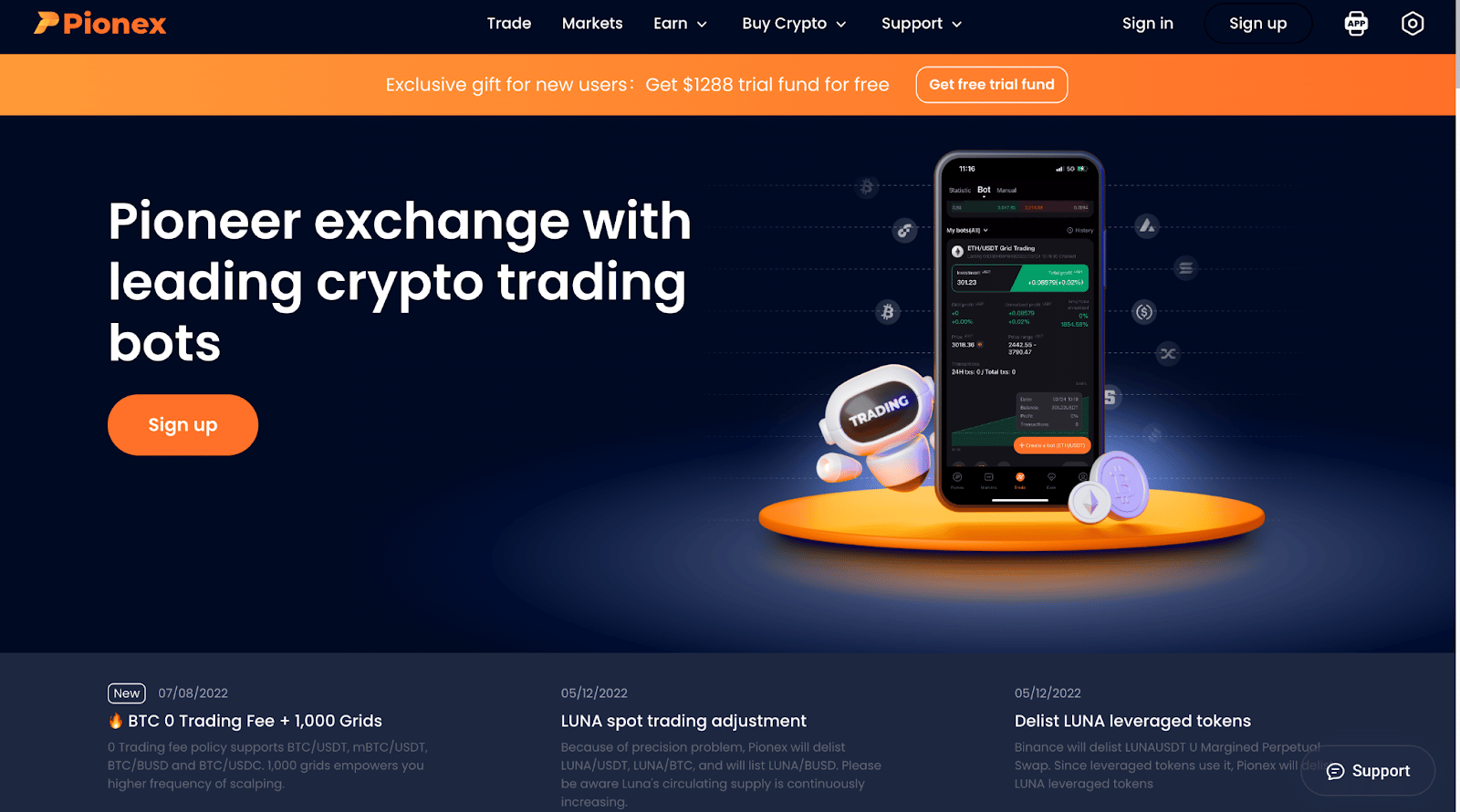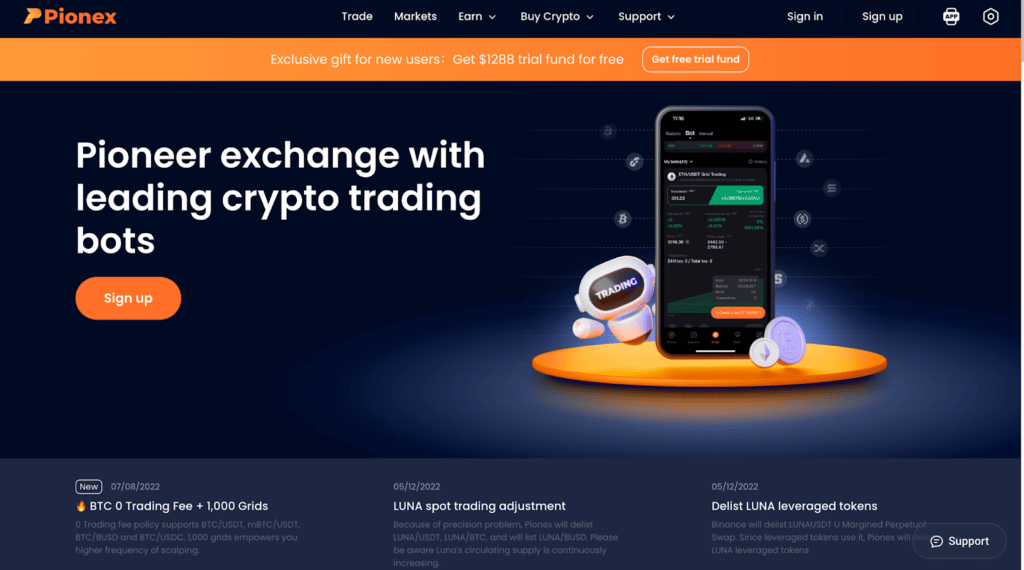 Pionex is a cryptocurrency exchange that contains a trading robot on its platform. The robot has 18 trading bots included in its algorithm for the direct buying and selling of cryptocurrencies.
You don't have to keep checking the markets as you can automate the trading bot 24/7. Pionex works with Huobi Global and Binance and is one of the biggest brokers with Binance.
This crypto tracker can be accessed from every major web browser. To build trust among Pionex users, Pionex Arbitrage has set limitations to control the risks of investing with a bot. These limitations are followed when investing with altcoins and are constantly updated. Recently, Pionex has upgraded its wallet service to make it more user-friendly.
You can sign up for free and decide on your favorite trading bot with Pionex. There is also a Smart Trade Terminal that allows you to set up functions like take profit, trailing, and stop-loss for one trade. Compared to other crypto trackers, you only pay 0.05% commission for buying and selling on the platform.
Pionex Pricing
There are different withdrawal fees for different coins, as explained here. The maximum daily withdrawal is different for different KYC levels. The rules are:
KYC LV.0:0 USDT
KYC LV.1:2,000 USDT
KYC LV.2:1,000,000 USDT
Features
Customizable and intuitive interface with live chats.
Grid Trading Bot provides high sells + low buys at a particular price range.
Can trade with a bank account
Smart Trade terminals can set up take profit, stop-loss, and trail.
Lowest trading charge at 0.05%.
Approved US FinCEN's Money Services Business License
Pros and Cons
| | |
| --- | --- |
| Pros | Cons |
| Easy to use cryptocurrency exchange | Cannot import a trading strategy, script or indicator |
| 18 built-in trading bots that are beginner-friendly | No demo account to test different bot tradings |
| Supports more than 350 cryptocurrencies | No in-depth reports and data to analyze performance of trading bots |
| 0.05% trading fees for buying and selling | |
3. FTX (Also Called Blockfolio)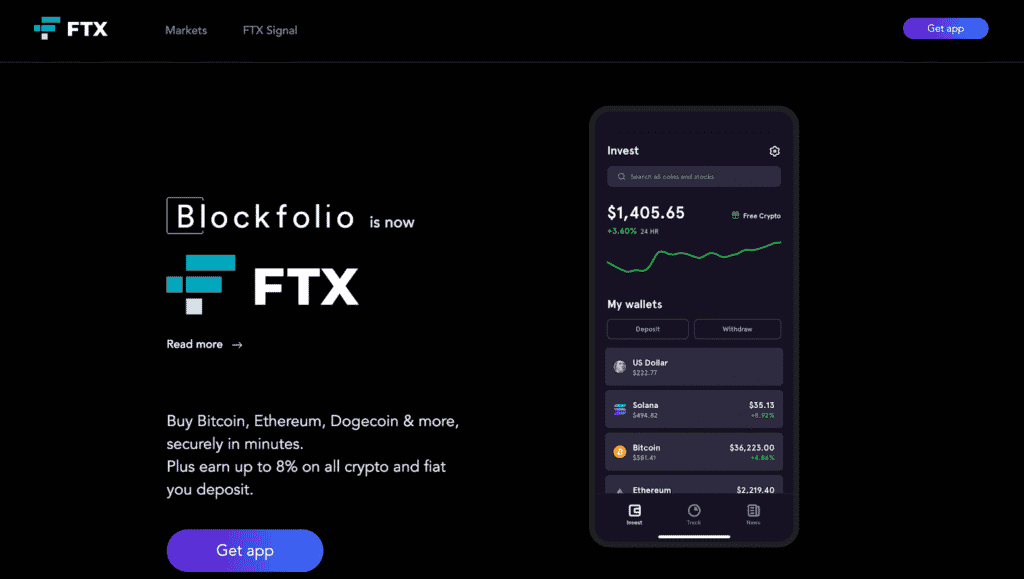 FTX is a mobile crypto portfolio tracker that is commonly used for monitoring cryptocurrency portfolios, including Ethereum, Litecoin, Bitcoin, and Ripple. It features a highly user-friendly interface that makes adding and removing to your portfolio extremely easy.
This tool has a useful function for creating price point alerts and getting notifications when a certain coin hits those prices. Additionally, FTX features live news from well-known cryptocurrency news websites like Bitcoin Magazine.
FTX is an intuitive mobile app where you can keep tabs on your portfolio and receive crucial information whenever you need them. The app is accessible to iOS and Android users alike.
FTX Pricing
FTX is free to use. There are no trading fees and no fees for the crypto portfolio tracker. FTX also has a free token team communication platform.
FTX.com Features
Quick and easy-to-use interface
Prompt notifications for new price alerts on preferred cryptocurrency
Tracks over 10,000 cryptocurrencies
Available on iOS and Android
Two-step verification process
Pros and Cons
| | |
| --- | --- |
| Pros | Cons |
| Earn cryptocurrencies for every $10 trade | No desktop formats |
| Tracks over 10,000 coins | No transparency regarding security measures |
| Access other crypto exchange platforms | Less options for US residents compared to other portfolio trackers |
4. Coinigy
Coinigy is a one-stop platform that accumulates all your exchange accounts and wallets on one dashboard by using API keys. It provides financial institutions and retail traders with a platform that includes a digital stock trading and analytics package.
Additionally, Coinigy offers third-party application deployment options, order execution and portfolio management services, historical and real-time data, and order metrics.
The platform gives you access to a single interface through which you can deposit money, check balances, execute trades, and spot trends on all the major cryptocurrency exchanges.
With its free lifetime plan, Coinigy offers a 30-day trial that includes all of its advanced features
However, after the free trial, there is a payment fee to get access to their account portfolio management features.
For better security, all your funds are not directly handled by Coinigy. All your funds remain stored in your exchange wallets. There is also a two-factor authentication service that protects access to your account.
Coinigy Pricing
Coinigy offers a 30-day free trial. Pricing will depend on what account you choose after the free trial.
Pro Trader: $18.66/month when purchased annually
API Develop Pro: $99.99/month
Aside from the monthly fees, you do not have to pay additional fees for trading.
Coinigy Features
Connects with your exchange accounts
24/7 automatic crypt portfolio tracking
75+ technical indicators
Unlimited chart layouts and API accounts
Security and Stability all year long
Pros and Cons
| | |
| --- | --- |
| Pros | Cons |
| Supports several exchange accounts on one dashboard | API integration is not supported in some US exchanges like BitMex |
| Strong chart integration | Setting up API links to trading accounts is time-consuming. |
| Various technical analysis tools | |
| Access to more than 45 exchanges | |
5. CoinTracker
A bitcoin portfolio management program called CoinTracker automatically syncs your transactions and balances. You can set up personalized notifications, manage your portfolio, and even quickly access your tax paperwork thanks to its user-friendly design.
With CoinTracker, you can keep tabs on your complete portfolio and view your assets in one location. It connects with more than 1,500 cryptocurrencies and leading exchanges like Binance, Coinbase Pro, Bittrex, Kraken, and Huobi.
CoinTracker also has a reliable tax calculator and free crypto portfolio tracker. It automatically links all of the exchanges and wallets to your CoinTracker account, It can quickly determine your earnings and losses, and create tax forms and submit them with the help of its automated tax software. You can even import your transactions via an API key or a CSV file depending on the exchange.
If cryptocurrency taxes are something that you are worried about, as you should be, we recommend you check out our article on the best cryptocurrency tax software.
CoinTracker Pricing
The pricing plan for CoinTracker is dependent on the number of wallets synced to your account.
Up to 5 wallets: free
Up to 30 wallets: $14/month
Up to 100 wallets: $99/month
Up to 1k wallets: priced individually
CoinTracker Features
Desktop and mobile versions, supported by iOS and Android
Creates tax reports and files annual tax returns
Analyses your portfolio's performance
Exports CSV files to manage your portfolio
Pros and Cons
| | |
| --- | --- |
| Pros | Cons |
| Free version for up to 5 wallets | Price is expensive after 5 wallets |
| Daily portfolio updates | Minor bugs were detected with integrations |
| Analysis of portfolio performance over time | |
| Portfolio analysis by crypto | |
6. Coin Market Manager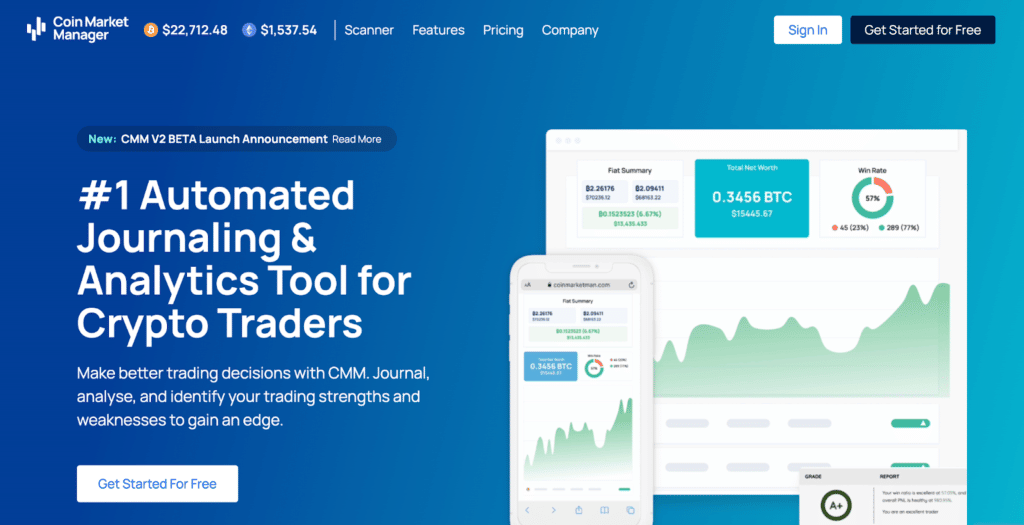 For cryptocurrency traders specifically, Coin Market Manager is a portfolio tracker, automatic journaling, and sophisticated analytics tool. This is a complete system that enables monitoring storage, ICO investments, and real-time exchange positions for building a BTC stack.
Coin Market Manager is software that shows the real-time pricing of all cryptocurrencies. Over a thousand coins are listed on the app.
The program also includes a pricing graph that displays how cryptocurrency values have evolved over time. To more clearly view the intricacies, the chart may be zoomed in.
You may generate an API key on most cryptocurrency exchanges, which you can use to access your account and carry out transactions automatically. However, Coin Market Manager doesn't have a mobile app while ‌few exchanges support it.
Coin Market Manager Pricing
With Coin Market Manager, customers can enjoy the free plan which includes Math lab tool, live tracking yet, only 1 account per exchange.
However, you can unlock all the paid features if you enroll in their free referral program.The paid plans include all the free content as well as more automation tools. The price starts at $69.99/month for the professional plan and climbs to $89.99/month for the Enterprise plan.
Features
Rapid information turnover; it has information on the most recent cryptocurrency and digital token prices.
Intuitive dashboard; users may easily traverse the website with its user-friendly UI.
Full transaction report; it includes a full description of each transaction as well as a complete list of them. The amount of coins that are accessible for each cryptocurrency and the digital token is also disclosed.
Price update notifications; you won't ever again lose out on a chance thanks to its ability to set notifications for price changes.
Pros and Cons
| | |
| --- | --- |
| Pros | Cons |
| Real-time crypto tracking | No mobile app |
| Amazing UI | Few supported exchanges |
| Effective search engine and charts | |
| Intuitive and simple user interface | |
7. Delta Exchange
As we covered when talking about eToro, it's time to deep-dive into their acquisition of the Delta Investment Tracker. Delta is a mobile application that allows you to retain an overview of your whole investment portfolio, including cryptocurrency.
You may only connect to two exchange platforms with the free version, however, this restriction is removed in the premium version. A built-in news section gathers articles that fit your portfolio. A similar procedure will be used for adding cryptocurrency wallets.
The transaction history, coin split, and source may all be analyzed by free users. The excellent and poor investment choices, fee breakdown, and other information are shown in the pro version.
Delta Exchange also provides a performance analysis of your trading history and assets. It contains a summary of your asset sources, asset locations, transactions, most-used exchanges, and investment status.
Delta Investment Tracker Pricing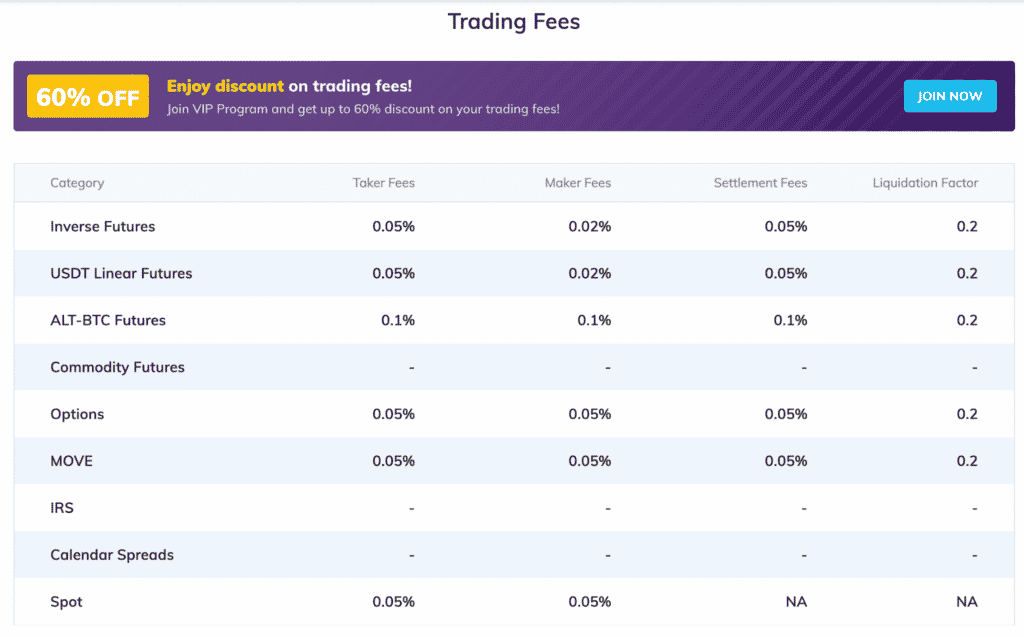 The settlement fee applies to all open contracts at the time of settlement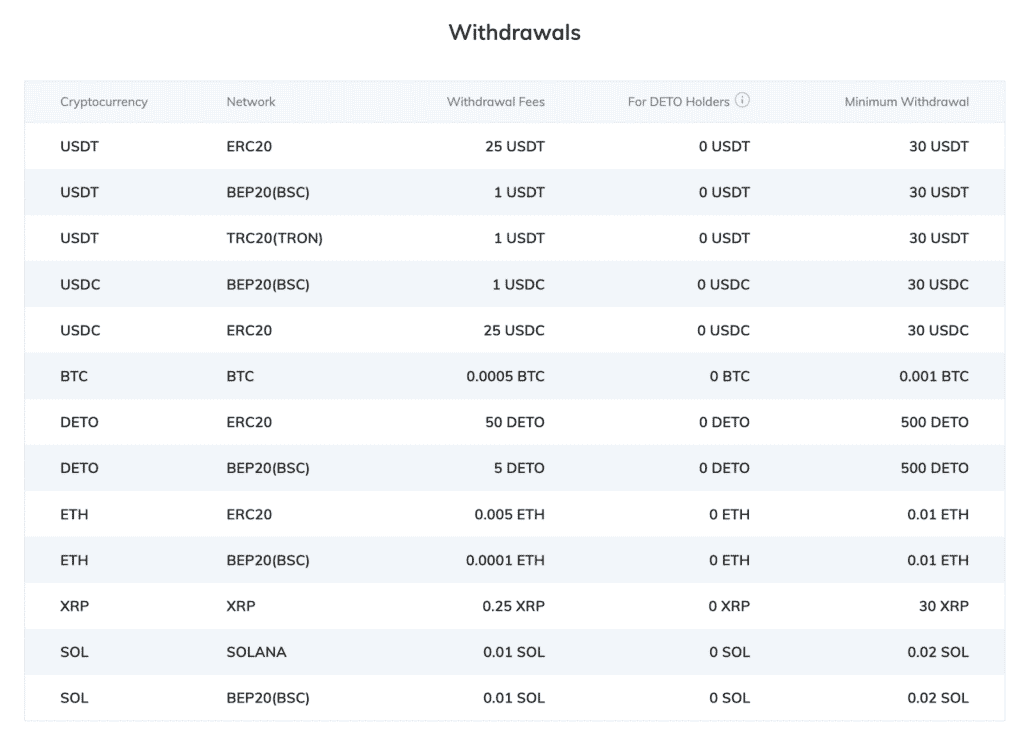 Most of the withdrawals are processed within 30 minutes; some withdrawals might take up to 24 hours
Features
Coin analysis‌; With Delta exchange, you will have access to the price of different assets, charts, market cap, volume, highs& lows, order book, depth chart, holdings, and profit/loss for the current transaction.
Data syncing and backup across devices; Simple data syncing or transfer across devices without the requirement for an account Backing-up your data is also simplified with their recovery QR code.
Continuous development; Delta is continually being improved. This year, the company plans to add a ton of new capabilities, including mobile synchronizing, API synchronization, sophisticated notifications, and order books.
Pros and Cons
| | |
| --- | --- |
| Pros | Cons |
| No minimum deposit required | Liquidity for several trading pairs is not sufficient |
| It offers traditional and perpetual futures contracts for Bitcoin | Perpetual contracts for Bitcoin are low |
| 24/7customer service via Live Chat, Email, & Support Centre | |
8. Kubera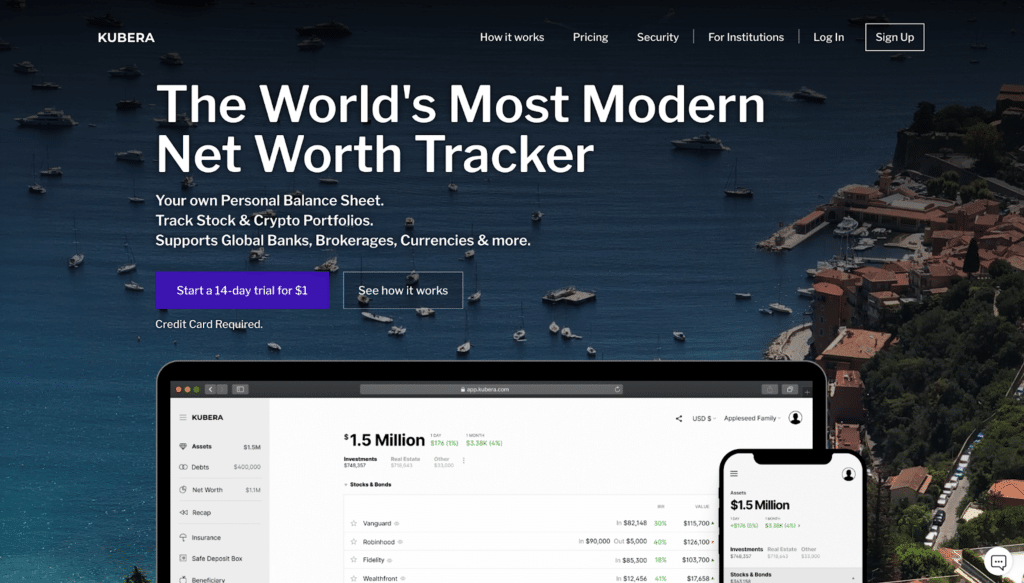 Kubera is a reliable tool for tracking investments that manages a wide range of assets, including stocks, cryptocurrencies, your house, vehicle, websites, and more. It enables API import for crypto.
However, you may have to enter the trades manually for exchanges that are not supported by Kubera. The crypto tracking tool also displays pie charts on its dashboard to display the proportion of each asset in your portfolio.
With Kubera, you get a 14-day trial for only $1. If you are a beginner investor, Kubera is ideal for you due to its simple program and support platform. Kubera is also suitable to international users as you can enter your home market price manually on its dashboard.
Kubera Pricing
The Kubera Personal plan is worth $150 per year and comes with a 14-day trial at $1. As for the Kubera Institutional plan, it is targeted toward advisors, CPAs & family offices who manage client portfolios. This particular pricing is available upon request and depends on the size of the company.
Kubera Features
When you connect your stock and cryptocurrency accounts, Kubera offers a fantastic high-level investment tracker to see your unrealized gains by position and populates the data for you automatically.
Kubera is now one of the ‌few net-worth applications that can connect to your crypto exchange.
Kubera tracks the value of the client's precious metals, such as gold bullion, using the current spot price. Therefore, if clients have any numismatic coins that are valued more than the market price of metal, they will need to manually input their value.
Pros and Cons
| | |
| --- | --- |
| Pros | Cons |
| Dead man's switch functionality | Currently, there is no mobile app for android users |
| Built to be as easy to use as a Microsoft Excel spreadsheet | Low number of crypto exchanges supported |
| Allows you to track traditional investments alongside Bitcoin, Ether, and other crypto assets | Trading cryptocurrency from within the app is not possible |
| 2-Week free trial available | Excessive price tag |
Best Overall tracker for your Crypto
Different crypto trackers might fit different portfolios, but given the data collected, we concluded that the crypto tracker more likely to fit everyone's need is eToro combined with its crypto tracker investment of the Delta tracker!
With its low minimum funding, eToro is perfect for new retail investors who are still learning how to manage and invest in cryptocurrencies. eToro doesn't charge any monthly fee while allowing you to follow experienced trades and copy their trades.
From your personal experience, which crypto portfolio tracker is your favorite? Let us know in the comments.