While there are several definitions of what metaverse entails for people, the Pew Research Center stated ‌the metaverse will be a holistic virtual reality containing a creative platform built in a Web 3.0 framework. But what does this mean for you?
It means that the metaverse might be the next world economic driver. It will be a world with virtual identities and virtual purchasable properties (often in the form of NFT's). This means real income and real risks. Yet, the metaverse is still a complex idea that people are trying to dissect.
To give you a quick metaverse experience when buying virtual books, see the image below of the first book store in the metaverse. Here you can walk, read and buy your favorite e-books 'in-store' as you would normally do in a book store but then virtually.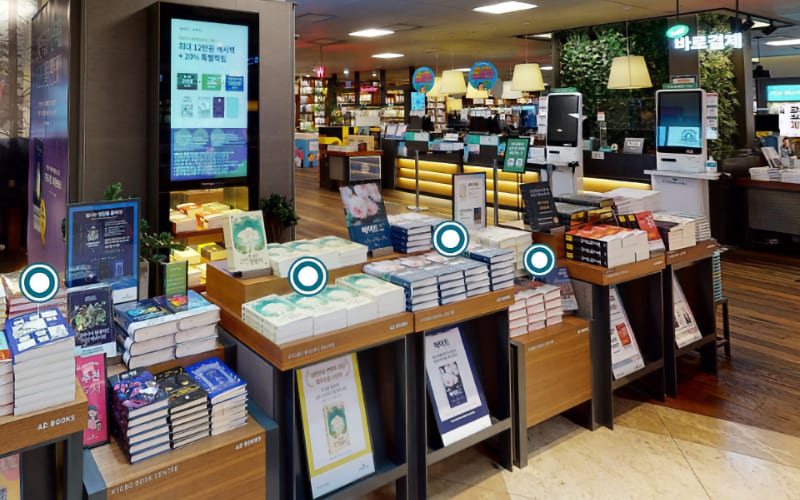 To prepare you for this uncertain virtual future and where this all might be heading, we compiled a list of the best metaverse books‌ out there. By reading these books, you will understand the risks and benefits of being immersed in them.
So, if you want to clear your doubts about the metaverse, have a look at our in-depth non-virtual reviews of the best metaverse books below!
Best Metaverse Books To Get Started
The books on the metaverse below are listed in random order while in the description section we elaborate on why we love this metaverse book. Now jump right into this books-verse…
Snow Crash
Snow Crash
Audible Audiobook
Neal Stephenson (Author) - Jonathan Davis (Narrator)
English (Publication Language)
This one is a story and a great one! The original ganster of the Metaverse and how it all started to evolve. The time of this book is set in an alternate (or our) future, where the Americas is divided into various suburban enclaves called burbclaves. In contrast, it has created a virtual world that you can access through any computer. Everyone is free to go anywhere they want with their avatar and live a second life.
The story gets even more interesting for Sci-Fi enthusiasts. With details on Sumerian culture, computer programming/hacking, and sword combat, the novel is imaginative and engaging for readers of all ages.
Neal Stephenson will bring you into the contemporary imagination of virtual reality and Sumerian myths. While it is an adventurous novel, the concept of virtual reality described corresponds perfectly with Metaverse!
Reviews
"This is one of those novels that requires an investment at the beginning and provides an incredible payoff throughout until the very end. There are so many genres tumbled up into this one that I cannot identify a single description that would do it justice. All I can really say is — read it!"
~ JRaeDupree on Amazon
"Stephenson's cult classic has become canon in Silicon Valley, where a host of engineers, entrepreneurs, futurists, and assorted computer geeks . . . still revere Snow Crash as a remarkably prescient vision of today's tech landscape."
~Vanity Fair
GET ON AMAZON
Metaverse Investing Beginner's Guide
This book is a thrilling introduction to crypto newbies. If I gave you this book I would have to be cliché and tell you that with great power comes great responsibilities. I wouldn't say that you will be equipped to take over the metaverse after this read, rather that you will be hyperaware of what is going on at each phase of its development.
By reading this guide, you'll have a piece of in-depth knowledge about cryptocurrencies, non-fungible tokens (NFTs), and digital assets. The authors also clearly marked out its pit holes and risks. This book honestly feels like a boot camp and an info dump!
Finally, the author ends with insider advice on the best Metaverse investments to make money. The book, written by The Meta Verse, comes in 134 pages and was released on November 4th, 2021. It is also available in audio, hardcover, and paperback.
Reviews
"I'm only in chapter 4. But wow, this book has blown my mind. The world that we are headed into is both scary and exhilarating. I can see the potential for equanimity and chaos. It's one of those books where there is so much terminology and new concepts, I'm sure even on my 10th read I will learn something new. Thank you for taking the time to research and write such an amazing book!"
~ Jalen on Amazon
"I have heard the word Metaverse a few times, but I never got to fully understand it until I read this book. The author explains the basics and complexities revolving around metaverse in a language that anybody can understand, and in a style that does not require you to have any background technical knowledge. The book has taught me about the Metaverse itself, how it relates to virtual reality, its future projections, and much more."
~ Infinity on Amazon
GET ON AMAZON
The Metaverse: Prepare Now For the Next Big Thing!
For this one, the title gives it away! This book literally has everything to prepare you for the next big thing. The decentralization of the internet, and the birth of a novel way of communication. Readers call it a primer and it is a guaranteed head start for your metaverse journey.
This book is a fantastic snapshot of the technological advances and underlying concepts that can change the fantastical metaverse world into a reality. It is a quick and simple read that provides a solid overview. Winters aims to prepare readers for a new digital world in terms of investment, job opportunities, and business model.
In only 133 pages, it analyzes new business prospects in the web 3.0 age and the virtual economy. By the end, you would have learned all the skills needed to invest in virtual property such as the buy & flip strategy and NFTs in the metaverse. The book also gives away a private Discord channel where you can discuss in a metaverse community channel with the author and other users.
Reviews
"A great introduction to the Metaverse and a generous array of resources. I would recommend this book to anyone who is interested in gaining a first insight for this new world."
~ DiegoM on Amazon
"Great snapshot of the building blocks and tech converging to make this seemingly fantasy world come into focus for business."
~ Andrew on Amazon
GET ON AMAZON
Ready Player One: A Novel
If you learn better by reading a story and engaging your imagination, you will love Ready Player One. This book is a #1 New York Times Bestseller and has become a motion picture directed by Steven Spielberg.
Based on the metaverse concept, this book brings you to the year 2045, in a dystopian reality. To escape their harsh reality, humans spend their time on OASIS, a massive virtual world. When the founder of OASIS passed away, he left the future of his brainchild and fortune to the first one to solve a trail of puzzles.
While this book does not explain the details of how the metaverse works, it goes into its potential impacts on societies and the decentralization of the world's economy!
Reviews
"The science-fiction writer John Scalzi has aptly referred to Ready Player One as a 'nerdgasm' [and] there can be no better one-word description of this ardent fantasy artifact about fantasy culture. . . . But Mr. Cline is able to incorporate his favorite toys and games into a perfectly accessible narrative."
~Janet Maslin, The New York Times
"I loved this book! As a woman in her 40s, I'm definitely not the target market for this. It's a young adult book, and scifi, both of which I don't usually read. However, as a bit of a gamer, geek and an 80s nut, this was recommended to me by friends, and I'm so glad I read it – it was just brilliant!
I'm not going to give you any spoilers, but I can't recommend this highly enough. Great characters, very nasty baddies, loaded with 80s references, and actually worryingly possible – it's definitely worth a read. Oh, and Steven Spielberg bought the film rights – the movie will be released in 2018. I hope he does it justice."
~ Ally A on Amazon
GET ON AMAZON
The Metaverse: And How it Will Revolutionize Everything
This book isn't the most anticipated book of summer 2022 for no reason! The author, Matthew Ball, is a tech celebrity and a serial entrepreneur. Besides, he is a ferocious proponent of web 3.0 and the metaverse. In his book, he provides an excellent illustration of how we may ‌optimize data streaming for ‌complicated virtual environments.
This book is for deep learners yet, concepts are easily digestible with the vivid examples taken by the author. If you are a fan of Roblox and Minecraft, this book is perfect for you.
Matthew Ball is the CEO of Epyllion Co., a consulting company for start-ups. He also developed the Ball Metaverse Index, an exchange-traded fund for metaverse businesses. Ball has several years of experience in the technology industry as he was the former chief of strategy at Amazon Studios.
With all these years of experience, it is a guarantee that reading this book will not be a waste of time. Besides, this is the most up-to-date book, as it was released in July 2022, and our favorite metaverse book of this year.
Reviews
"Overall, I enjoyed reading this book. Balls covers a wide range of potential issues with this new age of technology, all while drawing insights from previous technology-induced shifts in modern culture. He gives predictions about what will happen and who will stand to benefit the most, and his historical examples really serve to illustrate his points. This is a great book to read if you want to start thinking about what the future of technology will look like, and it is written in a way that is very accessible to most people."
~ C on Amazon
"This is the big reason why Matthew Ball is so influential in shaping our understanding of a conceptual metaverse: he is a skilled communicator and writer with clarity of thought. His book is a showcase of this talent as he traces the contours of our theoretical, collective future. Matthew goes beyond jargon and marketing smoke and mirrors to shine a light on the challenges of evolving the internet. His book is essential reading to anyone interested not just in what digital life may evolve into, but how we've already evolved with it throughout time."
~Gene Park, reporter, Washington Post
GET ON AMAZON
The Metaverse Handbook: Innovating for the Internet's Next Tectonic Shift
You already know what metaverse is, but want to learn more on the matter? The Metaverse Handbook is the one for you. Compared to the small guide above, this book goes into more depth on this concept.
QuHarrison Terry and Scott Keeney are a duo of culture experts and the experienced tech who combined their knowledge to write this in-depth guide. Through several case studies, you will explore the latest metaverse technologies developing from XR, web3, and blockchains. The handbook also provides strategies that you can use to unearth the unique opportunities of the metaverse in commerce and digital communities.
The handbook is a vital resource for business leaders, digital experts, and creators who want to have a share in the amazing technological revolution.
Reviews
"The storytelling here made this complex topic of the metaverse easier to wrap my head around. I like that at moments QuHarrison and Scott really went in depth (especially in Chapter 5 + 6) to give you the tools of the metaverse. And at times, they gave you a more holistic belief system for how to think about and plan for this shift in the Internet (like in Chapter 1-3).
These two really believe in this idea of the metaverse – or the Immersive Internet, as they refer to it. And as a result, I feel confident for this next shift in the Internet thanks to them."
~ Ryan on Amazon
"Having little to no prior background in the metaverse, I was a little intimidated, but looking to finally dive into this world. This read was very enlightening, and their aspect of storytelling made everything much more relatable and easy to understand. I'm coming out of the book with a much wider range of knowledge, and more enthusiasm for what's to come for the future of the Internet. I definitely recommend reading."
~ Gclover on Amazon
GET ON AMAZON
The Metaverse: What you need to know about the Metaverse
While the metaverse is an amazing concept, it can be difficult to imagine our world-changing into this reality. Well, it is already slowly changing and this book will show you how. The author, Jonathan Earn, wanted to bring a book that does not hypothesize but actually shows how our modern society is slowly shifting.
With this book, you will learn why it is not workable for now but will be in the future. The book analyzes the different reasons ‌they have not yet advanced our technology to sustain it but references several 3D virtual worlds currently in place.
One thing that stands out is the detailed explanation of the concept of Metaverse Avatars. Earn even explains how you can make your own avatars and their potential impacts on human behavior.
Reviews
"This book takes those theories and ideas of the metaverse and shows what it will look like in the real world. The book opens by looking at the roots of the metaverse and where it is currently. The author also looks at what the future may hold. I liked that the author went into so much detail about the tech we have right now in the metaverse. The author also looks at what kind of business opportunities the metaverse presents. I enjoyed reading this book, and I learned a lot."
~ J. Mielke on Amazon
"This book takes the mystery out of knowing about the Metaverse. Most of it is virtual reality, so you don't physically have whatever ‌you are buying. It will change the future of many things that we have today, such as gaming, entertainment and travel. There is a lot of information in this book that will help you understand the Metaverse."
~ Lynn on Amazon
GET ON AMAZON
Best Metaverse Book Overall award
Now that you've reached the end of our list, are you still undecided on what is the best metaverse book to buy? If so, we recommend starting with Matthew Ball's "The Metaverse".
We chose this read because it is the newest metaverse book on the market. It contains all the updated versions of new technologies and current worlds.
Besides, Matthew Ball is ‌a visionary and an accurate predictor of technology. His new masterpiece has been applauded by countless literary communities, including the Wall Street Journal. In his book, he presents new baffling concepts about this reality we know nothing about. So if you take away one thing from this article, let it be it!
So whether we will start reading books in the metaverse or we will be guided by Augmented Reality while reading your preferred hard copy, only the future will tell. For now, if you're interested in learning where this will be heading then this selection of books will give you the knowledge you need. Or get started with our free guide on the Metaverse first before jumping in head-first.
So, how did you find our list of the most hyped NFT books? Are you going to read all of them? Tell us in the comments below. And if you're getting FOMO for not reading a metaverse book on the list, ‌it's probably best to read our article on how to deal with FOMO first…