The non-fungible tokens (NFTs) market is getting a lot of attention because of its rapid growth.
NFTs are being embraced by brands, businesses, creatives, and investors. By 2030, the market for non-fungible tokens is anticipated to be worth USD 211.72 billion, expanding at a CAGR of 33.9 percent from 2022 to 2030. One of the key causes fueling the NFT market's expansion is the rising demand for digital art on a global scale.
Although some claim that the NFT space is an exclusive boys club, we believe it to be more of an open-door club. A growing number of women are joining NFT community.
NFT initiatives developed by women are at the top of the rankings and are forever changing the web3 business.
A thirteen-year-old girl, Nyla Hayes,started an NFT collection that has already produced about $4 million in revenue. Over $40 million was raised in the first two weeks of 2022 by a another well-liked NFT initiative run by a woman, Yam Karkai,.
However, these women-led NFT enterprises have other goals besides just making money on non-fungible tokens. Read more about them below!
1. IX Shells
Panama-based generative artist and creative programmer Itzel Yard, better known as IX Shells in the NFT community, works at the crossroads of computer science and art. Her work of generative art called "Dreaming at Dusk" was purchased by PleasrDAO in May 2021 for the price of $2 million. This deal made Itzel Yard the highest-selling female NFT artist in history.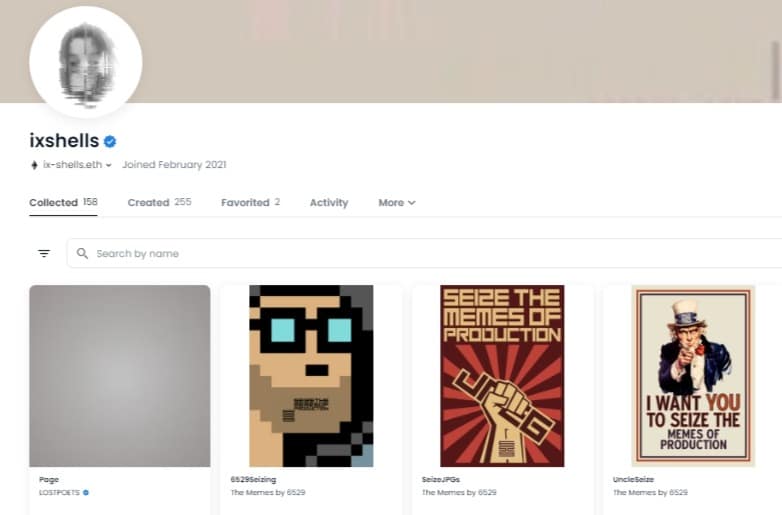 It's been a big year for Itzel Yard since she also earned over $100,000 for MAPS' trauma recovery research with her latest NFT art piece called Thalamic Pulse.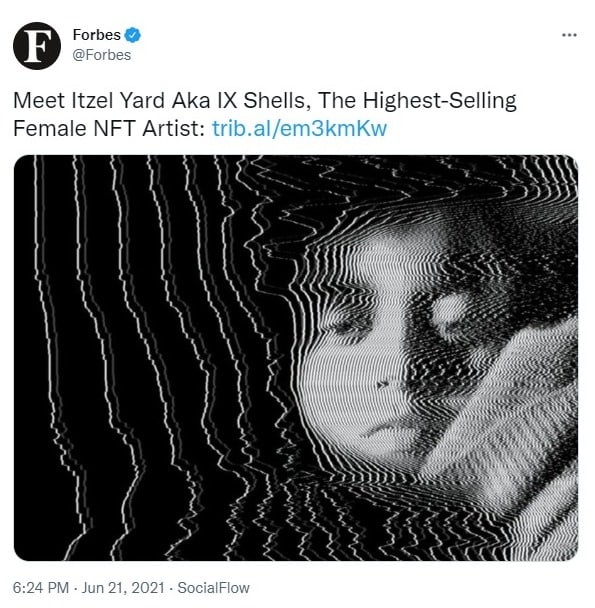 According to the Foundation's head of community, Lindsay Howard, Itzel's sale marks a turning point since it raises the bar for female artists in the NFT sector and demonstrates that they're not just carrying the ideals of the conventional world of art.
2. Yam Karkai
As a digital illustrator and NFT artist, Yam Karkai aims to introduce women into the mainstream NFT scene with her female-centric works. In her projects, she touches on various facets of women's existence.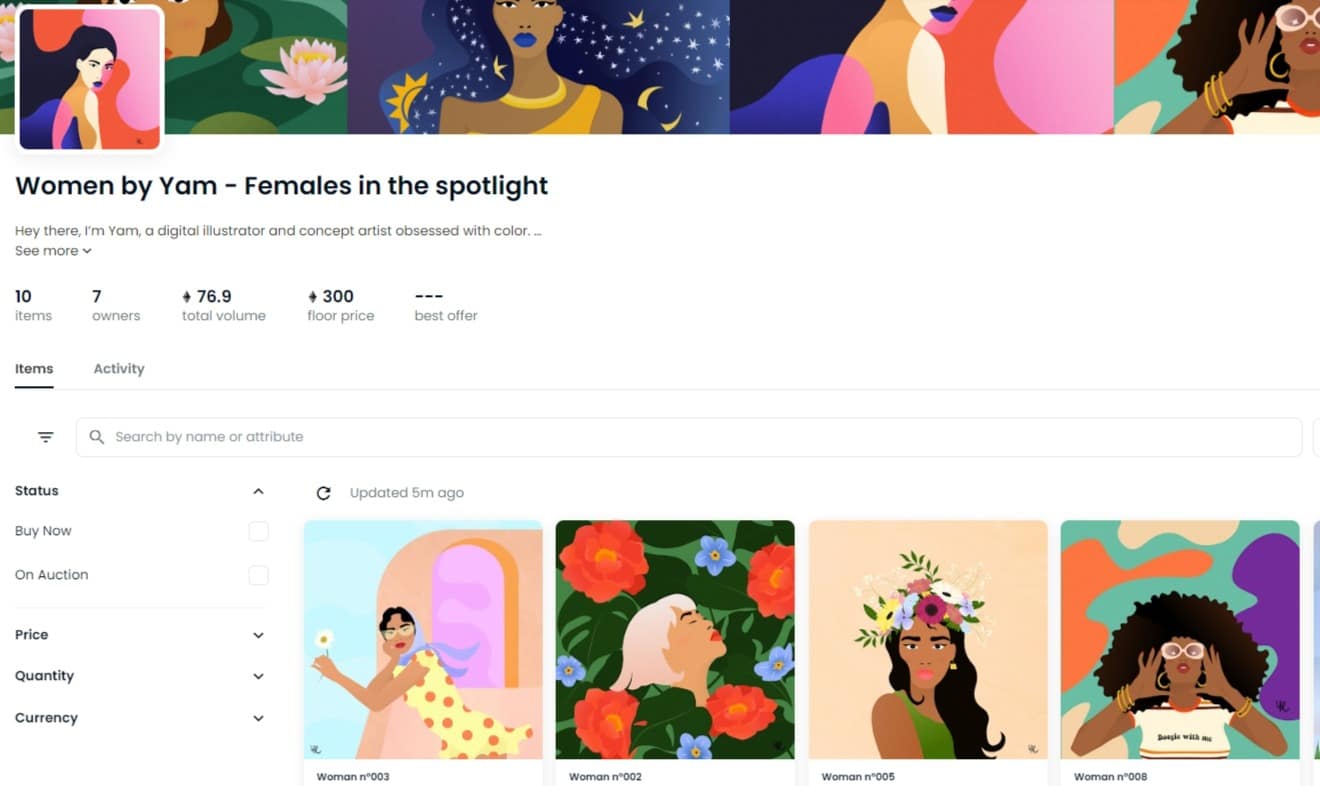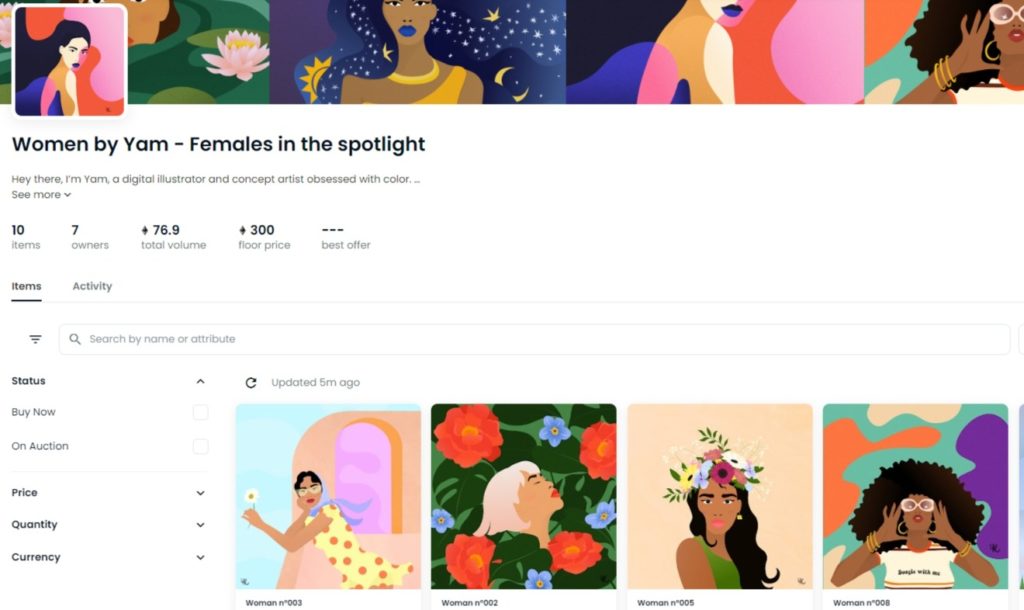 Before joining the crypto community, Yam Karkai worked in the Google Ads Quality department. In May 2021, she co-founded the World of Women NFT project together with BBA, Raphal Malavieille, and Toomaie after deciding to make a career out of digital arts.
The World of Women NFT is a set of 10,000 extraordinary digital items that are stored on the Ethereum blockchain. Unique, fascinating, and diverse ladies make up the bulk of this project, as the name implies.
It's a collection of gorgeous women from a variety of backgrounds with individual facial characteristics and vivid eye colors. Yam's works serve as visual representations of values like female emancipation, self-confidence, and positivity.
3. Lisa Mayer
To empower young women, Lisa Mayer founded Boss Beauties. At the heart of Mayer's mission is her desire to help women achieve their dreams. As she puts it, a woman may be whatever she desires.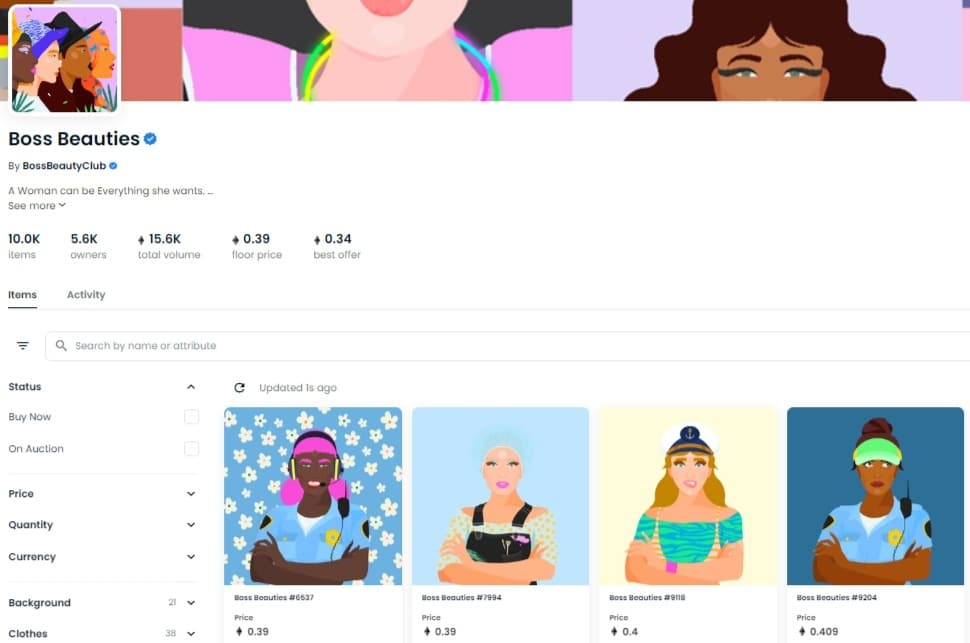 The New York Stock Exchange hosted an exhibition of the first NFT collection produced by Boss Beauties. This collection featured a variety of lady photographs. From Neiman Marcus to Hugo Boss, the company has already collaborated with a number of high-profile companies.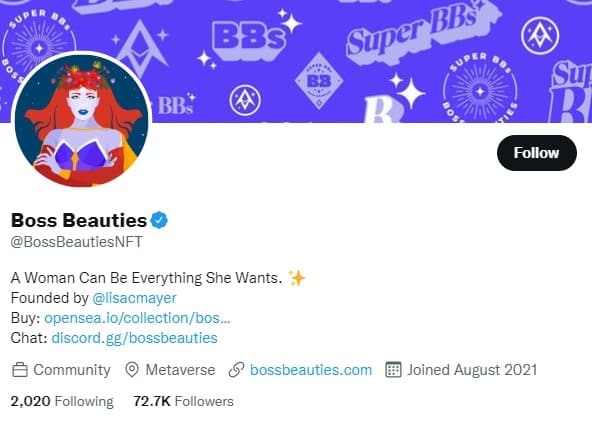 "Women can break the glass ceilings, they can achieve greatness, and they can accomplish anything in their life and in their work," Lisa believes.
4. Modern Way Tarot
With the Modern Way Tarot NFT collection, the owners of the spiritual website A Little Spark of Joy, have set out to modernize and renew the old-fashioned take on Tarot. By purchasing one of their Major Arcana NFT Tarot cards, you automatically become part of one of the best-selling modern tarot decks this time.

They mentioned that your ownership of one of the Modern Way NFT Tarot cards will unlock access to their exclusive tarot community where you can learn how to do tarot readings and how to build a tarot business. Besides getting the latest product releases for free to gather initial feedback.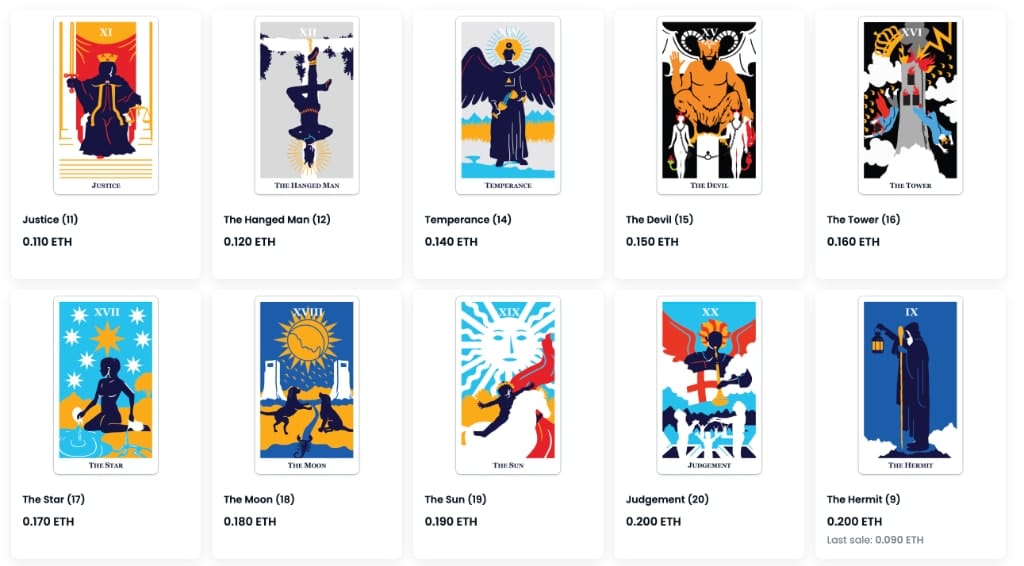 We love the simple yet effective style, the modern take on the classic Rider-Waite cards, and the extremely well-executed 194-page Tarot guidebook that comes with the Tarot deck box set.
5. Maliha Abidi
Maliha Abidi is an internationally recognized novelist and visual artist of Pakistani descent. It is her mission to fight for social justice, particularly in relation to women's rights, gender equality, and the education of girls, and other marginalized groups.
Maliha Abidi created 'Women Rise,' a collection of 10,000 distinct NFT works. Women from all corners of the globe are represented in the collection, and their characteristics go far beyond skin color alone.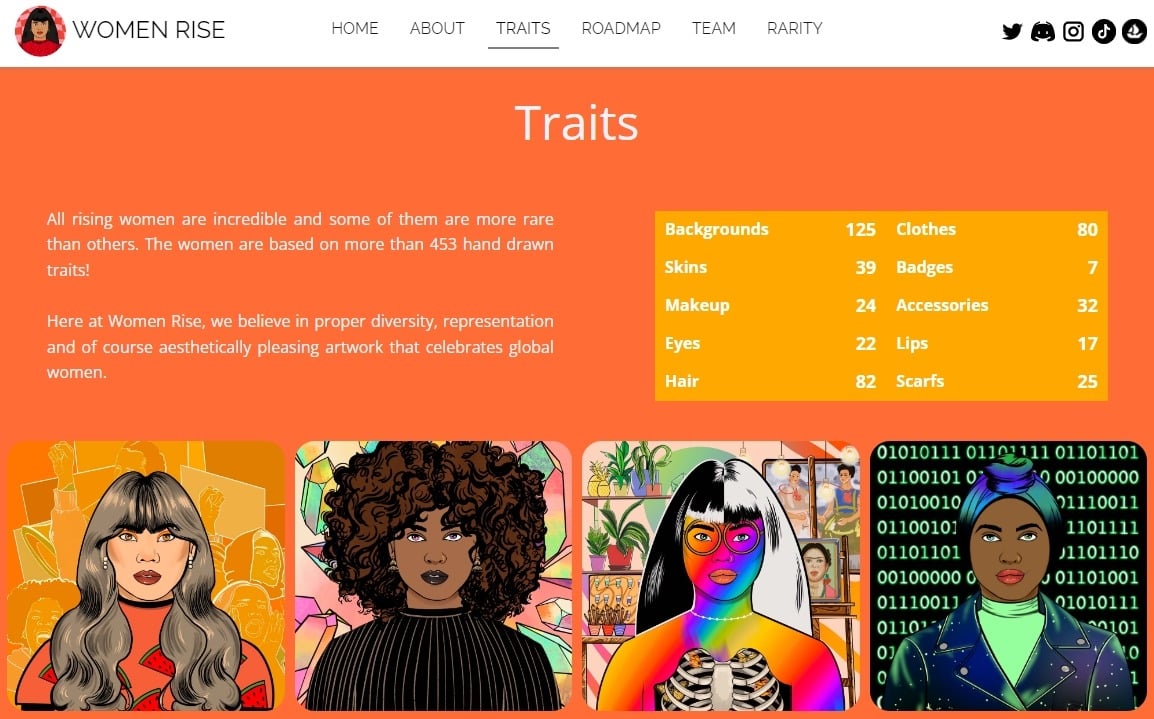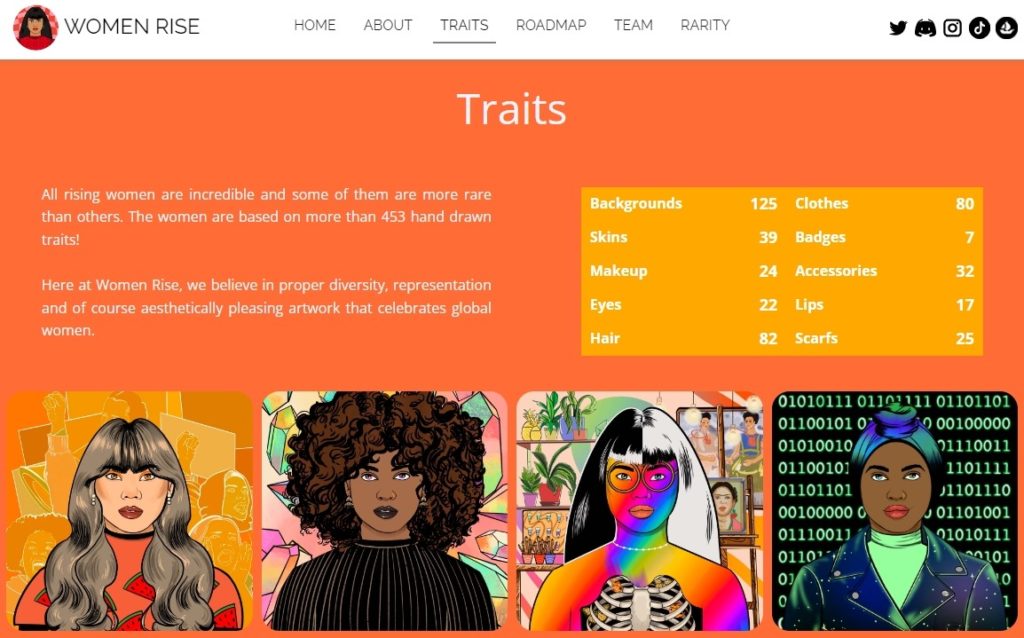 For the past nine years, Maliha has used her art to tell the stories of amazing women. She has worked on a variety of projects with well-known organizations, including the United Nations, the Global Goals, Adobe, and Google.
6. Sara Baumann
Sara Baumann is an Iranian-born visual artist based in Dallas, Texas. She is a creator of the NFT collection called Women and Weapons.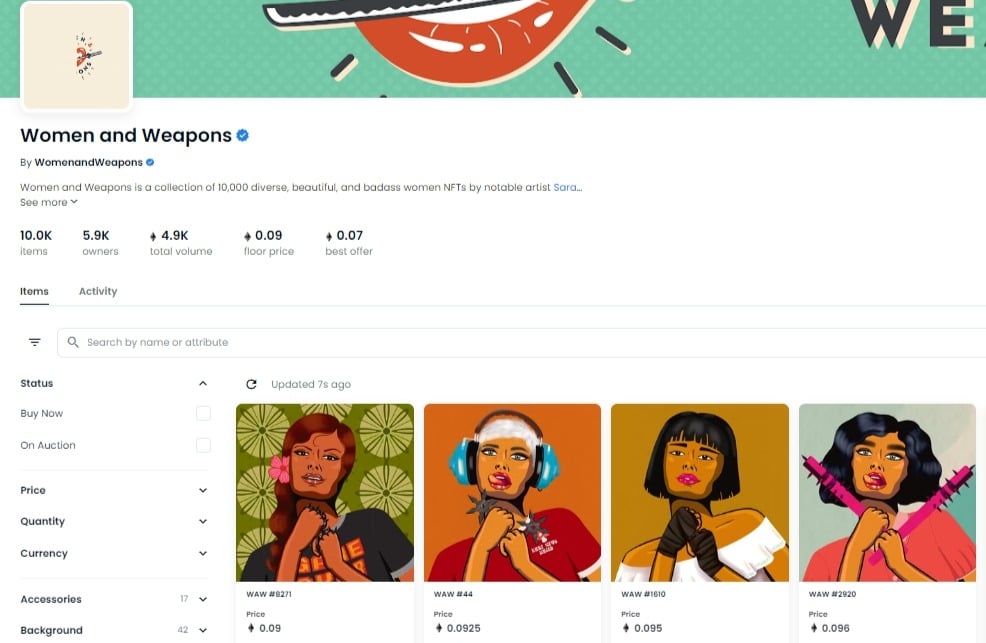 Known generally as "WAW," the Women and Weapons NFT project is a collection of 10,000 hand-drawn portraits of strong, beautiful ladies. The idea was inspired by women who lived in the mid-twentieth century, a time when they were not seen as powerful.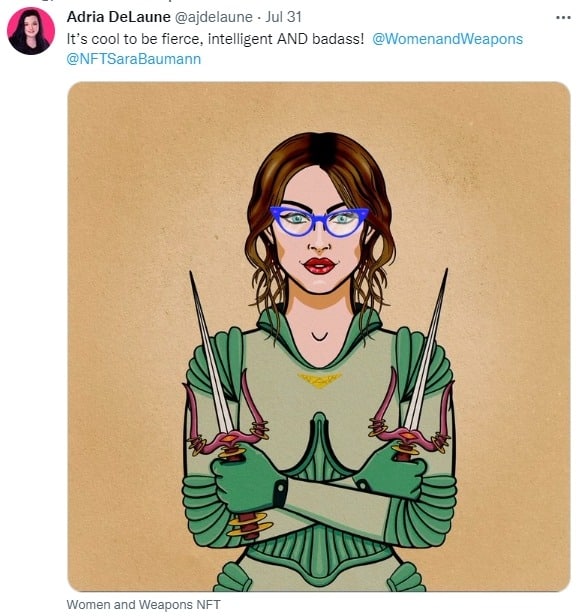 The grandiose NFT project was introduced back in October 2021, and the 10,000 pieces of art in the original collection were all sold out on the first day!
As a way to emphasize women's strength and independence during a time when females were still seen as weak, the NFTs were designed with weapons like daggers, boxing gloves, and nunchucks.
The fact that the weapons in the collection are symbols of sympathy, intellect, mercy, and knowledge is one of the most intriguing and amazing parts of their significance.
7. Varvara Alay
Award-winning graphic designer and visual artist Varvara Alay brings to life the intricate paracosms of her imagination. Flower Girls is the name of her personal project. Its NFTs each represent a piece in an ornate painting of a young woman created in the manner of a Renaissance master.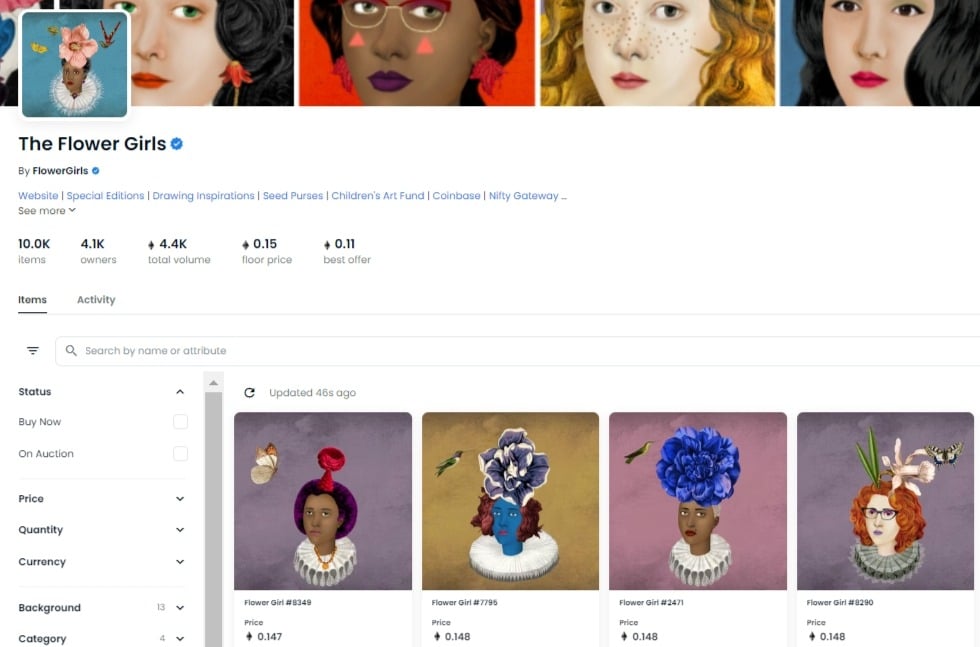 OpenSea set a floor price of 0.56 Ethereum ($1,484) for the Flower Girls project (as of March, 2022). Sales worth 4,000 ETH, or around $10.6 million, have been made on the collection of 10,000 NFTs.
Twenty percent of Flower Girls' revenues are being donated to children's charities, and the company has already donated more than $400,000 to these organizations. Another 5% of the collection's sales will go toward supporting NFT collections developed or made by youngsters.
8. Valeria
Valeria, a 14-year-old digital artist, is best known for her popular NFT collection, The Girlies. There is something unique about this NFT project because it's a family venture. Valeria created it together with her father David.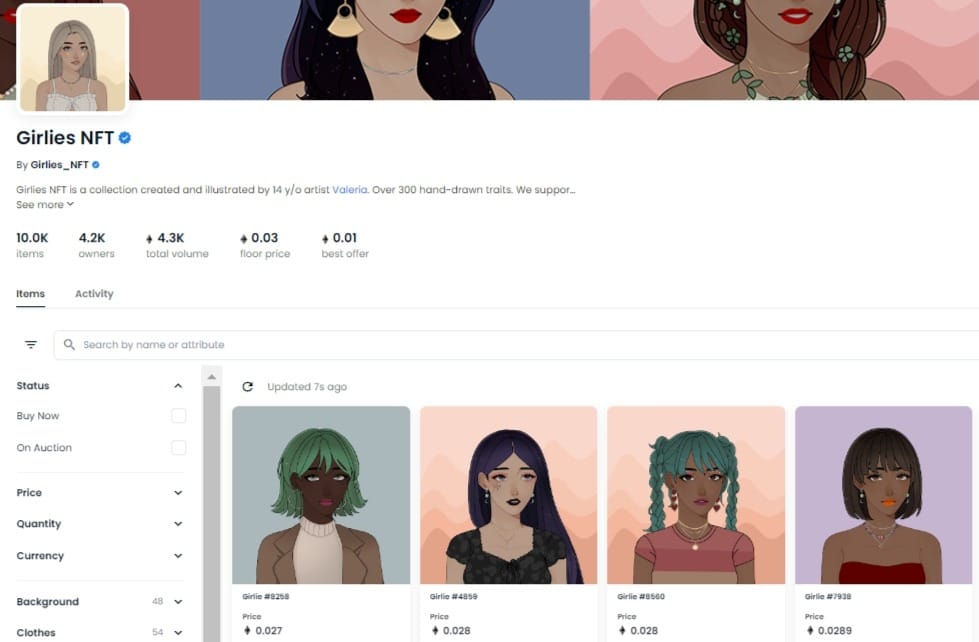 Valeria is responsible for the creative part of the project (illustrations, names, etc.), while her father is in charge of technical aspects ( smart contract, web, minting, etc.)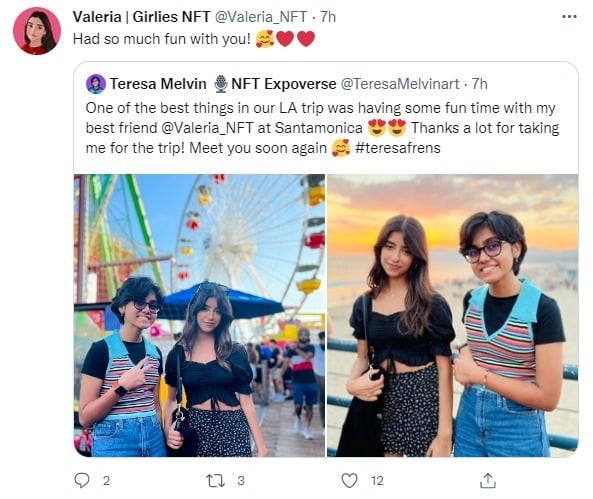 Ten thousand one-of-of-a-kind works of art honoring women compose this collection. Valeria has contributed more than $50,000 to organizations that help women and children via the Girlies NFT initiative. She and her father have established two art funds that provide help for 1/1 NFT artists (both women and children).
9. Glam Beckett
A sensitive dark artist, Glam Beckett is also the genius behind the popular "Sad Girls Bar" NFT series. Her artworks are inspired by witchy undertones, sadness, solitude, dark romanticism as well as themes of love and death. Moreover, she draws inspiration for her work from punk, and dark erotic aesthetics as well as noir movies.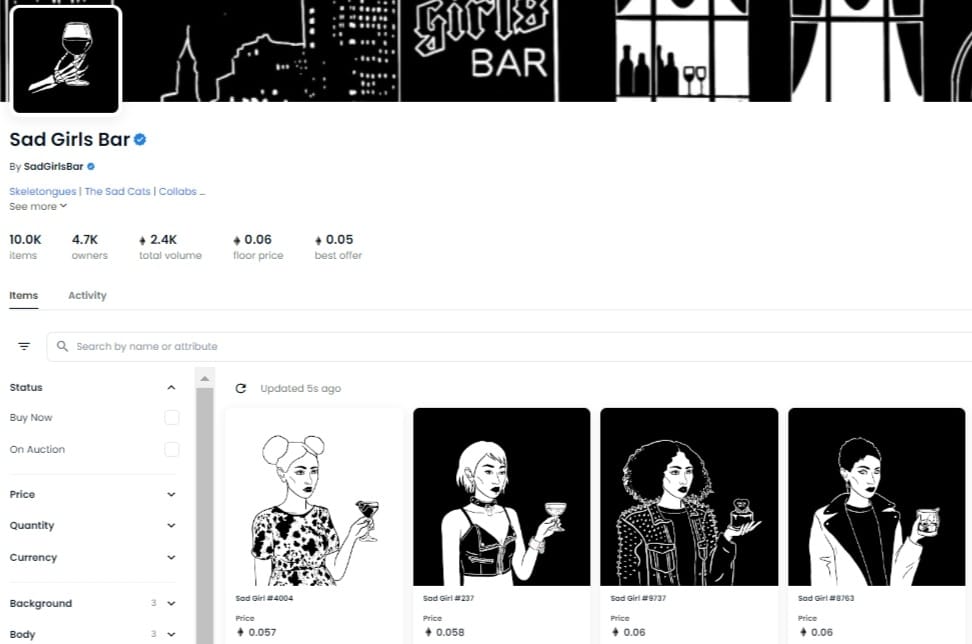 Together with Paper Epiphanies, Sad Girls Bar NFT creates the world's first printed Web3 card collection.
Seven handmade greeting cards and two letterpress art prints, all produced for the Sad Girls Bar collaboration with Paper Epiphanies.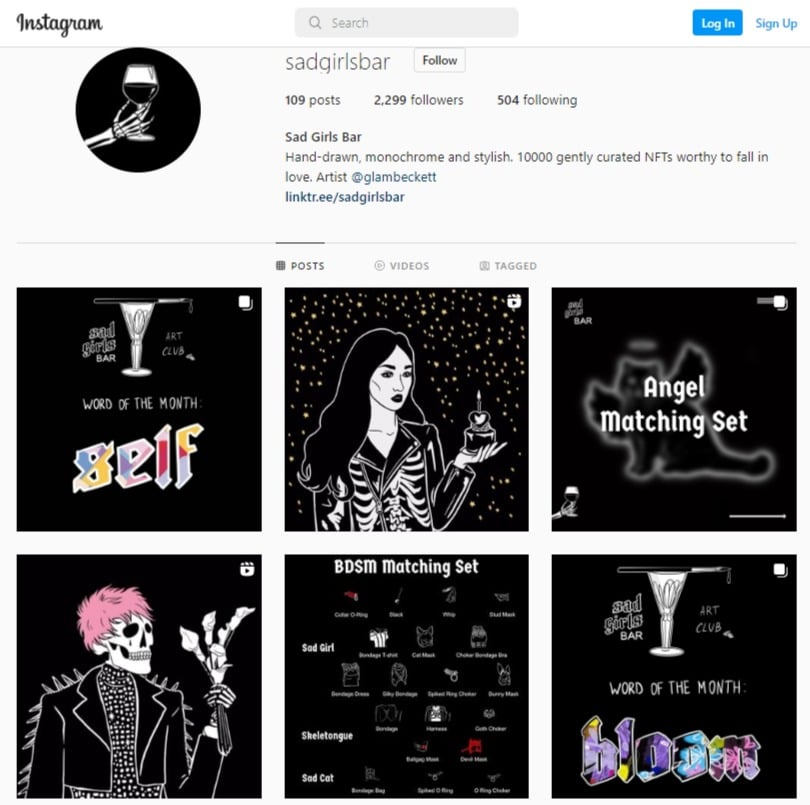 The expansion of Sad Girls Bar into other markets, such as the greeting card industry, is a joy to see.
10. Nyla Hayes
Hayes developed an all-female generative art collection on the Ethereum blockchain when she was only 12 years old. More than three thousand varieties of the hand-drawn, computer-generated collectibles all include ladies with long necks that resemble giraffes. That's why the project is called Long Neckie Ladies.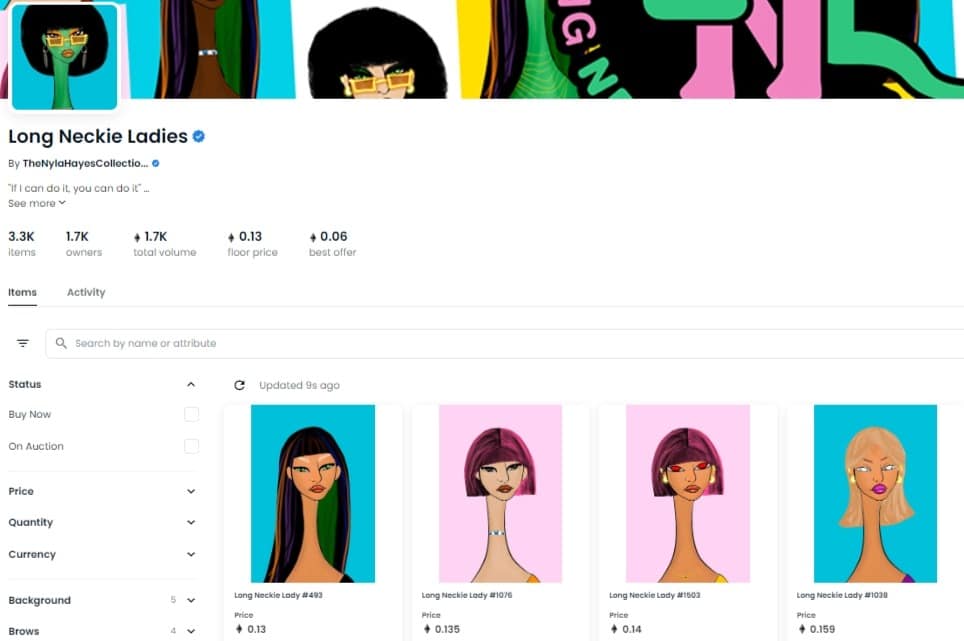 By selling long-necked NFT images, Hayes became a multi-millionaire in the metaverse in only one year.

The Long Neckie Ladies series was inspired by Nyla's favorite children's television show, Dino Dan. The artist says that s he fell in love with the kind but courageous Brontosaurs, whom she called "long neckies."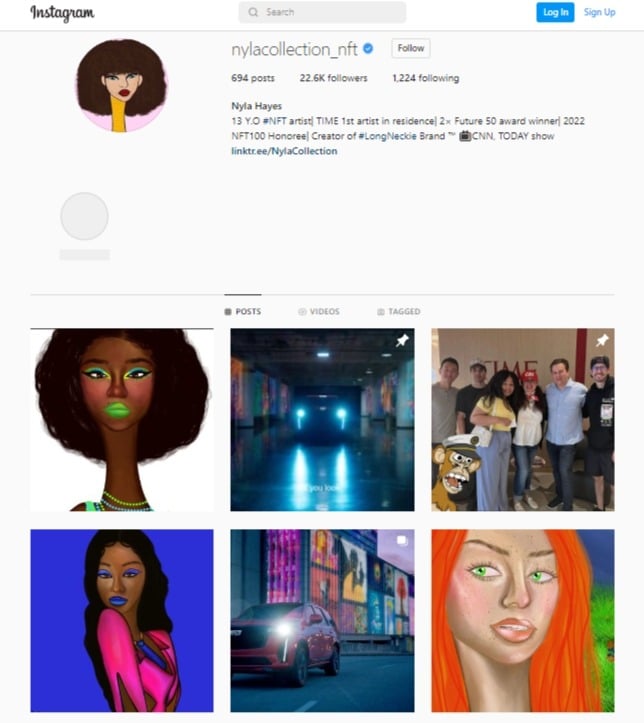 Nyla's collection immediately made history and earned widespread public exposure, leading to the purchasing of her NFT artwork by celebrities like Eva Longoria, Reese Witherspoon, and many more.
11. Elissa Maercklein
Elissa Maercklein is a co-owner of the renowned Crypto.chicks NFT. This collection, which celebrates each woman's originality and individuality, was developed to draw attention to the significance of women in the cryptocurrency industry.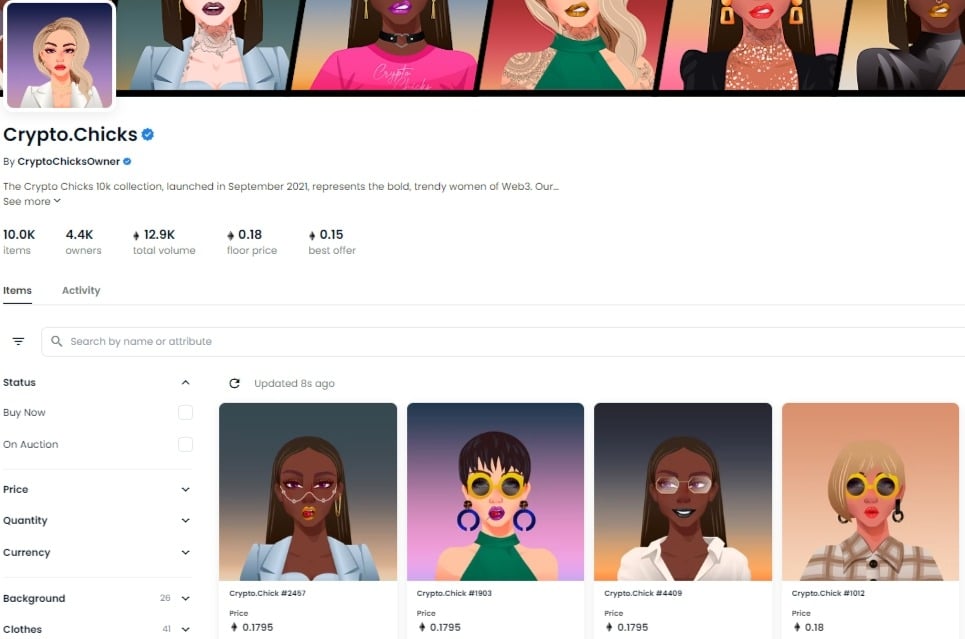 Crypto.Chicks are based on the Ethereum blockchain. It features 10,000 different stunning women. Almost every female has a unique combination of uncommon physical characteristics.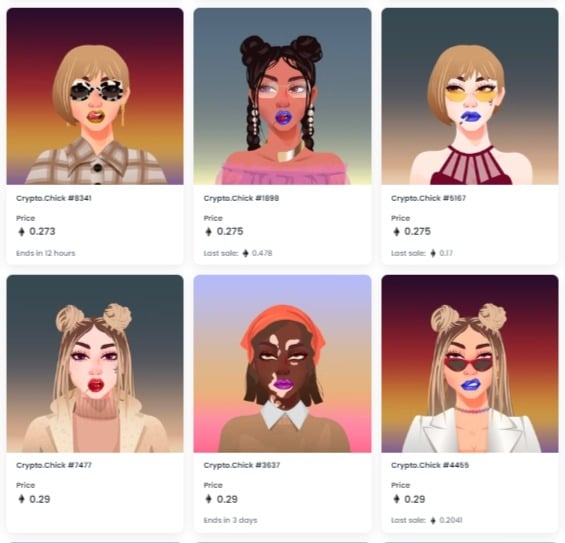 The goal of Elissa Maercklein is to empower women in the Web3 industry
12. Frida
Together with her husband, Frida founded The Rebel Society NFT collection. Both of them are concerned about social equality and want to do their part via the Rebel Society initiative.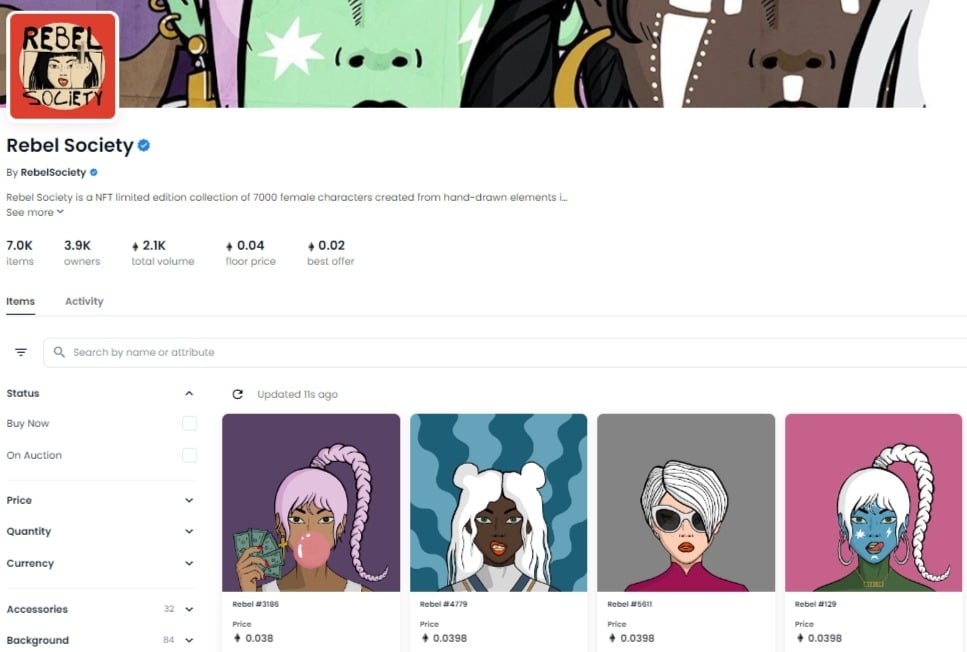 Rebel Society is a limited edition collection of 7000 female characters developed from hand-drawn pieces and saved as ERC-721 coins on the Ethereum blockchain.
This collection was inspired by all the ladies who rebelled against society's expectations and ripped off common labels.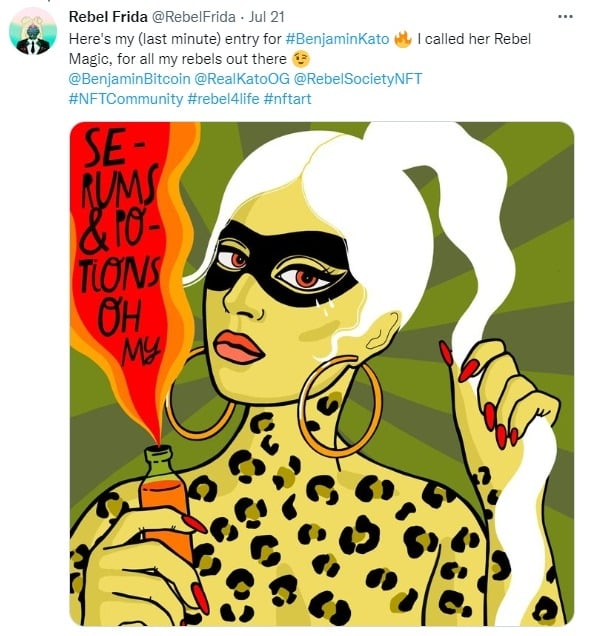 Through the Rebel Society project, Frida wants to help other female artists in distributing their work over the blockchain. A portion of the profits from the debut collection will go toward supporting aspiring young female artists who have the skill but lack the financial resources to start their own series.
13. Lisb.eth
Lisb.eth is a digital artist and founder of the project called Fatales. There are 10,000 unique digital items of varied value in Fatales, which are stored on the Ethereum blockchain as ERC-721 tokens.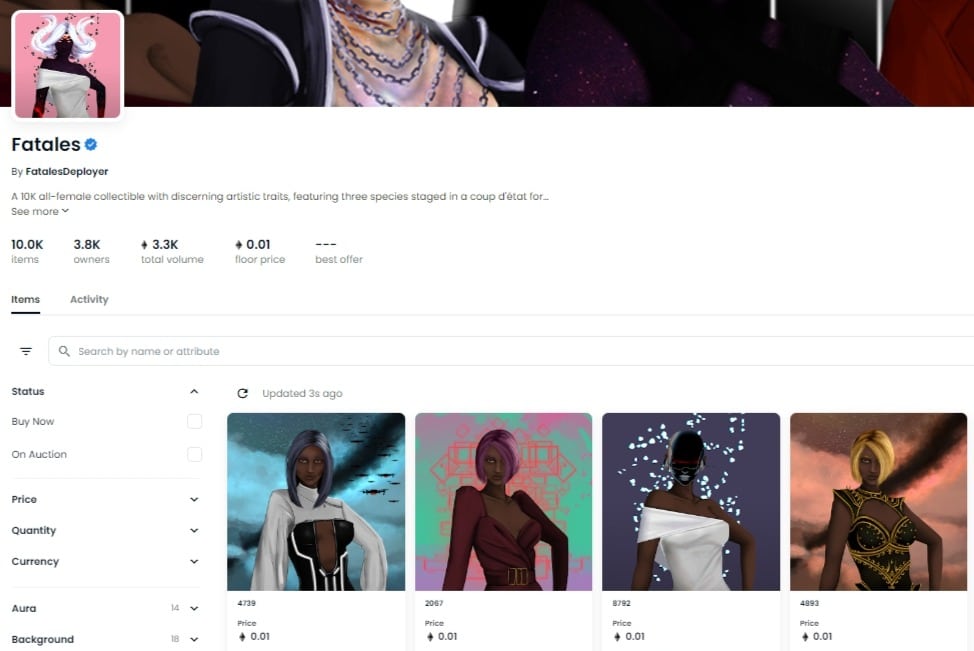 Fatales remains one of the most provocative and popular initiatives created by women in the metaverse. These Fatales have more variations than most existing collections do.
Lisb.eth, the collection's creator and owner, thoughtfully designed hundreds of different traits to accomplish her extraordinary vision.
14. Nicole Yap
When Nicole Yap was a high school student, she came across an article discussing digital currency and its possible implications. Completely fascinated by blockchain technology, she immersed herself in the blockchain community.
Exploring the NFT space was the next logical step. She entered the realm of NFTs in early 2021 and slowly realized that there was a significant shortage of Asian and female representation in the field. To address this, Nicole decided to launch a project with several other founders, and in September 2021, she developed 8SIAN.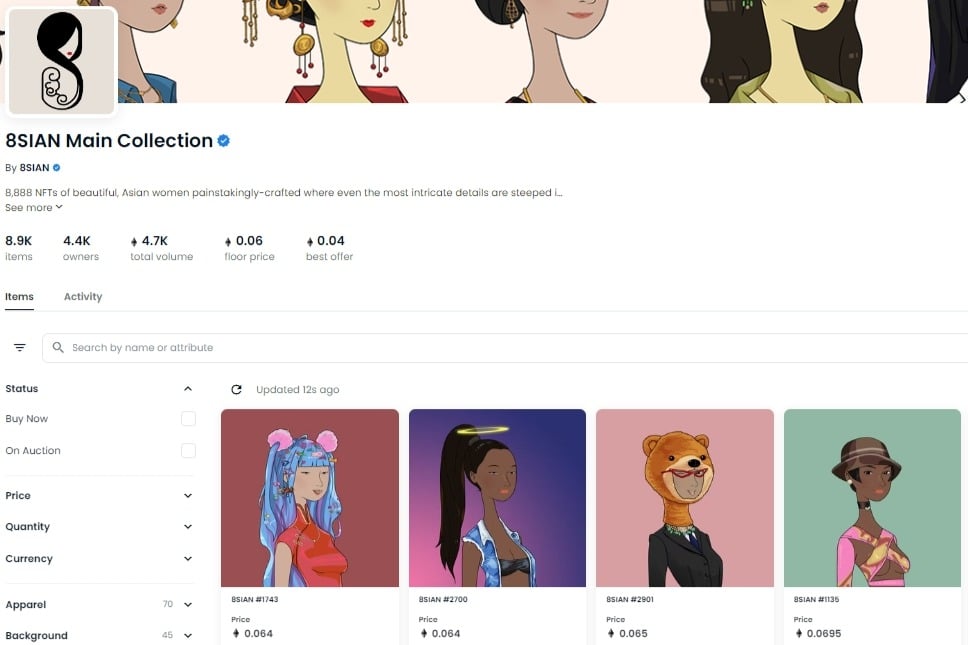 This collection contains 8,888 meticulously produced NFTs of gorgeous Asian ladies, in which even the most minor elements are infused with historical value. 8SIAN became the number one project on OpenSea within twenty-four hours based on the percentage growth in traded volume.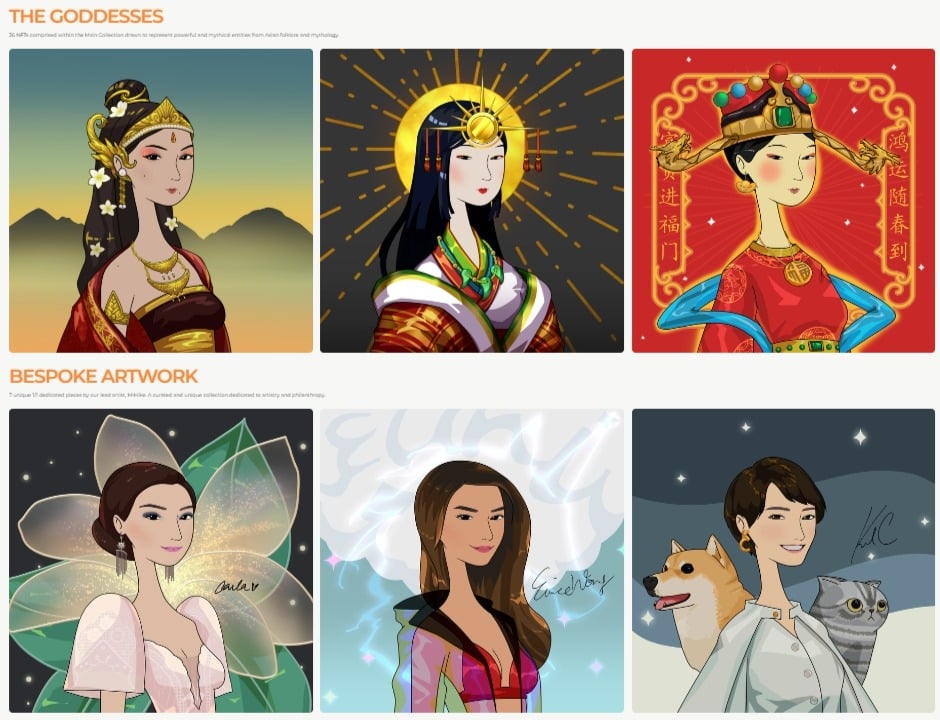 Nicole and her team see 8SIAN as a worldwide, all-inclusive community whose members share an appreciation for Asian cultures.
The world of NFTs is changing
In the crypto industry, there appears to be a gender imbalance between the number of males and women. Only 5% of NFT art sales go to female creators, whereas 77% go to male creators.
However, more and more female NFT artists constantly release new collections on popular NFT marketplaces. Those collections feature uncommon original approaches, which change the course of nonfungible tokens. As a result, the NFT market is diversifying tremendously.
The world of crypto, Web 3, blockchain, and NFT is becoming more diverse and inclusive thanks to the efforts of a great number of female NFT artists who are utilizing their nonfungible tokens to do so. Do you know of any bad-ass crypto girls we have forgotten to put on our list of female NFT artists? Please share them in the comments below…👇🏽