The tremendous growth of the NFT business has been fueled by the utility of NFTs. Among many different use cases, they are applied in play-to-earn games and metaverse (find the best metaverse books here). Now, anyone interested in learning NFT may take advantage of the numerous possibilities provided by non-fungible tokens.
So are you trying to keep up with the most recent NFT news? Or maybe you're seeking smart advice from professionals in the field?
In recent years, newsletters have exploded in popularity as a medium for spreading knowledge and the NFT industry is no exception. This article will introduce you to eleven of the best NFT newsletters that publish insightful articles only on the topic of NFTs. Interested in more newsletters in the industry, check out our list of the best cryptocurrency newsletters and metaverse newsletters here.
Now, let's dive into our list of the best nft newsletters right away!
1. NFTNOW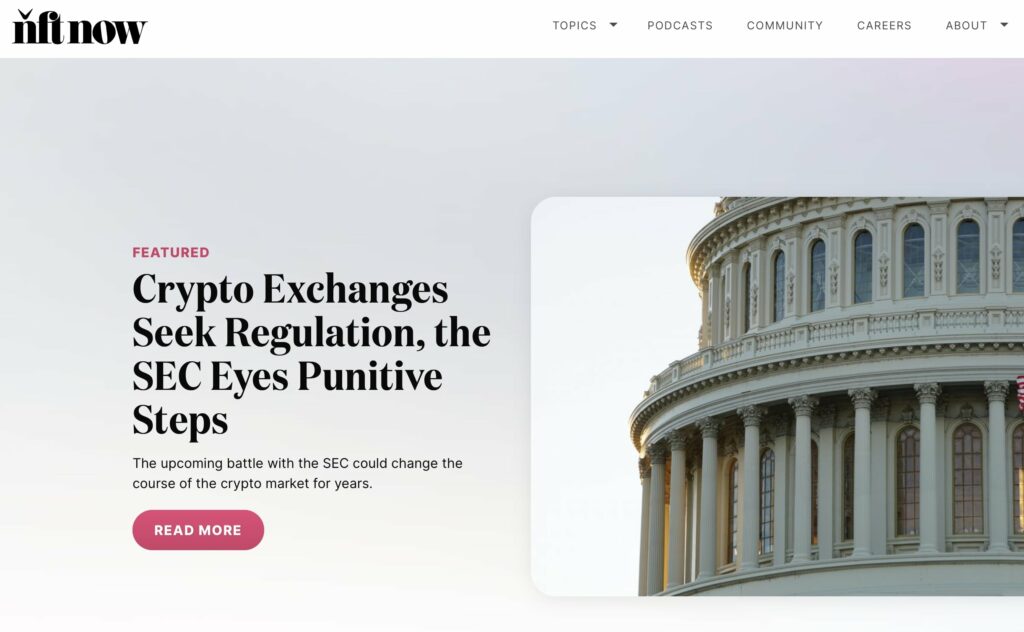 NftNow provides you with the knowledge you need to survive in the fast-paced world of NFTs.
Pioneers are constantly changing the market via community, innovation, and the arts, so NftNow aims to highlight and magnify their contributions. Its newsletters will make it easier for you to understand the market and succeed in it. What's more, they will help you become part of a welcoming community that values diversity and mutual support.
2. NFTEVENING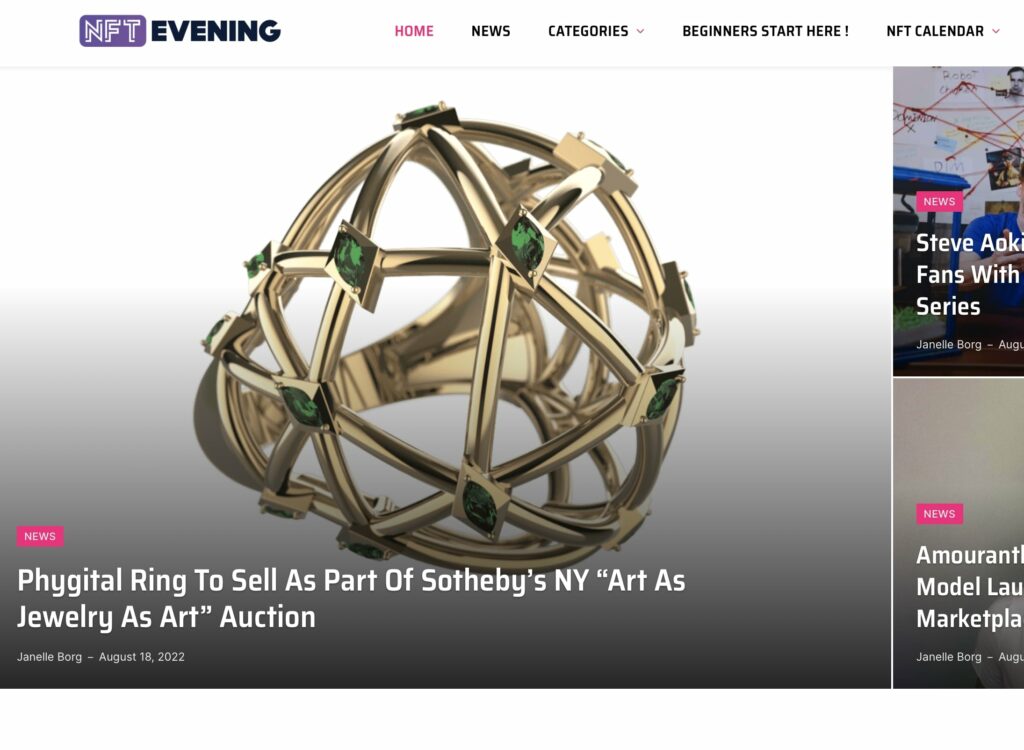 Théo and Jimmy, two French businessmen with extensive backgrounds in content and marketing, launched NFTevening. Due to their experience in business management and their enthusiasm for cryptocurrency, they decided to spread awareness about NFTs in the hopes of increasing their widespread use.
Whether it be video games, collectibles, songs, or digital art, NFTEvening covers NFT news for the entire ecosystem. Their mission is straightforward: to develop a single space where any investor, artist, or NFT fan may find engaging and approachable content.
3. Play to Earn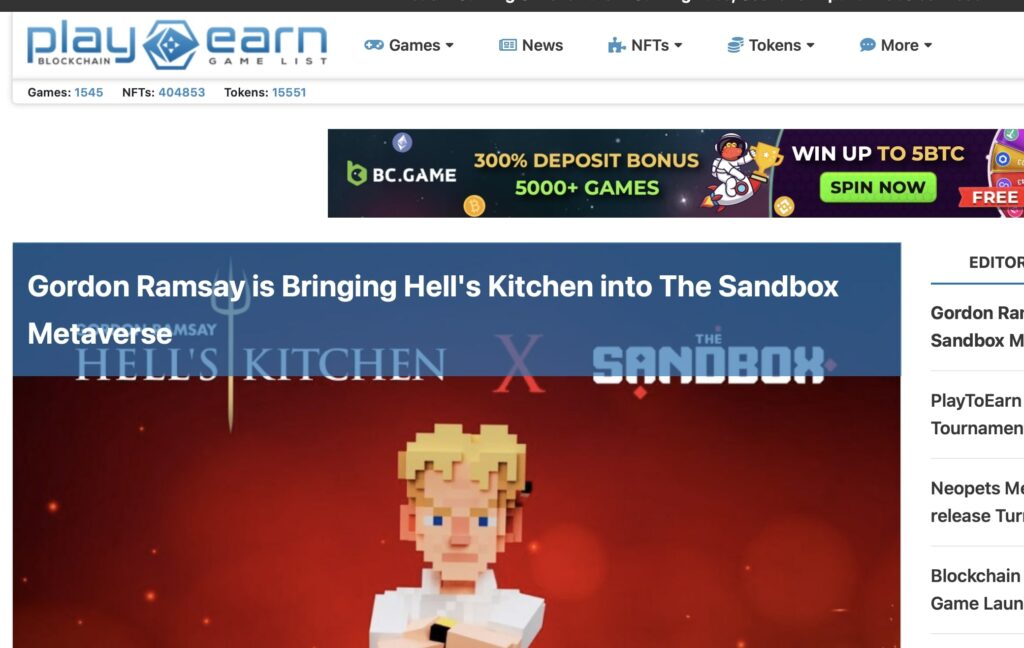 Play to Earn, as its name implies, is a newsletter that serves particularly to individuals with an interest in play-to-win games. It strives to keep its users as informed as possible about everything connected to blockchain gameplay and features some of the greatest NFT games available. With almost a hundred issues under its belt, this is one of the newsletters that will be around for quite some time.
4. NFT Review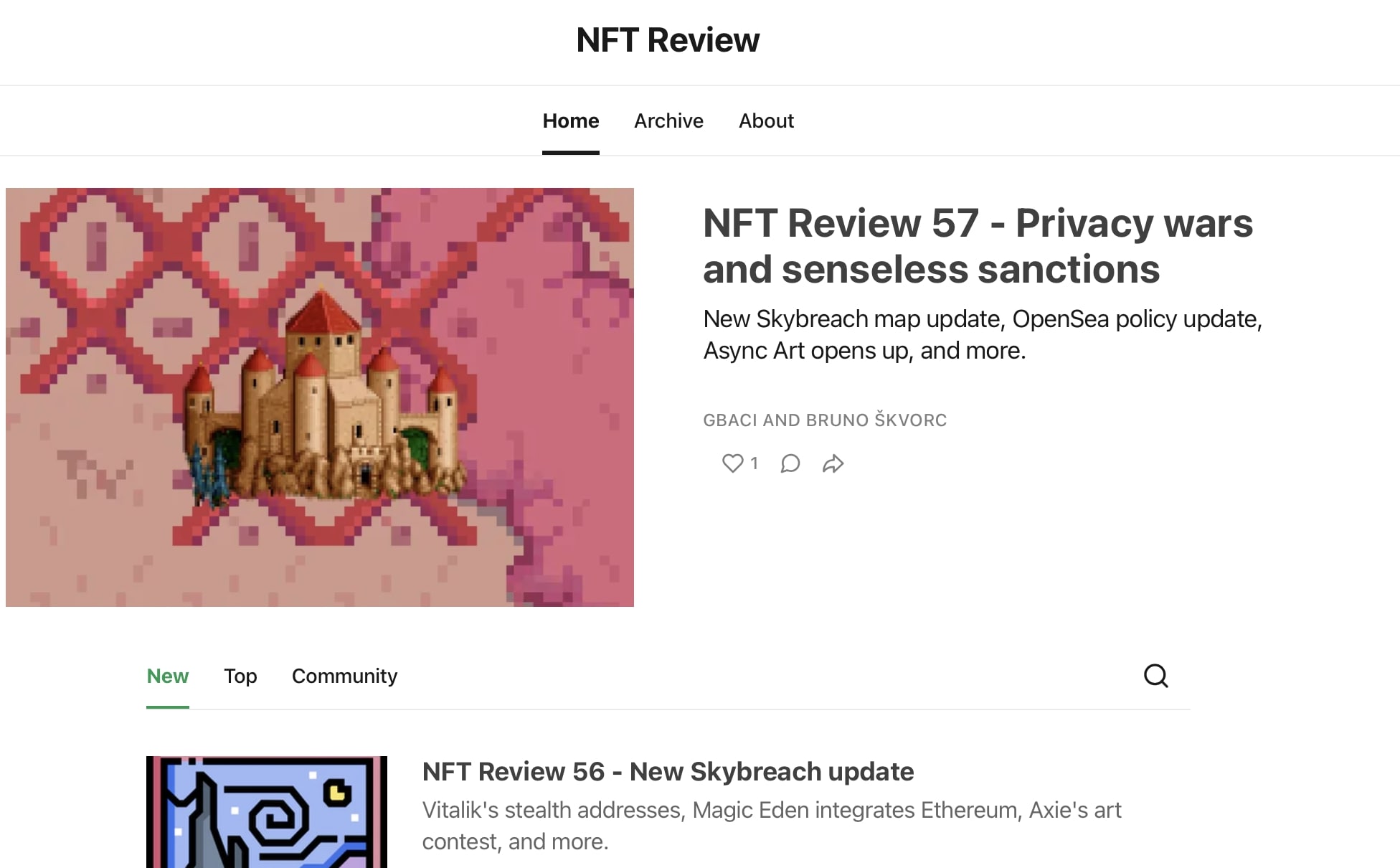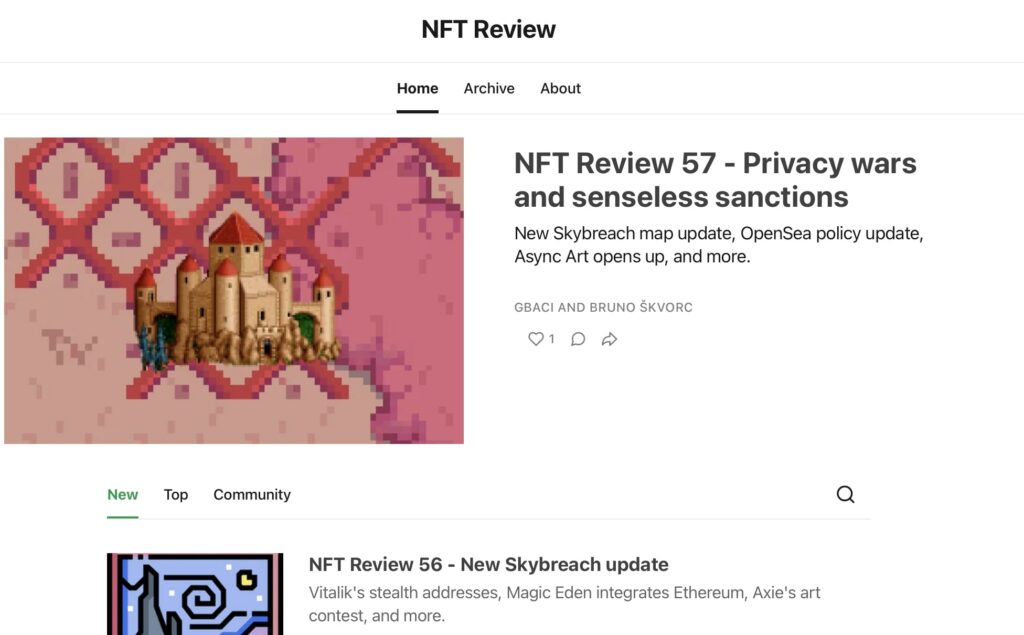 You can follow the development of NFT on the Polkadot part of the blockchain ecosystem through NFT Review. Be on the lookout for new services, works of art, DAOs, revenue models, financial games, and collections of entirely digital unique items.
5. Metaversal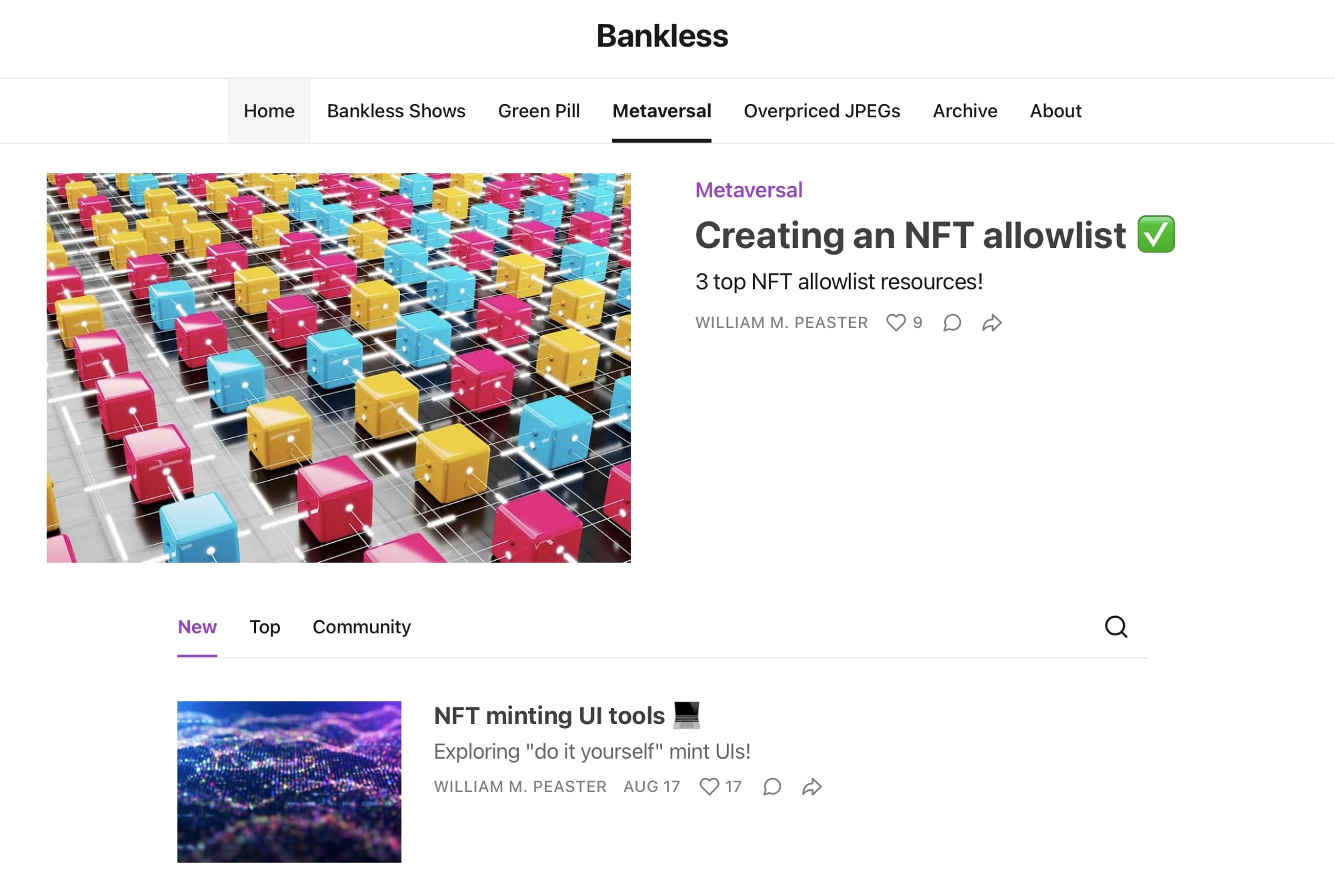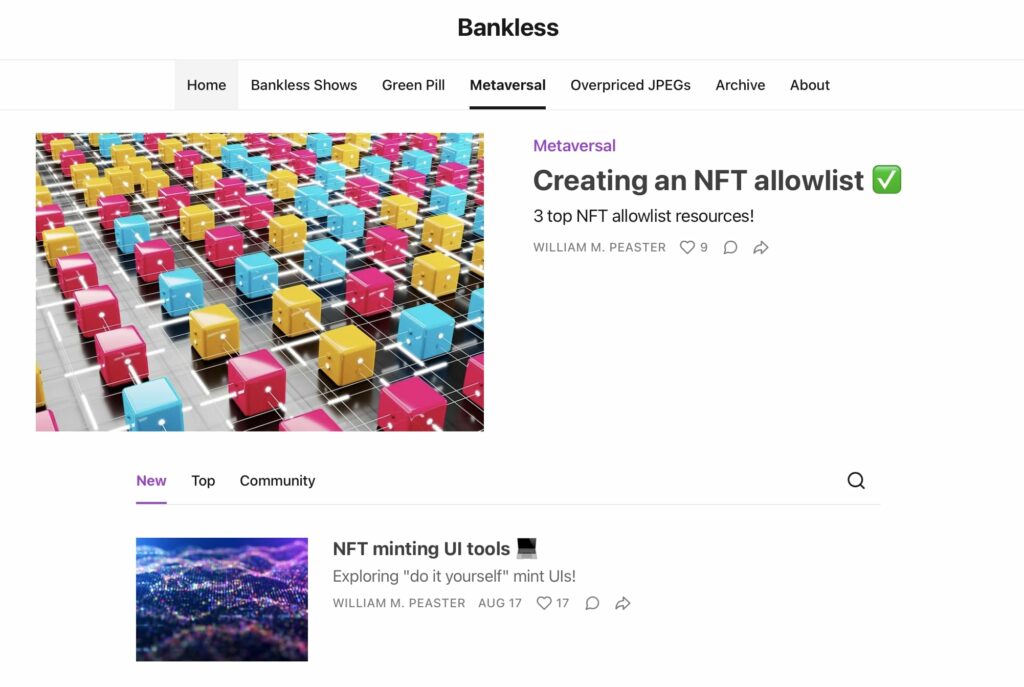 Metaversal offers you articles on analyzing NFT initiatives, buying virtual property, or even doing liquidity mining around NFTs. It provides informations from a more analytical perspective on the NFT environment. Metaversal delves deeply into the subject and is able to produce excellent articles on topics that aren't frequently covered in the NFT realm.
6. The NFT Voice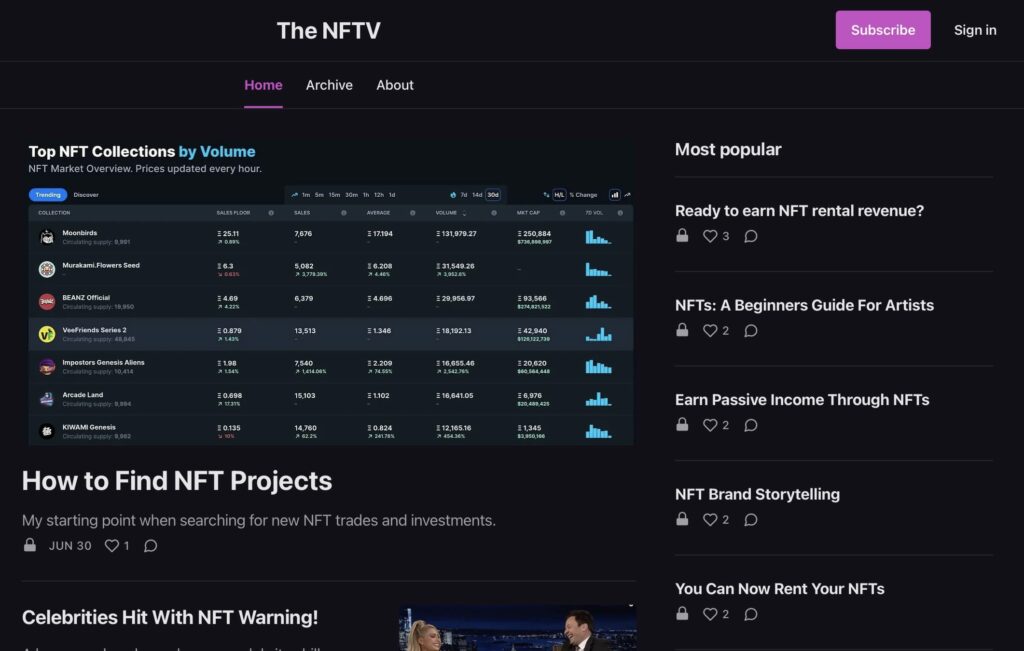 It is the mission of The NFT Voice, previously The NFT Letter, to keep you up to date on everything new and exciting in the NFT industry. This NFT newsletter's creator, David Skilling, describes himself as an NFT consultant who works with well-known brands and famous people.
7. NFT Lately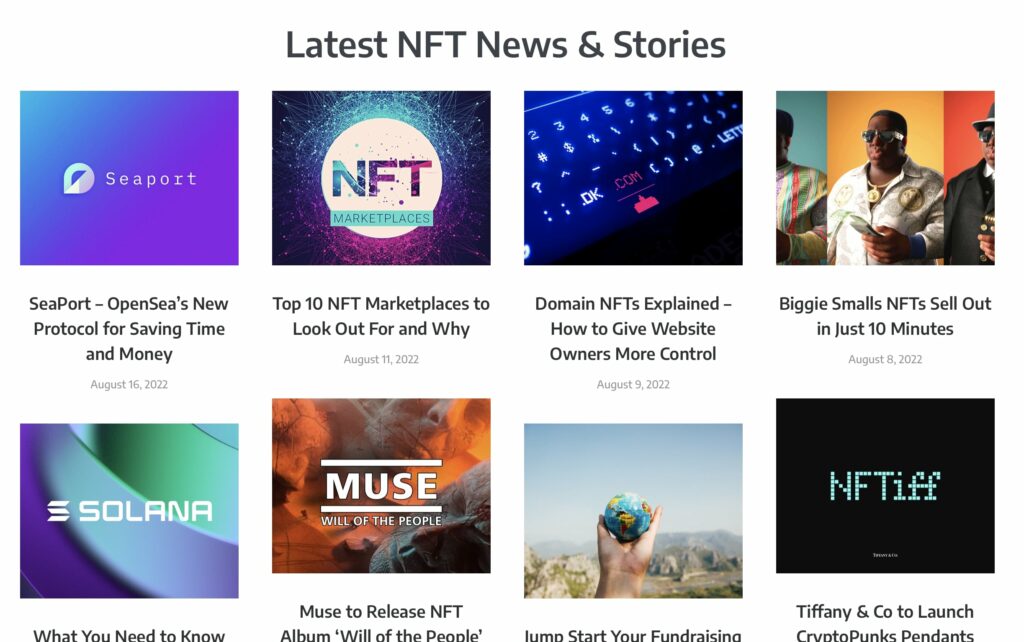 In little more than five minutes, NFT Lately will provide you all the latest news in the NFT sector. They have developed a highly devoted community since their start. Many big companies, like Open Sea, Dapper Labs, Rarible, and others, have workers that subscribe to their newsletter.
8. NonFungible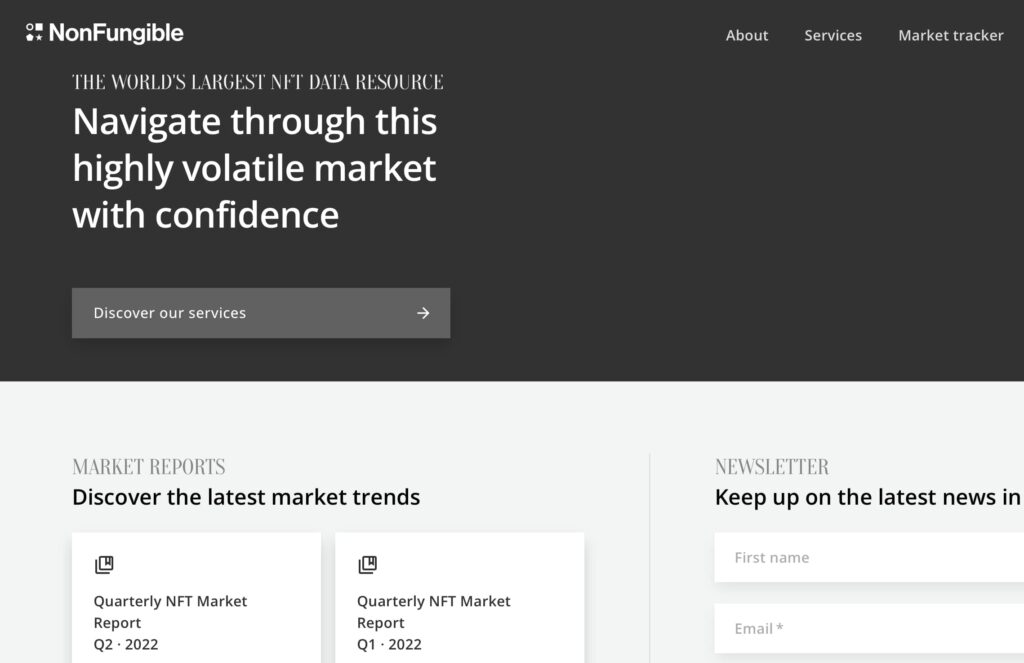 One of the most well-known websites in the NFT industry is NonFungible.com. Their service allows you to look for fresh NFTs, monitor the most recent trends, and assess market activity. Your weekly newsletter will notify you of the most recent developments in the field and keep you up to date on any upcoming events.
9. Forefront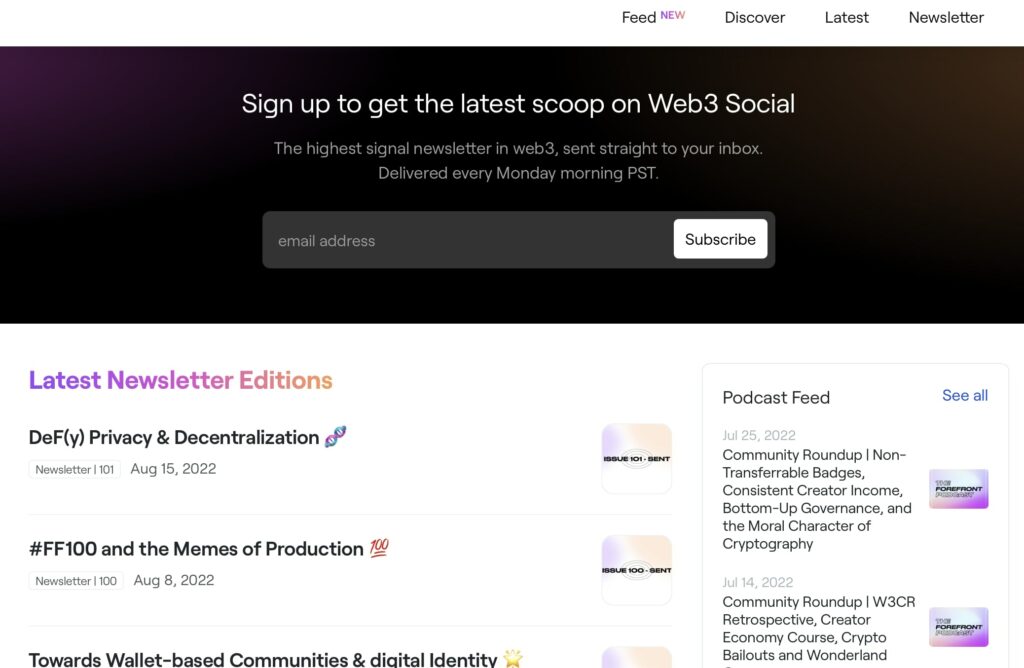 Delivering regular updates regarding the Social Token Content & Creators insights is the main goal of the Forefront Newsletter. It is clear how NFTs fit into the equation. You have the choice of reviewing a sample email before registering for their service. Finding out what sort of stuff you are subscribing to is a smart idea with this approach.
10. Rarible Newsletter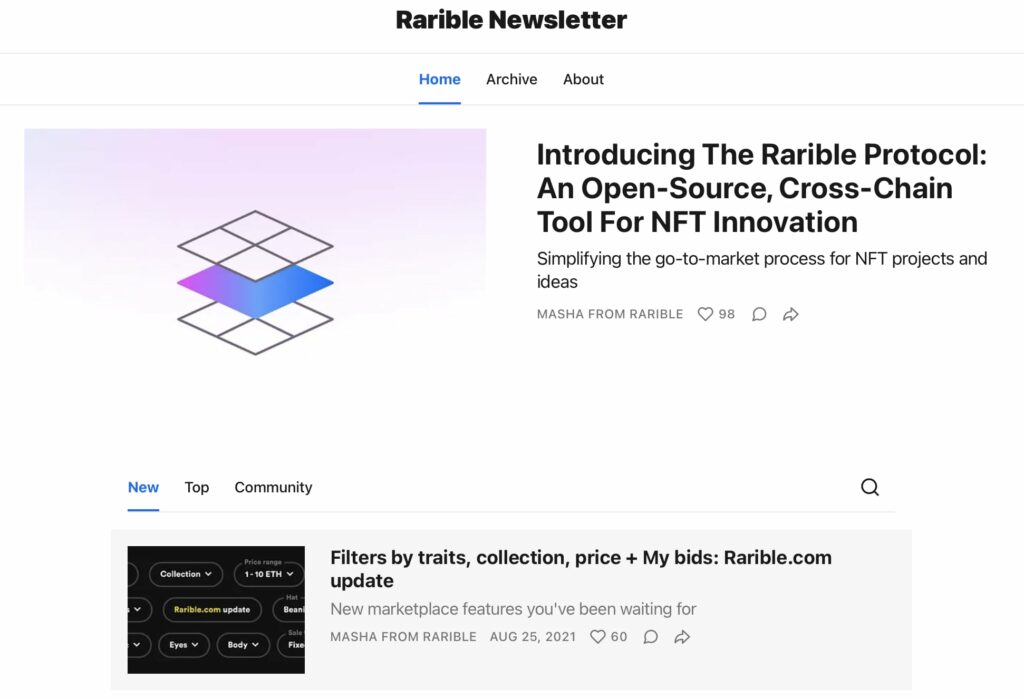 Even NFT platforms publish their own newsletters. Rarible does this to both promote itself and inform its audience on the condition of the NFT industry right now. They cover a wide range of subjects, so there's a good chance you'll find something that interests you.
11. Zima Red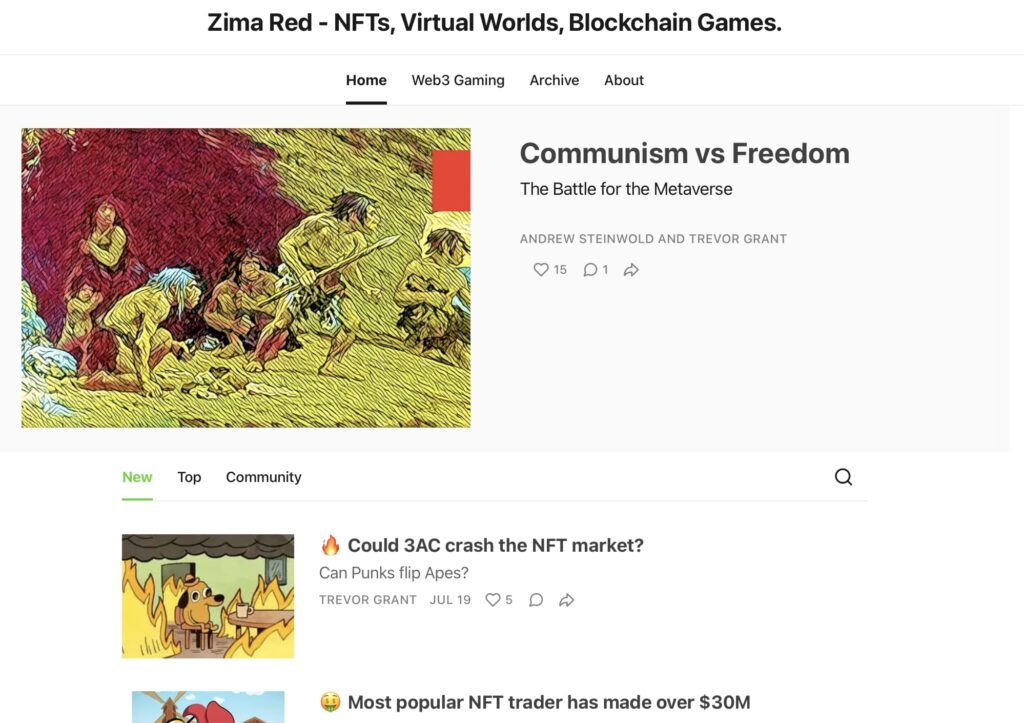 Zima Red publishes their NFT newsletter on Substack, so you may browse previous issues before actually subscribing. This is especially beneficial for individuals who don't like to provide their emails unless they are certain they will receive anything in return.
How to make reading newsletters a pleasure?
Email newsletters are quite popular right now, and a big part of their attraction has to do with how they're delivered.
Email newsletters are convenient since the content is delivered immediately to your inbox from a writer or magazine you already know and trust, whereas traditional internet news sources need you to actively seek out material and sift through it. Hence, it's a more personalized method of being informed.
However, email inboxes may quickly become overflowing with messages. Important instructions, urgent reminders, and even intrusive ads are included in newsletters. Finding what you want and keeping your attention away from all the distractions around it might be difficult when you simply would like to relax and read something.
What if, though, there were a better approach? A way to maintain all the benefits of email newsletters but also isolate them from the rest of your inbox, making it more pleasurable to read?
Mobile newsletter reader
If you prefer reading newsletters on your phone or tablet but would rather keep them separate from your normal inbox, then you need an application like Slick Inbox.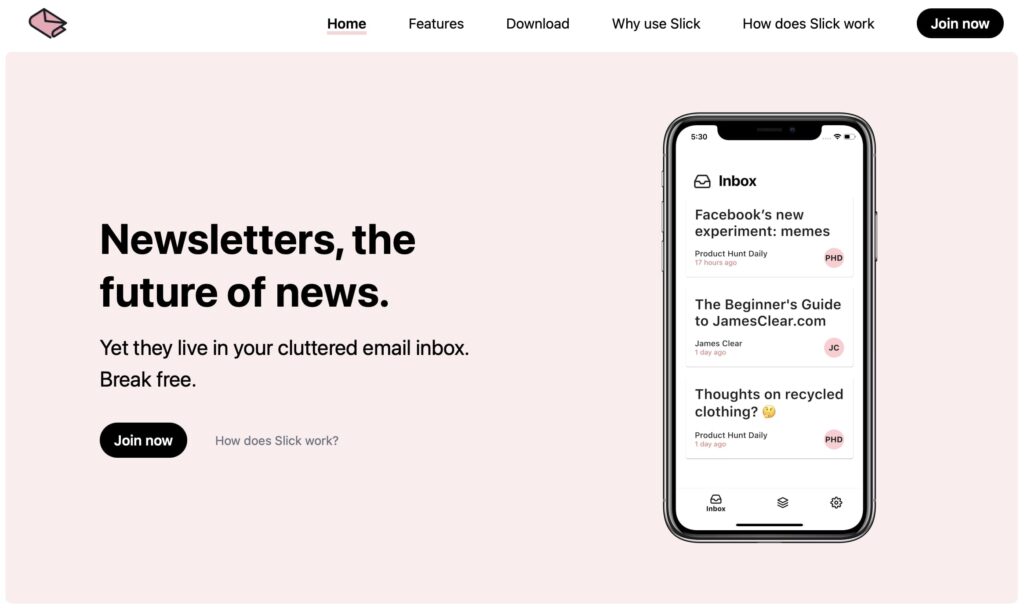 Slick Inbox allows users to create their own unique email addresses at slickinbox.com. Now, whenever you go to a newsletter's website, instead of entering your old email address, you can just enter your new slickinbox.com address. Then, rather of being jumbled up with all of your other messages, any incoming newsletters will go right into the app.
Simply start the app whenever you feel like reading, and you'll find a professionally structured list of unread articles waiting for you—arranged like a classy newsfeed. You may tap any publication you're interested in and read it immediately, without having to go anywhere else.
Once an email has been archived or marked as read, it disappears from the main list and appears in a separate Archived section. Additionally, you may set the app to automatically archive all the articles aside from the most recent 5, 10, or 20.
The app has a ton of additional convenient features, such as a straightforward method for unsubscribing from any newsletter you've added and customized notifications to alert you when new articles are available.
Web newsletter reader
Do you prefer to read newsletters through your browser? Check out the confusingly written Newsletterss, which functions something like a simplified version of the Slick Inbox designed to run online. The website itself is responsive, so it can be used across several devices, including desktops, mobile phones, and tablets.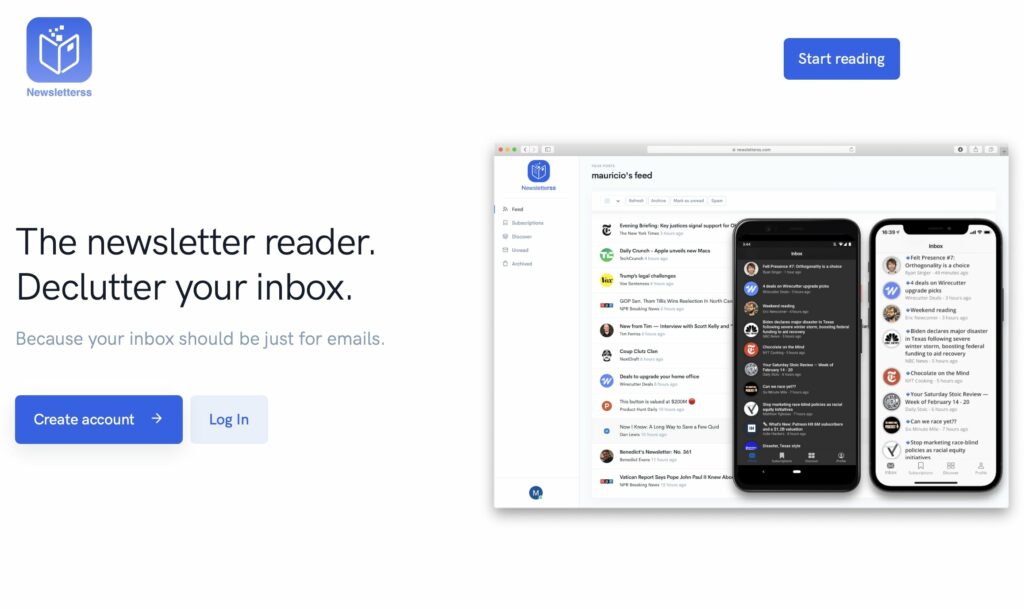 Aside from that distinction, the fundamental concept is essentially the same—with a few notable exceptions. First, Newsletterss features a smart Explore section that enables you to sign up to certain newsletters from within the website, with just a few clicks. You can even register a unique email address for direct-to-the-service subscriptions with the newslettrs.app domain.
Your subscribed newsletters—whether through the Explore tab or the more conventional method—appear in the site's Inbox area, where they're organized by publication and author. You may unsubscribe from any newsletter by clicking a big button at the top of every publishing page. You can also mark publications as read, which makes them disappear from your email.
To keep things straightforward and uncluttered, Newslettrs was created with a minimalist aesthetic in mind. Overall, Newsletterss is as simple and basic, and that appears to be the goal. It won't be the greatest solution for you if you want extra functionality or a mobile app that runs independently.
Gmail Newsletter tab
This is not an app, but rather some clever setting that will create a new tab in your Gmail inbox specifically for newsletters. It's a great middle-ground that enables you to decouple newsletters from the rest of your email without requiring any additional applications or hassles.
Using Gmail's sidebar settings, you may convert one of the supplied tabs into a dedicated newsletter reading area, where fresh newsletters will be sent without being buried under other messages.
To subscribe or not?
It might be challenging to stay on top of a large sector like cryptocurrency and NFTs. Because of this, it's convenient to get all the relevant information and updates in one place. Interested in learning about prospective NFTs? Which initiatives failed? Which ones are growing more and advancing?
Your needs can be met now, just by subscribing to the FONOMORE newsletter, we'll keep you up to date with summaries on all that is happening in the NFT space. We'll make sure to check all nft newsletter content and distill the best hidden nft gems for you, send them to you in our weekly newsletter. Join below by leaving your email:
However, if you want to dig deeper and become an expert, check out our list of the best metaverse newsletters and the best NFT books here, and let us know in the comments below which NFT newsletter is the one to watch!