After the incredible run of Bitcoin to an all-time high of $65,000 USD last year, a new crypto era has arrived and it's not showing any signs of slowing down: NFT's.
And with this incredible growth of NFT's comes the growth of the NFT marketplaces that enable the buying and selling of them.
If you haven't heard of NFT's by now you've probably been living under that digital rock…
And not one where you paid half a million dollars for:
This just goes to show that right now is the time for you to start learning more about it.
Personally, even though I've read about NFT's years ago, I did not take any action until recently. And boy, did I regret that.
That FOMO has been very real and I promised myself that in this new year I will be at the forefront of all the action. My daily research and findings of all that action I'll share here for everybody to use (at your own risk).
In this article, I will start by explaining what an NFT marketplace is and how it's being used. Then I will go over each specific marketplace and the technologies they use to figure out which marketplace is best fits your needs.
What is an NFT marketplace?
An NFT Marketplace is an online marketplace where artists and companies sell their non-fungible tokens (digital items that are not interchangeable) through the exchange of cryptocurrency.
Just recently (during the first week of 2022) the biggest NFT marketplace of all announced that it closed a $300 million Series C round, valuing the startup at an incredible $13.3 billion valuation.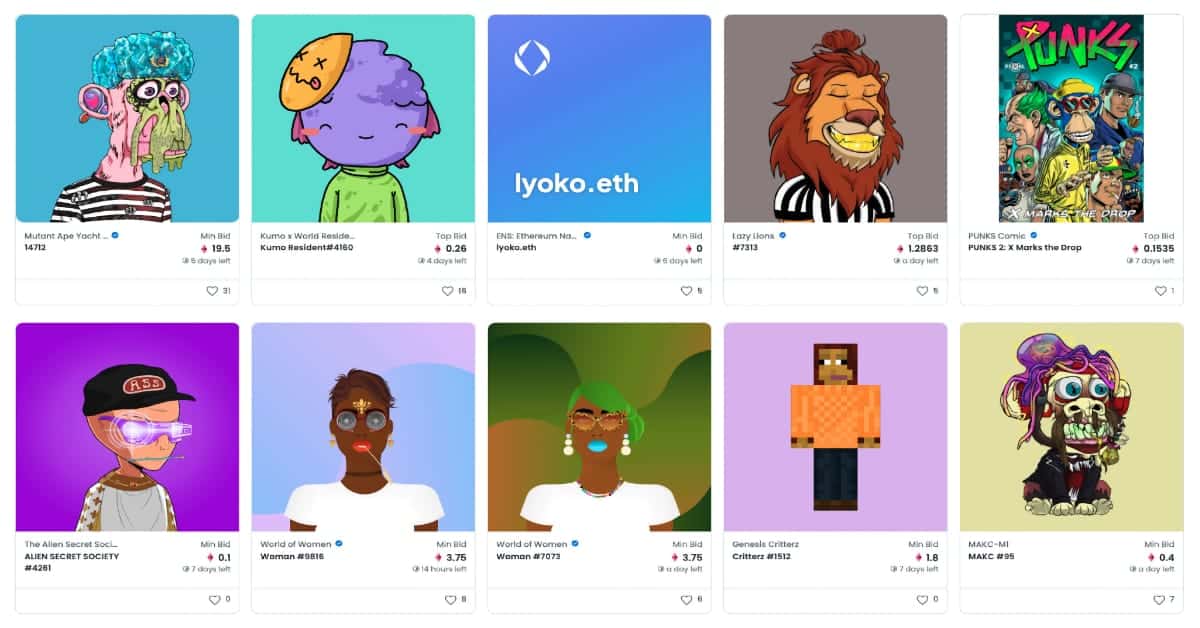 Once an NTF is purchased, the buyer receives a token containing proof of ownership and authenticity and usually pays a transaction fee to the marketplace (and royalty to the artist) for enabling the transaction.
Last year these marketplaces saw incredible growth as the metaverse is taking shape, crypto is still growing and NFTs are hotter than ever before.
NFT Marketplaces List
The biggest difference between the various NFT marketplaces is the blockchain technology that is used and the token that comes with it. Currently, the gas fees of Ethereum (ETH) are so high many are considering other marketplaces to get started with NFT's.
Other things I'd take into account when looking at the different marketplaces are trading volume, utility, audience, and commission structure. When doing my research I ranked the below list of marketplaces based on trading volumes, tokens, creators, and our community feedback.
If you're looking for more in-depth research on specific NFT marketplaces for games, jump to the second part of this article, where you can find the NFT gaming marketplace where you play incredible games that are laying the groundwork for the metaverse.
Feel free to ask any questions in the comments below if you're unsure which marketplace is right for you! Without further ado, here are is my best NFT marketplaces list:
1. OpenSea
OpenSea is currently the largest marketplace for non-fungible tokens. It was founded by Devin Finzer and Alex Atallah in New York on December 20, 2017, and only 3 years later OpenSea's daily volume passed the $168 million mark ending the last day of 2021.
OpenSea controls the lion's share of NFT transactions over the past year and recorded a whopping 646x increase in 2021. It currently lists more than 24 million NFT's, offering nearly everything from art, collectibles, in-game items to music, GIFs, and cards.
At the time of writing, the OpenSea marketplace has a total trading volume of over $15 billion and is in talks to acquire more crypto-related companies this year.
OpenSea is open for everyone to start using right away and the platform offers artists an item minting tool to create collections and NFTs for free that are extremely easy to use.
Blockchain Technology: Ethereum (ETH), Polygon (MATIC), The Sandbox (SAND), Klaytn (KLAY)
Category: Digital art, music, games, domain names, virtual worlds, sports, collectibles
2. NBA Top Shot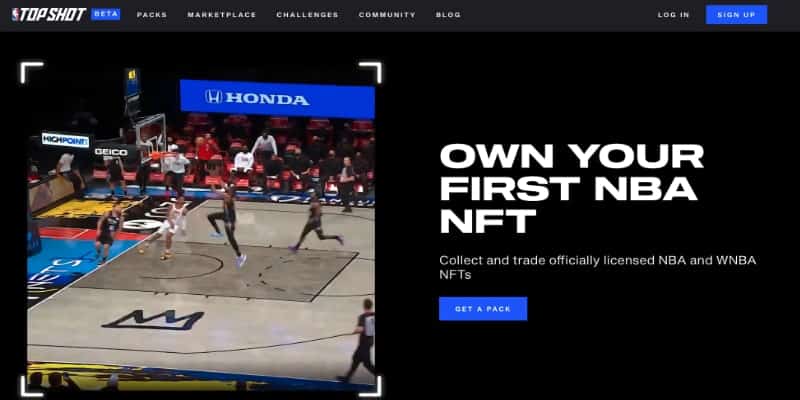 After Dapper Labs created the world's first popular blockchain game in 2017, CryptoKitties, their second project really took off. NBA Top Shots has exploded last year and quickly put NFT crypto-collectibles on the world map.
NBA Top Shot is a collectible set of digital trading cards with highlights of NBA video clips. They were among the first NFT series to gain traction with a bigger audience and helped ignite the growth of the NBA Top Shot Marketplace.
Another secret to their success is that it's easy to use through your Google account and that goes to show as NBA Top Shots ranks 4th in terms of all-time trading volume with $280 million.
Blockchain Technology: Flow (FLOW)
3. Solanart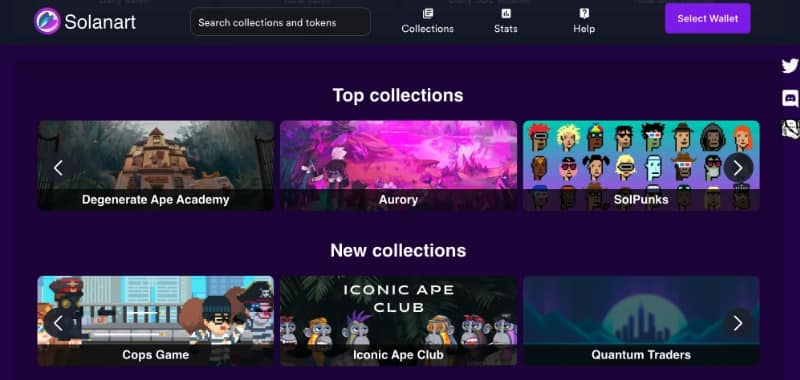 Solanart is the first and largest fully-fledged NFT marketplace on Solana. Solanart is presently the most popular NFT platform on the blockchain and has sold out several collections such as SolPunks, Degenerate Ape Academy, and Aurora.
Solana seems to be growing into the best blockchain for creators to develop a collection without having extremely heavy trading costs. The lower cost to mint and trade will grow this ecosystem rapidly in the months to come as it has significant advantages.
Blockchain Technology: Solana (SOL)
4. Magic Eden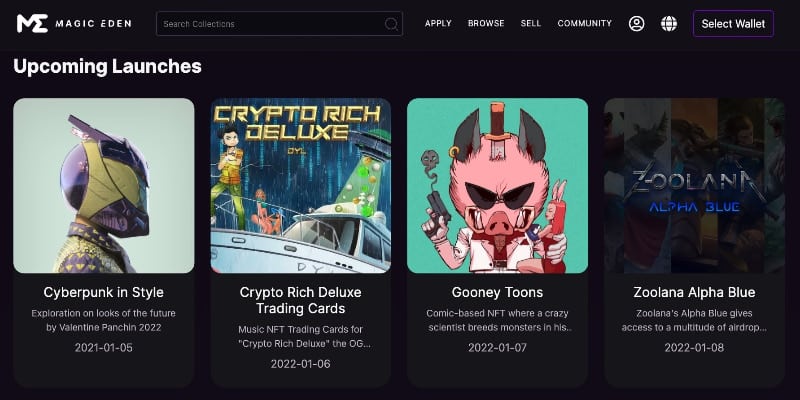 Magic Eden is the second biggest marketplace on Solana after Solanart, grossing an all-time trading volume of almost $600 million. In its first two months since its launch last year in September, Magic Eden has done over $200M in trading volume fighting for the dominant NFT platform position on Solana with Solanart.
The beauty of the Solana network is that each transaction takes 377x less energy than when using the Ethereum network and this probably explains the enormous growth and one of the signals you might want to consider exchanging some ETH for SOL.
Blockchain Technology: Solana (SOL)
5. Atomic Markets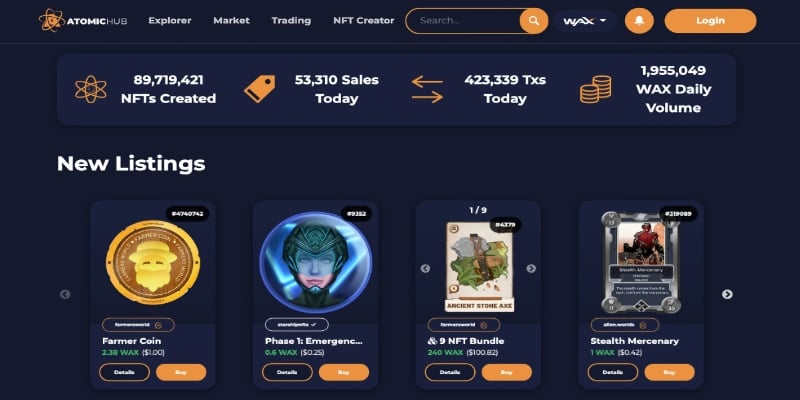 Atomic Markets is the only marketplace on the Wax token and has almost hit the 100 million NFT's created on their platform. It's a shared liquidity NFT marketplace, which means that everything that's listed on Atomic Market also shows on all other NFT markets.
The WAX blockchain is created in 2017 to make eCommerce transactions faster, simpler, and safer by using a delegated proof-of-stake (DPoS) as its consensus mechanism.
Blockchain Technology: Wax (WAX)
6. Rarible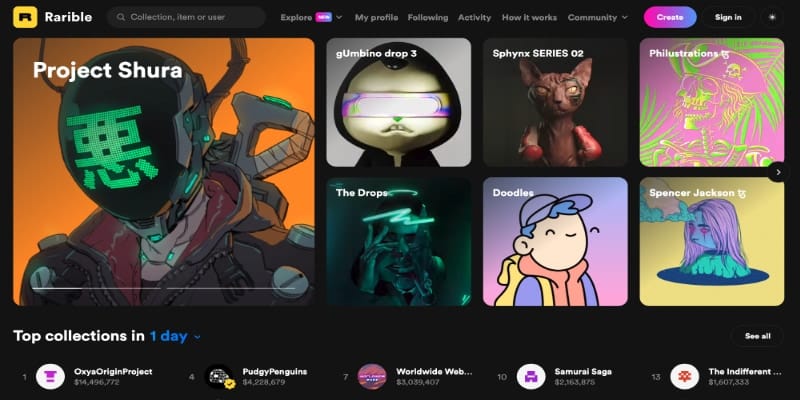 Rarible currently ranks ninth place for the highest all-time trading volume according to Dappradar, with $278 million having changed wallets.
What's interesting is that a handful of well-known companies like Taco Bell and YUM! Brands have partnered with Rarible to launch the companies' NFT's, while others like Adobe support the platform with new features to make content attribution for NFTs easier.
What's unique about the Rarible marketplace is that sellers also have the option to create more than one NFT for a single image, selling it more than once.
Blockchain Technology: Ethereum (ETH)
7. SuperRare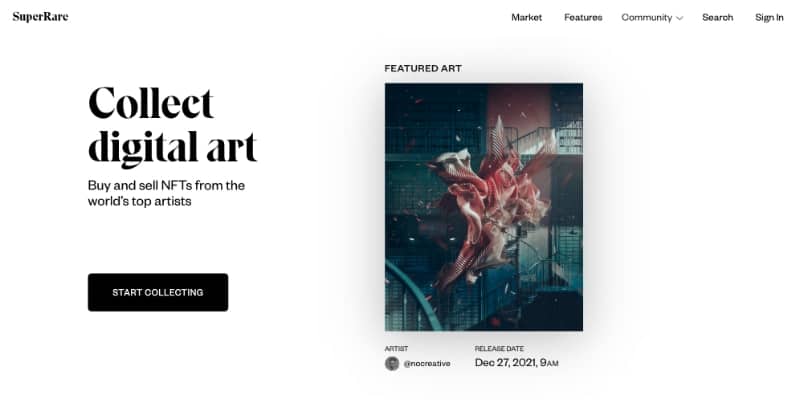 Another marketplace for NFTs built on Ethereum, SuperRare only onboards a small number of hand-picked artists. With an average item price of almost $8000, this marketplace is selling the highest priced NFTs of all platforms.
Another difference with other marketplaces is the commission structure of SuperRare. When you sell any of your artwork in a primary sale, you'll get 85% of what the buyer paid and for secondary sales, you'll receive a 10% royalty as a form of passive revenue if the artwork as it continues to get traded publicly.
SuperRare also launched its own token (RARE) on the Ethereum blockchain and according to the creators will be used to find new talent for the marketplace. Similar to Rarible, SuperRare NFTs can also be bought and sold on the OpenSea marketplace.
Blockchain Technology: Ethereum (ETH)
8. Foundation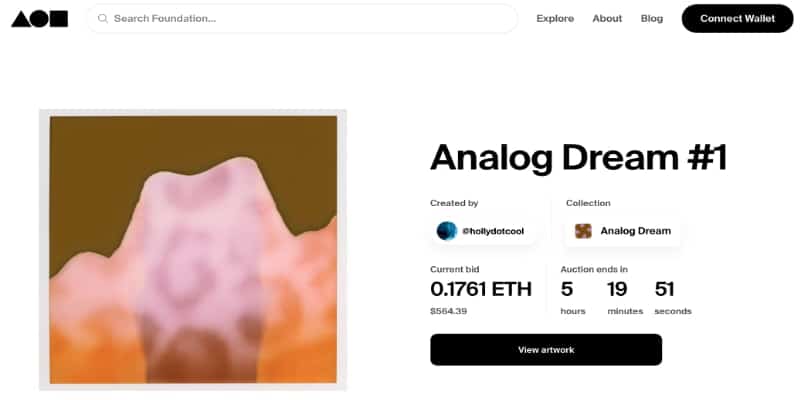 The intentional simple designs of the Foundation.app did not make any simple sales. Since Foundation's launch in February 2021, the marketplace has seen an all-time trading volume of close to $130 million.
Digital artists need to be invited to the Foundation app's platform by its community and are highly curated, which goes to show as the average price per item is upwards of $2600. This is not a great marketplace to begin your NFT journey but the simple format and beautiful artwork do make it a great place for inspiration or to get your more premium NFT pieces.
Blockchain Technology: Ethereum (ETH)
9. DigitalEyes Market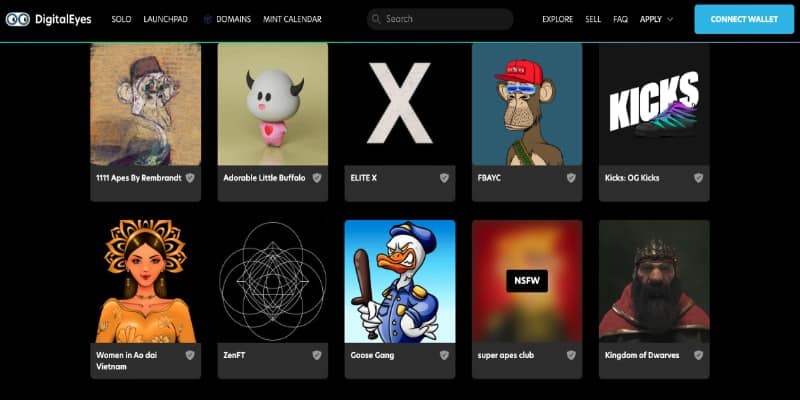 Number 9 in our NFT marketplaces list is Digital Eyes Market, a Solana-based marketplace for NFT's that just passed the 100 million in all-time trading volume. There is only a 0.99% service fee collected on the SOL by Digital Eyes and an additional royalty % fee is set by the creator.
Blockchain Technology: Solana (SOL)
10. Makersplace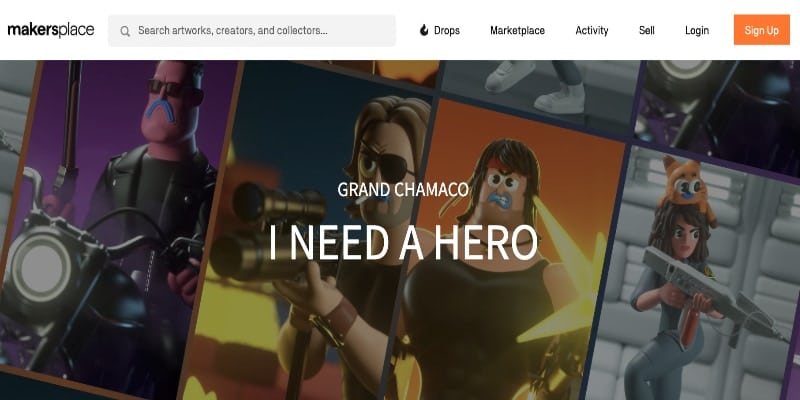 Makersplace is founded in 2016 from the San Francisco Bay area and yet another NFT marketplace on the Ethereum chain with over 6000 digital art collectors. For being founded 5 years ago and being this early in the NFT game, their all-time trading volume is low with only $25.5 million.
They say you'll find truly rare and authentic digital artworks by the world's leading artists and creators, and it seems to be a niche platform for exactly this. The average item price for their NFT artworks is around $1500 which is somewhat higher than the averages of most other marketplaces.
Blockchain Technology Used: Ethereum (ETH)
11. Enter.art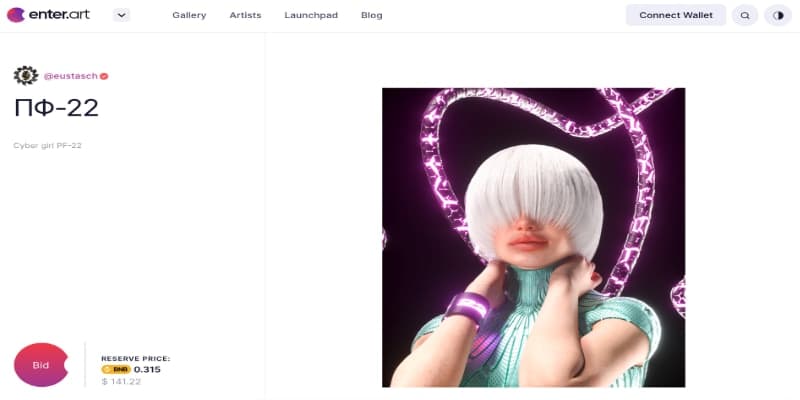 NFTART was first launched as NFT Art Finance but fairly quickly relaunched in March of 2021 as NFT ART. From then on they changed their focus from finance to non-fungible tokens and created a specific NFT marketplace for art as well as one for audio.
The NFT Art token is a deflationary utility token on the Binance Smart Chain powering both NFT marketplace ecosystems. Compared to other networks, the transaction fees for BSC are extremely low, making this an attractive marketplace if you want to start selling with a lower budget in mind.
Blockchain Technology: Binance Smart Chain (BSC)
12. Nifty Gateways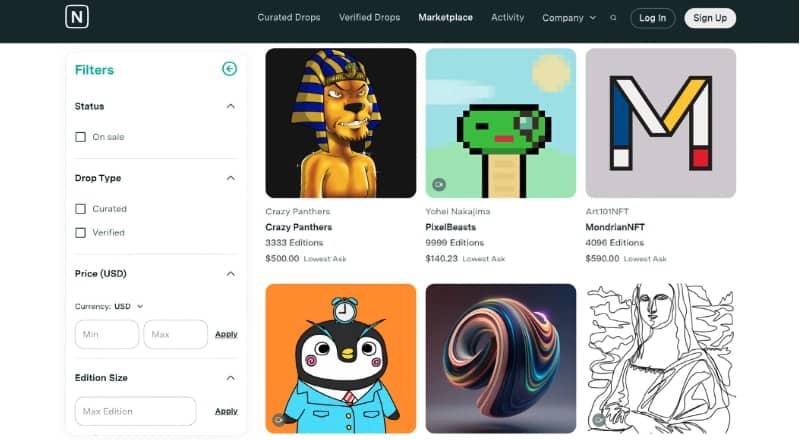 Nifty Gateway is a premium online digital art auction platform for NFT art founded by Duncan and Griffin Cock Foster in 2018. After only being in business for a little over a year, the Winklevoss twins cold-called the brothers and ended up acquiring Nifty Gateways.
Since then the marketplace has teamed up with top artists like Beeple, Steve Aoki, deadmau5, and Grimes and also offers limited edition Nifties in drops that take place every three weeks.
Anyone can apply to start creating NFTs with the platform if you will be accepted is the question. Besides being a curated platform, Nifty Gateway also hosts any NFTs purchased so that they aren't stored in your own wallet but stored for you by Nifty Gateway.
On one hand, this means there is no gas fee to process a transaction which saves the collectors a lot of hassle and money but on the other hand, this means the artists can't showcase their work on other marketplaces.
If you want more flexibility with your artwork and want to publish it on multiple marketplaces, this one is not recommended for you.
Blockchain Technology: Ethereum (ETH)
13. LooksRare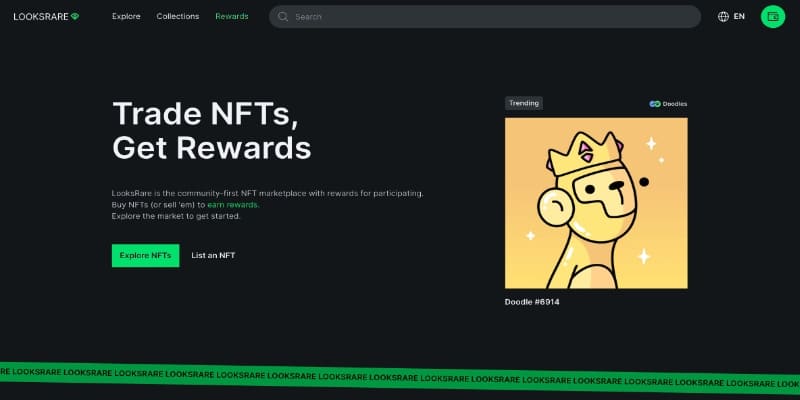 This just came in fresh! The LooksRare NFT marketplace has only just launched and is already picking up serious steam because of its unique reward structure where you'll earn their native token $LOOKS (which has doubled in price after the marketplace went live.
According to its founders, Zodd and Guts, it is an NFT platform "By NFT People, for NFT People." It clearly seems to work because the LooksRare marketplace already has a trading volume of over $600 million in just a matter of 2 days. This is one to watch…
Blockchain Technology: Ethereum (ETH)
14. Binance NFT Markeplace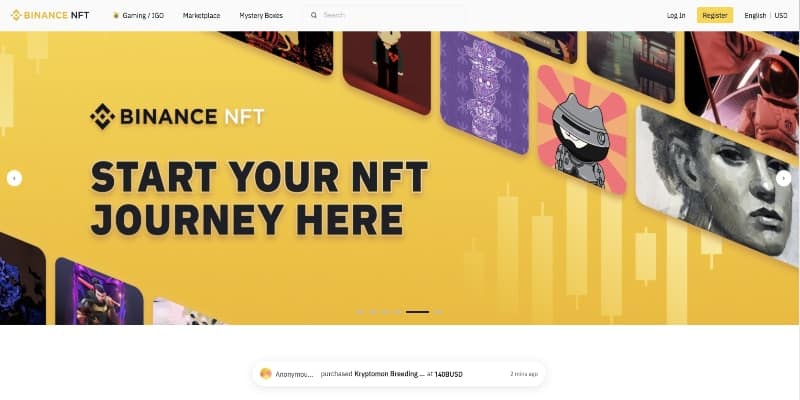 Besides being (one of) the biggest crypto trading platforms, Binance is also foraying into the NFT world with its Binance NFT marketplace, featuring all forms of art, collectibles, events, and NFT Mystery boxes…
This marketplace is the only marketplace that is powered by its own Binance blockchain technology. You can mint your own NFTs on both the Binance Smart Chain and the Ethereum chain and receive a 1% royalty on your NFT sale.
The beauty of the Binance NFT marketplace is that it can leverage its huge community and ecosystem to grow exponentially faster than the others. Its huge reach and privately owner IP make it one to keep an eye on for me!
Blockchain Technology: Binance Smart Chain (BSC), Ethereum (ETH)
15. Mintable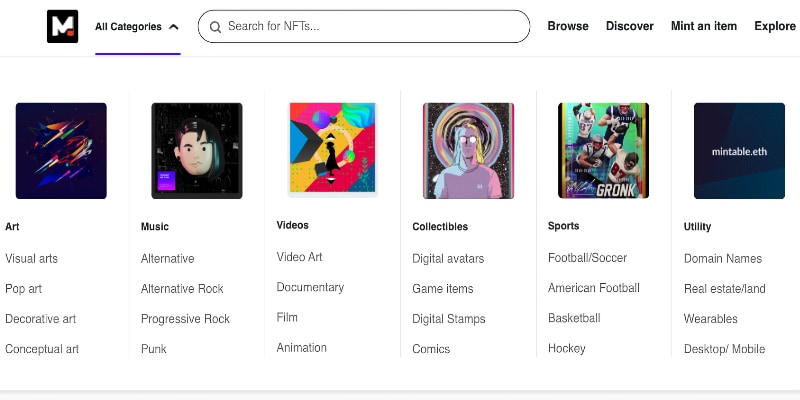 Last on our list, and mostly because it's backed by our favorite shark and billionaire Mark Cuban, is similar to OpenSea and also runs on the Ethereum blockchain.
The fees are the same as well at 2.5% and there's really nothing different or unique compared to the others, and therefore the perfect last position in this list. 🚀
Blockchain Technology: Ethereum (ETH)
NFT Gaming Marketplaces List
In order to create this list of the best NFT gaming marketplaces, we have played and traded on the majority of all these in-game marketplaces and listed all the advantages and disadvantages of each NFT gaming platform and marketplace below.
1. Axie Infinity
Axie Infinity is an NFT-based online video game developed on the Ethereum blockchain, that is focused on breeding and battling other online players.
Last year Axie Infinity blew up and rode the NFT wave perfectly, making it currently rank as the second biggest NFT marketplace ($4 billion) in terms of all-time volume. At the time of writing, Axie Infinity has 2.4 million daily active users earning items while playing the game.
All in-game items, such as the Axies' body parts, the land, and item bundles are non-fungible tokens (NFTs), making it possible to play the game and improve your items to be able to sell them for profit on Axie Infinities Marketplace.
Keep in mind that on this marketplace you can only sell and trade items from the Axie Infinity game so for selling non-Axie related NFTs you have to look elsewhere.
Blockchain Technology: Ethereum (ETH), Ronin (RON)
2. Mobox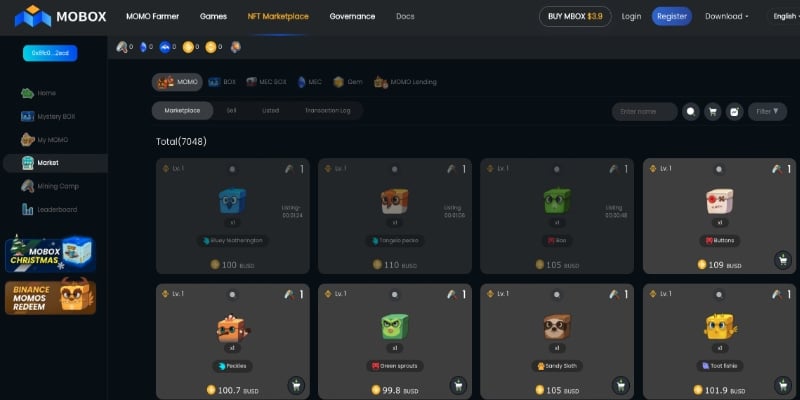 MOBOX has created a unique marketplace and infrastructure that is built upon the growing Decentralized Finance ecosystems, combined with gaming. With the use of yield farming and NFT's, they set up to create a so-called GameFi metaverse, coined as the #momoverse.
The platform set out to make NFT's more accessible and easy to obtain with its NFT marketplace, game creator, and tool suite to everybody can get started in its momoverse. The Mobox ecosystem has a plethora of play-to-earn games, including a battle game known as Block Brawler, a cross-platform idle mining game called Chainz Arena, and the turn-based idle game Token Master.
Blockchain Technology: Binance Smart Chain (BSC)
3. Decentraland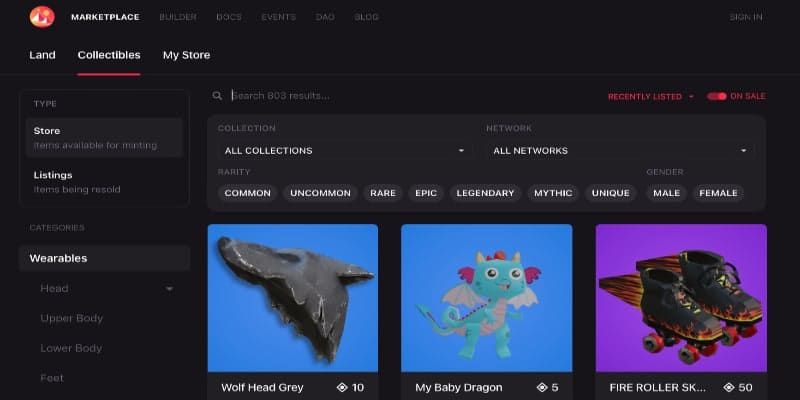 Decentraland is a decentralized virtual world where plots of virtual land can be bought and sold, and the items that are built on top of that. You can find literally everything that we have in real-life, on its NFT marketplace, from skyscrapers to airplanes and restaurants to retail stores.
Decentraland's fungible, ERC20 cryptocurrency token is MANA, and what makes this unique and shows the potential of a Metaverse, is that you can decide to charge other players to access your content. Read that again.
Imagine…you buy digital land in Decentraland and then charge for players to access your content (think of a museum or theme park) and you'll earn the native MANA token while doing so… The future's potential is infinite and I'd recommend keeping track of this Metaverse world and NFT marketplace, and possibly buy an item or even better, a plot of (Decentra)land.
Blockchain Technology: Ethereum (ETH)
4. Aavegotchi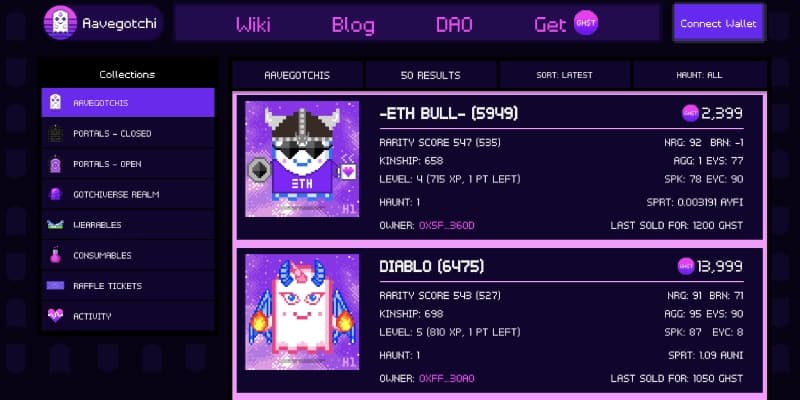 Aavegotchis, are pixelated ghosts that live on the Ethereum blockchain and are the digital equivalent to the original Tamagotchi's we all loved and played (if you're born before the '90s). Aavegotchis are playable NFTs, backed by the ERC721 standard used in other popular NFT games such as Cryptovoxels, Axie Infinity, and Cryptokitties.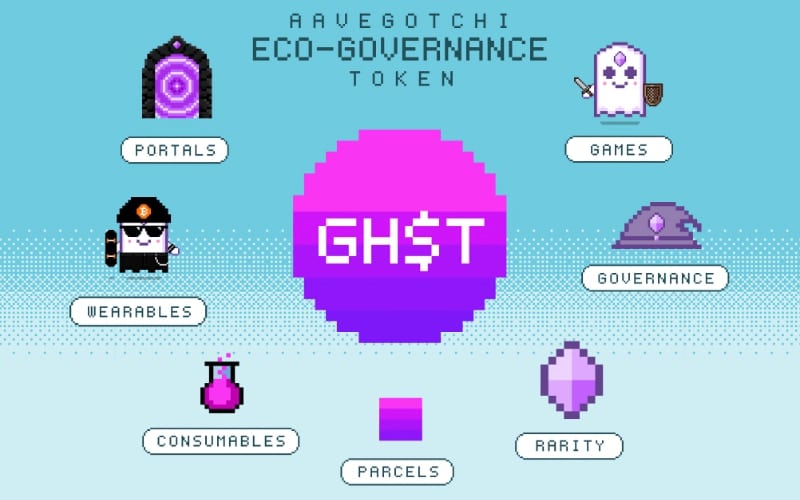 To start playing, you just need to summon an Aavegotchi through a Portal or acquire one in the NFT Baazaar by connecting your digital wallet and over time, your Aavegotchi will gain value both through generating interest from your staked assets through interaction in the Aavegotchi metaverse.
Blockchain Technology: Polygon (Matic)
Which NFT Marketplace to choose?
OpenSea is firmly in the sights of dozens of other NFT marketplaces but has few major competitors at the moment, though that may change as FTX or Coinbase (similar to Binance ) is looking to grab the NFT opportunity.
Only a week ago, the Associated Press made headlines when it announced they are planning to launch its own NFT platform for photos and journalism and will be those big organizations that can take over OpenSea's position as fast as they took it themselves last year.
The NFT space saw plenty of action in 2021, but OpenSea realizing this valuation will rely on its continued success and its ability to stay ahead of its competitors and to onboard beginners in the exciting world of crypto art and collectibles.
I'd love to hear if you have any experience with trading NFT's and which marketplace you have used so feel free to leave a comment below! NFT OUT.