If one industry is both changing extremely fast and also in the best position to shape the future of the metaverse, it is gaming. With blockchain technology and the quick rise of NFT's, the gaming industry is laying the groundwork for what will become the new virtual metaverse world.
The virtual fantasy worlds that gaming industries have been carving over the past decades are now going into the next phase of technological advancement which will further blur the line between what's real and what's digital.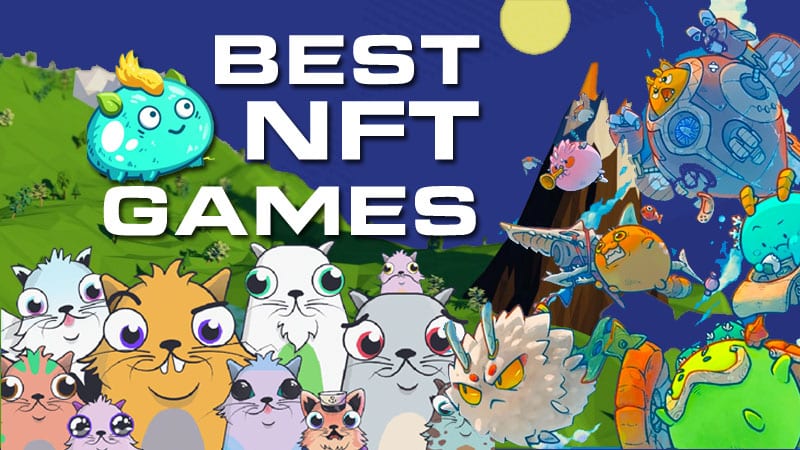 With NFT and Blockchain, it is now possible to redeem the coins earned from assets and items owned in the virtual world for assets in the real world.
This created a completely new industry that has exploded around these play-to-earn games, as you can also see in the search volume increase of the past year:
The growth of play-to-earn games has been ignited with the worldwide opportunity of generating a passive income from playing these games in a different currency than your own.
In countries like the Philipines and Venezuala, you can also see increased growth in the user base of these games mostly providing in-game assets to countries with a higher GDP.
This in terms, has exploded the growth of NFT marketplaces for in-game items that enable the collecting and trading of these gaming NFT's.
Today we're going to look at the five best NFT play-to-earn games on the internet that allow you to earn real crypto-currency while playing from home.
Axie Infinity
Axie Infinity is an online play-to-earn (P2E) game involving a variety of characters inspired by the wildly popular Pokemon series. For the most part, the game uses a turn-based battle system in which players fight against either computer-controlled Axie teams or live online opponents. The characters in the game are called "Axies". According to the official website, Axies are fierce creatures that love to build, battle and search for hidden treasure. 
Players are encouraged to build their own unique collection of these characters and use them to go to battle, breed, build their own kingdoms and enjoy them as virtual pets. Axie was launched by the Vietnamese developer Sky Mavis back in 2018. By late 2021 the game had over a million daily players and quickly became the most used crypto app on the Ethereum blockchain.
AXS is the Ethereum token used to fuel the Axie Infinity platform. It's one of the most popular P2E platforms on the internet and a major crypto investment for those looking to invest without playing the game itself
Axie Infinity reportedly has over 8 million registered players with 1 million of them claiming to play it on a daily basis. The biggest market for the game to date is in Southeast Asia, especially in Vietnam and the Philippines.
Axie infinity uses Blockchain technology to reward players as they progress through the game. It's designed with Ethereum technology along with Ronin ( a side chain designed to reduce fees and delays) that allows players to own virtual assets earned by engaging with the game and progressing through various levels of skill.
Items within the game are represented by NFTs. These include the characters themselves as well as land plots and other in-game items. This allows players to trade Axies on the game's own marketplace.
Signing up for Axie Infinity
To sign up, you'll need to connect your digital wallet with your Axie Infinity account. Your digital wallet needs to be compatible with Ethereum (ETH) as this is the cryptocurrency used to interact with Axie Infinity.
In order to start playing, you'll need enough ETH in your digital wallet to buy a minimum of three Axies from the game's own marketplace. You can also breed your own Axies using either of the game's 2 native cryptocurrencies; Small Love Potion (SLP) and Axie Infinity Shards (AXS).
Axie Infinity Shards is the main token used on the platform. It can be bought and sold on many of the major crypto exchange platforms. In order to play, you need to have some AXS in your wallet but these can be easily traded for most of the major cryptos. It's important to note that AXS also acts as a governance token. This means the holder may have some influence on the future decisions made by the game's creators.
Small Love Potion tokens are earned by winning battles or completing other quests in the game. The more time you spend playing the game, the more SLP you'll collect. You can buy and sell these tokens on decentralized exchanges like SushiSwap.
Star Atlas
Star Atlas is an online science fiction RPG game set in the year 2620. It's one of the world's most anticipated P2E concepts. The game's universe is divided into three different groups: alien, human, and android. Players decide which group to pledge loyalty to and fight for resources and territory on behalf of their chosen group. One of the main objectives of the game is to travel across the universe to find new planets and collect valuable resources. 
When it comes to gameplay, Star Atlas blends several genres to make its own unique gaming experience. Firstly there's strategy. This requires players to develop their own approach to interacting with other players in the game. Then there's exploration. This involves searching for alien planets in a mode similar to a first-person flight simulation and a sophisticated map view feature. Finally, there's role-playing in which players can make real-world money by embodying a variety of different professions within the game such as business professionals, engineers, pirates, and commanders to name a few.
The game runs on the Solana blockchain which is known for its low transaction fees and compatibility with in-game trading and NFTs. It's classed as a "massively multiplayer online game" or MMO which means that it has hundreds or even thousands of players all on the same server. The game launched its original token generation in August 2021 and started selling parts of the Star Atlas universe back in September 2021.
Mining is an integral part of the Star Atlas economy. Any wealth earned through mining has the potential to produce several streams of income that can provide a genuine living for many players. There's huge potential on the platform to make money in multiple ways like trading commodities or pursuing a specific career. Many items like weapons, spacecraft, and in-game characters can be tokenized. Players can create their own cities, economies and even DAOs in the metaverse
Star Atlas' CEO, Micheal Wagner is well-known in the crypto world as an entrepreneur with a history in capital investing, Bitcoin, NFTs and Blockchain technology. The initial project was started in 2020 and was eventually published in January 2021. The game is backed by the developers behind the Axie Infinity Scholarship program as well as several renowned venture capital firms including Republic Crypto, Yield Guild, Spark Digital and LD Capital.
In-game Atlas tokens
ATLAS is the main currency used throughout Star Atlas. You'll need this currency to buy specific NFT items like Spacecrafts, crewmembers, and territory as well as resources like food, fuel and ammunition. You also need ATLAS to make some in-game decisions and to embark on certain missions. Most things in Star Atlas can be paid for using ATLAS, so it's important to stay on top of managing your resources.
POLIS is the secondary in-game currency that can be earned in the following ways:
Staking ATLAS in the DAO and playing the game regularly
Buying POLIS from Star Atlas directly
By completing specific missions
If you hold POLIS it will also give you the chance to have your say on different governance rights within the game. This means that you'll potentially be able to influence future decisions about the direction Star Atlas will take in the future.
Signing up for Star Atlas
To sign up, you'll need a Solana-compatible wallet like Phantom or Solflare containing a small amount of Solana cryptocurrency. You can then download the browser extension to connect your wallet to your Star Atlas account. After that, go to the Star Atlas webpage and create an account and connect it to your wallet by clicking "connect wallet" on the bottom left-hand side of your screen.
Silks
Silks is a blockchain-enabled P2E metaverse game that emulates the world of thoroughbred racehorses. Players get to access a range of different NFT assets like horses, stables, and land while collecting and trading within the Silks' unique ecosystem. What makes Silks special is the fact that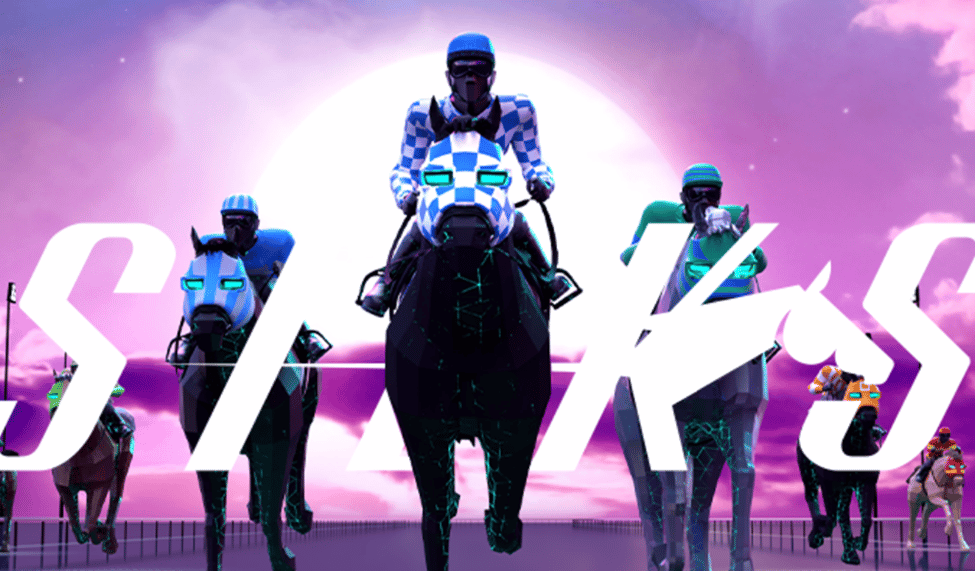 horses in the game represent real-world thoroughbred horses which give players the chance to invest in the racehorse industry in unprecedented ways.
You earn rewards when your horse wins a race in real life. You can also earn currency by staking and breeding which gives you a chance to generate a reliable income. You can also trade any assets you've collected via the secondary marketplace.
Information pertaining to the performance, training, and bloodlines of the horses is constantly updated. $SST Tokens are earned when the real horse wins races or breeds offspring. These tokens are Silks' native currency that players can use to purchase all kinds of items like horses, avatars, land and stables, all of which are represented as NFTs. An additional token, $SLK acts as a governance token that enables users to join the DAO and be part of the decision-making process.
Racing Silks NFT
These digital assets represent the uniform and the identity of each race owner. SST tokens are offered as rewards to the owner when their horses are successful in winning real-world races. Owning racing Silks NFTs also enable you to purchase horse Silks NFTs.
Silk Horses NFT
These form the backbone of all the NFTs in the Silk project. Each horse silk NFT is a 1/1 piece which is connected with a genuine real-world racehorse. Tokens are then earned once their horse comes of age (they're usually yearlings) and start winning races.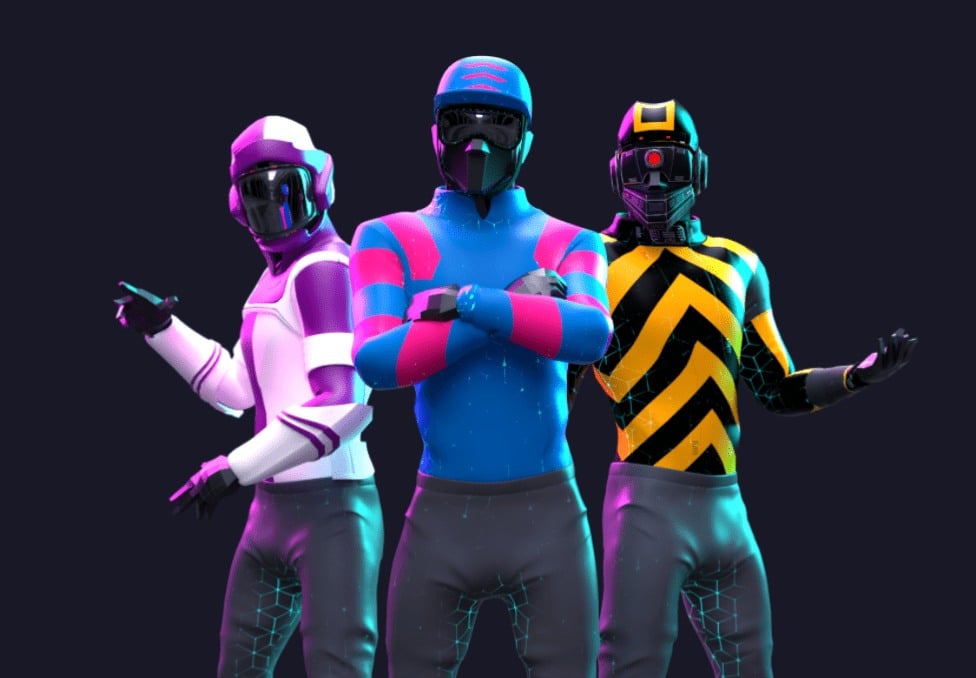 Silk Land NFT
As a metaverse-based project, it's natural that land is another asset that can be bought and traded as an NFT. There are reportedly over 200 thousand acres of virtual land up for grabs that have been divided into single-acre plots that are available to purchase by Silk NFT horse owners. These plots are differentiated by their own specific coordinates and will be used as a means to build house farms. Silk Landowners can also earn rewards by staking their horses on these farms.
Silk Stables NFT
Stables are a natural part of keeping horses and are another potential asset on the Silks platform. Predictably, these stables are used for keeping horses. Horse farms need at least ten acres of land and can be as big as 100 acres in total. Farms are said to be another asset that will be tradable in future versions of the game
Silks NFTs are also available to purchase via OpenSea.
Blankos block party
Blankos Block Party (BBP) is a P2E open-world game that utilizes cryptocurrencies NFTs and blockchain technology. It's inspired by games like Minecraft and Roblox with the difference being that characters created in BBP are fully-fledged NFTs.
The game puts a huge emphasis on the player's ability to create their own characters and worlds and to sell, buy and exhibit them as NFTs. The game itself is a colorful fantasy world designed to resemble a giant block party. Players are free to engage in a number of different activities including competing in minigames, collecting exclusive toys (Blankos), and amassing digital assets through gameplay in the form of NFTs.
BBP's team is led by gaming industry heavyweights who specialize in creating games that incorporate player-owned economies like those used in Call of Duty and Marvel Strike Force to name a few.
The Mythical Marketplace is the exchange platform used to buy and sell Blankos NFTs. Here you can list your own NFTs for sale or buy from other players using Ethereum or USD. You can search by the following criteria: skills, latest sales, levels, artists, season release, transaction history, and lowest – highest listing.
Blankos Block Party and Mythical Marketplace are both built on the EOSIO blockchain and were officially launched back in December 2020. The developers' intention was to create a marketplace designed to enable gamers to buy and sell their own creations ultimately producing a digital asset economy. Assets from the game can then be held in players' digital wallets.
Signing up for Blankos
Setting up an account with Blankos Block Party only takes a few minutes. The game is now available on both PC and macOS. Creating an account is free. You can do this by filling out a registration form on the Blankos official website by clicking "make my account" and "Play for free". At this point, you'll be prompted to download the BBP game launcher. After installing the game launcher you'll need to sign in using the credentials you created in the registration form.
At this stage, you can click the "download game" button after which you can start playing the game by clicking "Play". The first time you open the game you'll be shown a tutorial which will give you a rundown on all the controls and functions.
Buying and selling Blankos
The buying and selling of Blankos and other NFTs is done exclusively through the Mythical Marketplace. After creating a new account, you'll have to link it and set up a two-stage authentication process using the following link. Now you're ready to sell your Blankos or buy some from other players.
Earning Blanko Buck's
There are several ways to earn money while playing Blankos Block Party. First of all, you can earn "Blanko Bucks" and NFTs by finishing challenges that are released on a daily, weekly, and/or seasonal basis. You can also earn NFTs by partaking in different events.
PLay to earn for a living
Despite their explosion in popularity in recent years, NFTs are still relatively new, especially to the mainstream consumer. That being said, the global Non-Fungible Tokens market size is expected to grow from USD 3.0 billion in 2022 to USD 13.6 billion by 2027, at a Compound Annual Growth Rate (CAGR) of 35.0% from 2022 to 2027, according to MarketsandMarkets.
These figures are often quoted by enthusiasts as evidence that the NFT market is indeed maturing. Either way, NFTs have caught the attention of investors and developers the world over, some of whom compare this sudden growth with the rise of the internet in the early 1990s. Coinciding with this is the emergence of blockchain technology as a force to be reckoned with that is currently shaking up various industries that reach way beyond digital artwork.
P2E gaming offers a number of exciting possibilities, one of them being a new way for people to earn a living free from the traditional grind of the 9-5 jobs most of us are used to. Assets earned by playing these games can be traded for real-world currency as well as being swapped or stored as investments.
This revolution in P2E gaming can be traced back to one game in particular. Largely thought of as the first of its kind, CryptoKitties paved the way for the P2E industry we see today.
The basic concept was to enable players to earn money by trading and breeding digital cats. This led to the CryptoKitty NFTs selling for over a million USD which proved to be a turning point that revolutionized the in-game purchase model.
We now find ourselves at a stage where there's greater opportunity than ever before for professional gamers to make a considerable amount of money doing what they love. What has been your favorite play-to-earn game to earn money from in 2022? Let us know in the comments below!