Remember the Sims? That's kinda how I feel when I learned about digital mapping and how Matterport is creating and revolutionizing the metaverse industry. Like those times when you would use a cheat code to be able to build whatever you wanted, that's basically what is happening now but in real life.
It really excites me to have the ability to recreate real-life environments in the digital world as it will unlock an insane amount of new possibilities and exciting opportunities. Think about the experiences, places, and environments you could bring to everyone's home without them having to fly around the world. This will make things accessible for a completely new group of people, and we are only at the start of it.
This article on digital mapping will explain what it is, how it is used, and how it will disrupt the real estate industry and revolutionizes the metaverse. Can you think of any other implementations of digital mapping and how you can build a business around those? Let us know in the comments at the bottom of this article… we love to learn!
What is Digital Mapping?
Digital mapping has its origins in cartography (the science of maps). The central purpose was to provide accurate digital representations of specific areas of interest in disciplines like geography or archaeology as well as to form the basis of GPS and other navigation systems. This is done by collecting data that is then used to create virtual images.
This technology has been harnessed across many industries like real estate, architecture, retail, hospitality, and design. In recent years the most exciting application of digital mapping technology has been in the inception of the metaverse.
Wait, what's the metaverse again?
The term "metaverse" is credited to the science fiction writer Neal Stephenson in his novel Snow Crash. But let's not get too deep into that here.
To elaborate a little, the metaverse is a complex network of 3D spaces that incorporate different elements of the internet along with smartphone apps, augmented reality, and virtual reality. These digital spaces are set to change the way we live and work, much like how the internet changed our lives in the 1990s.
Think of a 3D version of the internet and you'll be most of the way there…
So, Digital mapping is what makes it possible to create 3D digital twins of real-world spaces. It also enables us to interact with these spaces in new and exciting ways that are constantly evolving.
Matterport Overview
Matterport Inc is a spatial data company that specializes in creating digital representations of real-world spaces. First launched in 2011 the company has cemented its name as the gold standard of digital mapping. To date, Matterport has worked with thousands of clients processing billions of images and transforming them into 3D spaces.
After going public in July 2021, Matterport stock opened at $14.42 per share on day 1 and rose by 100% in the ensuing months. To this day, the Matterport stock forecast continues to look promising.
The Matterport news section on their website is a great way to stay informed about future projects.
In addition to enabling extremely accurate 3D virtual tours of buildings and areas of interest, Matterport's software incorporates a host of features that are useful across many industries. Some of their standard features include:
Matterport Notes
The Notes feature was designed with the purpose of increasing the efficiency of workflow within teams and projects. It's essentially a commenting tool that enables users to collaborate on their spaces and share files quickly and easily.
This means that @mentions, deep-linking, hashtags, and attachments can be embedded in the virtual spaces themselves. You can also assign tasks and invite colleagues to spaces you're working on all within the Matterport app.
After assigning edit access, collaborators can interact and comment on your virtual space in real-time which enables you to track the progress of your project and stay up to date with any changes as they happen.
This feature is applicable in a variety of contexts that use spatial documents like designers, real estate agents, architects, retailers, or insurance companies to name a few.
Floorplans
3D floor plans are used by architects, real estate agents, construction workers, designers, developers, and anyone who requires a model of the structure of an indoor space. They provide important information on how a building is constructed and are an efficient means of communicating architectural ideas.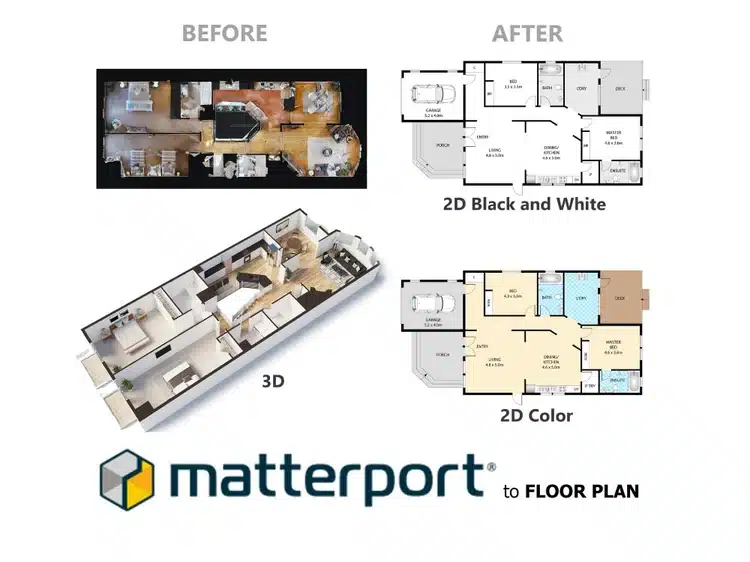 Matterport's advanced software enables its users to create highly accurate schematic floorplans along with full measurements and graphics of a building's key features. These plans are downloadable as PNG, PDF, and SVG files.
Google Street View
Matterports software allows you to publish your 3D tours on Google's street view via the Matterport cloud. This enables business owners to allow customers into their premises without actually leaving their homes.
These tours can also be added to websites and made available along with any other useful digital information gathered from the virtual tour for use within a marketing context.
Being listed on Google street view also means that the business in question will rank higher in search results which in turn increases customer engagement and interest in the products or services on offer.
4K Quality Images
Superior 3D capture is made possible by Matterports's state-of-the-art 4K camera. Scanning your space with the Matterport Pro2 3D will provide high-quality 4K images ready to use for a variety of purposes.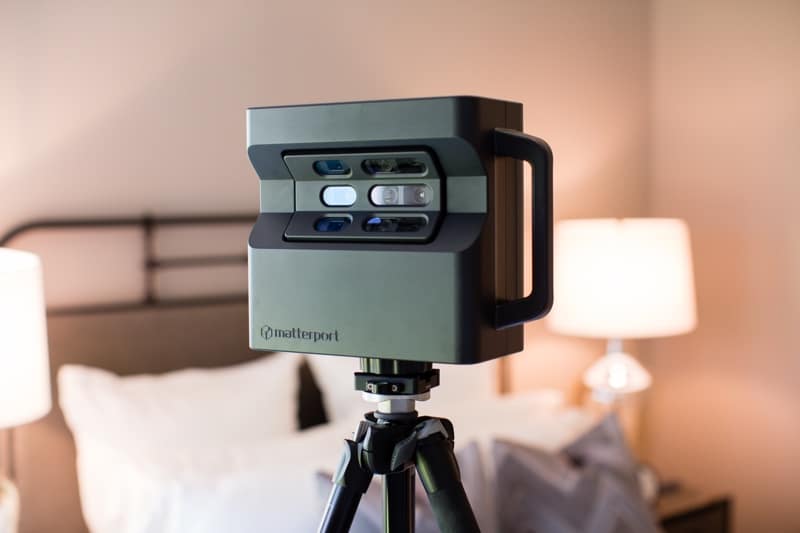 It boasts a photo resolution of 134 megapixels and is ideal for almost any space including houses, apartments, shops, and hotels.
Mattertags
MatterTags allows you to add notes and media to specific locations in your virtual tours. These can be used to highlight specific areas of interest on a property tour for example or to embed links, videos, and other media/information directly into your virtual space.
Measurement Mode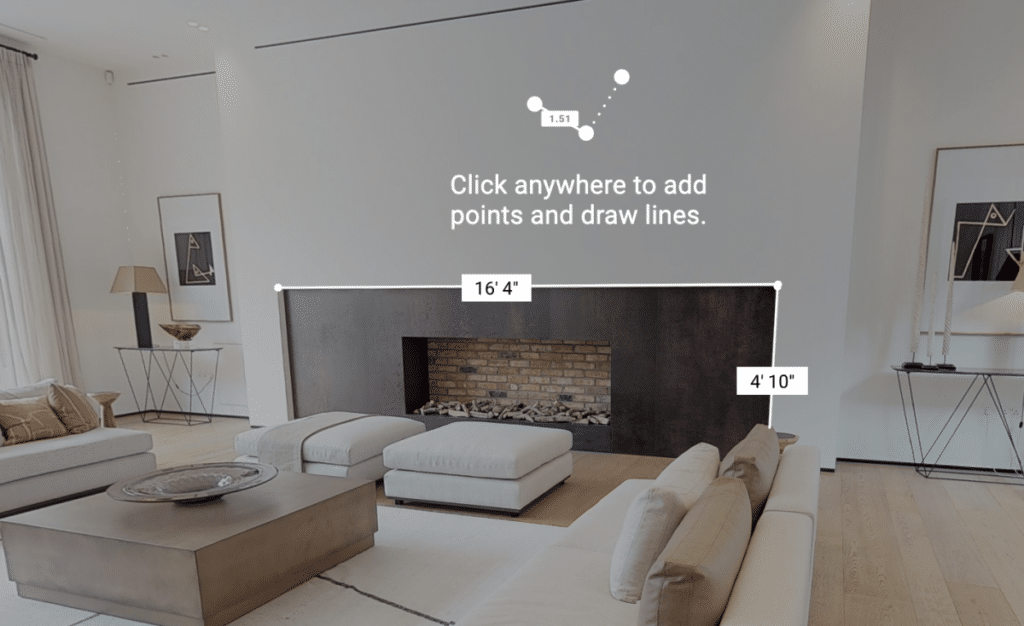 Measurement mode enables you to accurately measure any object or area within your 3D virtual space. This could be the dimensions of rooms or even objects inside the room itself. This saves countless hours and removes the need to visit the space in person.
Blur Brush Feature
This feature makes it easy to hide the identity of anyone who may appear in your virtual spaces by allowing you to blur their faces. It uses machine learning to blur human faces automatically and can be switched on or off as required.
Dollhouse Views
The Dollhouse views feature provides highly accurate interactive 3D floor plans. This provides an efficient way to navigate your virtual spaces and a means of providing this information in easily shared formats.
Tours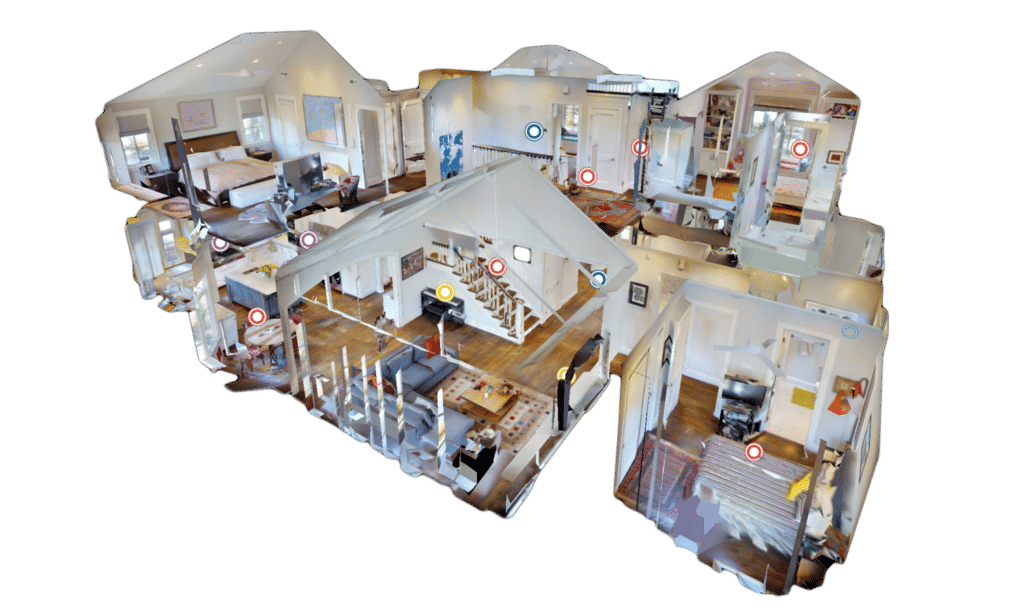 One of the most useful features of the Matterport system is the ability to create state-of-the-art 3D tours of virtual spaces. This is applicable in a variety of contexts including in the construction industry or as a means of providing a tour of a property in real estate.
Digital Mapping in Real Estate
Before digital mapping, decisions made in the real estate industry with regards to buying property, renting out office spaces, or organizing renovations required someone to show up in person and run outdated methods to track and gather information. This was usually a long and expensive process.
Nowadays you can access data-driven representations of properties and the surrounding areas from the comfort of your sofa. Virtual tours are now the new norm but digital mapping has also enabled agents to compile a wealth of information about the buildings they're working with which can all be stored on an app on their smartphone. Some features particularly useful in the real estate business include:
Mattertags – This allows you to share/highlight unique points of interest throughout the virtual tour
Collaborative measurements – Enables you to measure any aspect of the digital space and share this information without having to physically visit the location.
Easily produce and share accurate floorplans
Matterport camera – Creates high-quality 4K photographs of rooms and spaces
Compile the spatial data of properties into collections of downloadable files for more efficient collaboration and a better user experience
Quickly and efficiently offer Matterport virtual tours of properties up for sale or lease
Dollhouse views feature provides interactive 3D floor plans of properties
My Matterport provides a secure platform with dedicated Matterport login processes
Digital Mapping in Travel & Hospitality
The travel and hospitality sectors combined are thought by many to be some of the most lucrative industries in the world. Hotels in the USA alone raise over $200 billion a year in revenue. Now imagine how many hotels and restaurants and cafes and bakeries and takeaways there are around the world.
These industries have been shifting their directions in recent years towards more customer-centric experiences as opposed to tangible goods. This raises new possibilities for businesses looking to capitalize on this new customer base who are on the hunt for new experiences and venues in which to have them. Some examples of the ways digital mapping can be used to enhance the travel and hospitality industries include:
Providing digital maps to guests looking to navigate their way around a hotel or venue without having to rely on the inconvenience of paper maps
As a tool to help visitors in museums find their way to particular exhibits without having to waste time and energy searching blindly.
Providing instant virtual tours of hotel rooms and facilities prior to booking
More effective marketing can be harnessed in combination with digital map applications
More immersive user experiences via 3D videos and photography
The potential for hotels to offer personalized location-based communication via apps
The potential to implement augmented reality in venues like museums and concerts. For example, watching the artist of a painting in a museum talk you through their creative process
Digital Mapping for retail
Those in the retail industry are becoming more aware of the benefits of using digital mapping to boost their bottom lines. With the explosion of online shopping platforms like Amazon in recent years, physical shop owners have had to learn how to adapt. Some of the most useful benefits of digital mapping in the retail industry include:
Giving in-store shoppers more options – Shoppers can search for information relevant to their needs straight from their smartphones. Locations, categories, and 3D interactive maps are just a few of the features on offer to help shoppers find what they're looking for.
More efficient for store associates – easily maintain store layouts via 3D mapping. Associates can easily edit floor plans and product information in real-time via the app.
Better targeted messaging – digital maps combined with indoor positioning technology allow users to navigate their way around a store by receiving turn-by-turn directions. Targeted messages can also be sent to customers to notify them of nearby promotions, new products, or if the products they're looking for are sold out, for example.
Compiling customer insights – data collected when shoppers search for particular products, browse categories and move within stores can be collected via the app to help businesses better understand their customers' needs. Insights on the efficacy of certain promotions, search trends, and most popular category selections are just a few examples of how this data can be used to help make better decisions.
Digital Mapping for Photographers
3D photography is the art and science of creating images that show three dimensions instead of the normal two which only show height and width. The addition of a third dimension gives us the impression that we can move and interact within the image. 3D photography is now used in a range of different industries such as:
E-commerce – enabling customers to interact with their products 3 dimensionally and in great detail. This could be anything from the new iPhone to a piece of Scandinavian furniture.
Aerospace – used in the manufacturing of components
Industrial design – used to improve efficiency and reduce the cost of the design process
Engineering – used to help develop components and better understand the mechanisms at play within different structures
The Future of Digital Mapping
With the rise of the metaverse, the demand for high-quality virtual spaces has never been higher. Used across multiple global industries like real estate, retail, photography, hospitality, tourism, and manufacturing these 3D spaces are becoming an increasingly important part of our lives.
3D virtual reality is changing the way we interact with the world. It's radically transforming the way we do business, go shopping, make friends, create art and experience the internet.
Imagine being present for an office meeting comprised of participants from all over the world. Except you aren't sitting on a webcam in your pajamas but actually present in a shared virtual space.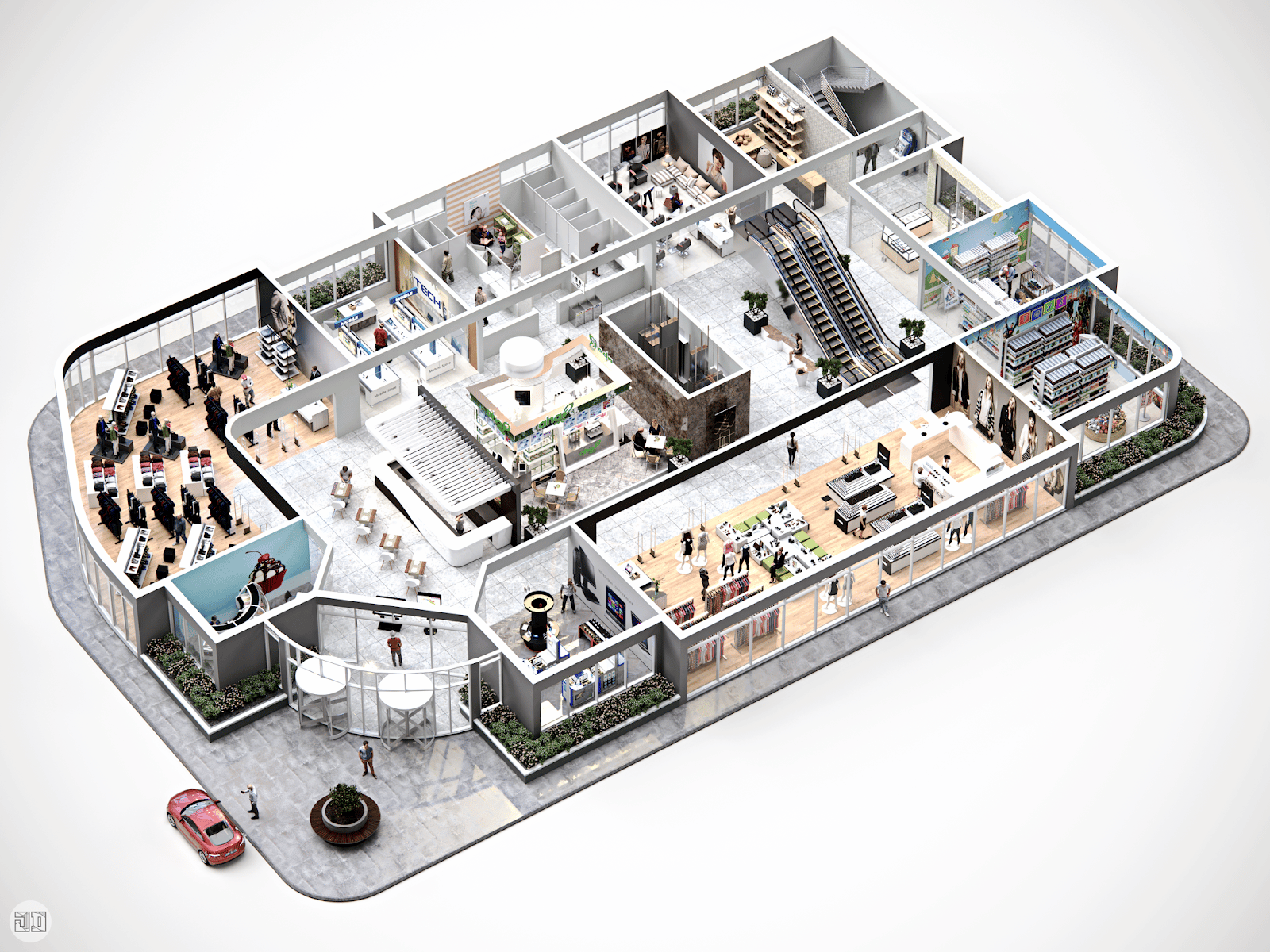 Or what if you could play a game of basketball with friends scattered across the country or the planet?

Or go to a museum on your lunch break without leaving your living room?
All these things are made possible by the creation of high-quality 3D virtual spaces. And whether we're hardened skeptics or true believers, the metaverse is no longer a figment of our imaginations but a constantly expanding reality…