Wow, that FOMO has never been this real. NFT's are here to stay and evolving faster than ever. If you lose track for just a little while, you're going to most likely feel you have missed the next big opportunity to riches. It never seems to pause for a second and keeping your cool to make the right decisions seems impossible.
What you need is easy-to-access information and research to make proper decisions fast and without too much headache all while keeping your emotions in place. You're in the right place. I know that FOMO is freaking real. This is why I've created and shared my top NFT accounts to follow in 2022 to stay ahead of the NFT game.
Best NFT accounts to follow
Sharing is caring. The better we work together in creating this new world, the faster it'll go and the more fun we have while doing it.
The majority is 'open sourced' and publicly available for you to track and follow, we can be right on the tails of the biggest whales in crypto and the NFT world. With just a little time investment and my resources, your next NFT investment will go to the moon while you keep your emotions in place. So without further ado, here's my ultimate NFT wallet account list to follow:
1. Pranksy
Pranksy has only made headlines in the NFT market in the recent past as an investor who doubles up as a collector with a legion of followers and massive collections of NFT's on the Ethereum blockchain. While writing this post, during the time-spam of 12 hours, his NFT collection grew with over 600 new additions.
With currently owning 30.8K NFT's, he has one of the largest NFT collections in the world that he surprisingly grew from only $600. Let that show that it is never too late to start!
Pranksy NFT account addresses:
0xd387a6e4e84a6c86bd90c158c6028a58cc8ac459
pranksy.eth
2. Faze Banks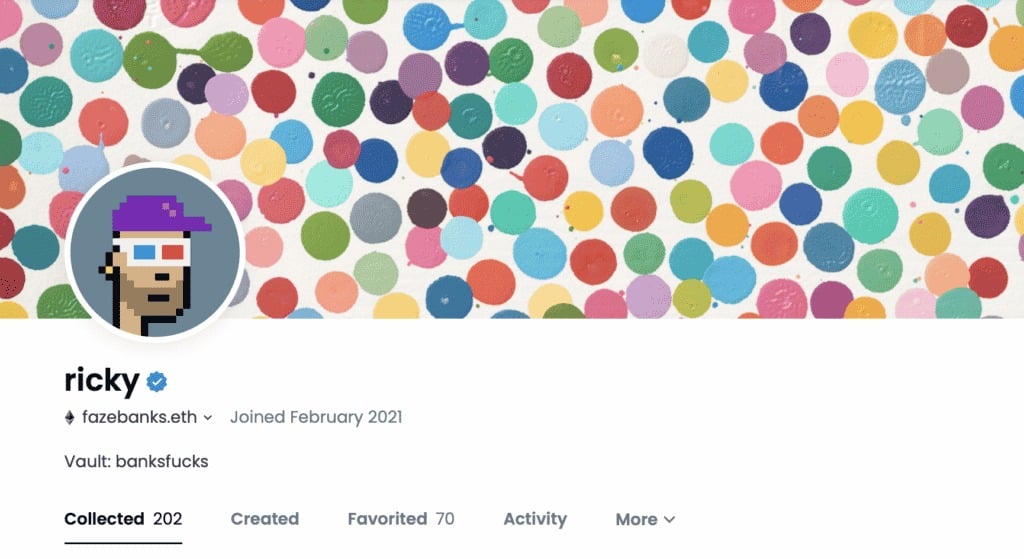 Faze Banks or Richard Bengston is a professional Youtuber and NFT investor from the US. As of 2022, his reported net worth is $13 million. He's also one of the owners of FaZe Clan, an e-sport company launched in 2010. Banks is most known for his 5.36 million subscribers on YouTube as well as 2.6 million followers on Twitter. Faze is said to own nine CryptoPunks and six Apes among other well-known NFTs and his portfolio is reportedly worth millions of dollars.
Faze Banks wallet addresses:
0x7d4823262bd2c6e4fa78872f2587dda2a65828ed
fazebanks.eth
3. Gmoney
Being one of the early collectors of CryptoPunks, Gmoney is among the most influential NFT collectors of this time with over 4K NFTs in his portfolio including Bored Apes, Mutant Apes, and Cryptopunks.
Gmoney NFT wallet addresses:
0xf0d6999725115e3ead3d927eb3329d63afaec09b
gmoney.eth
4. Fewocious
Fewocious is said to be one of the most successful NFT artists of his era. Victor Langlois started making art at the age of 13 from his home in Las Vegas. He is self-taught and learned his craft on an iPad at high school, and on a laptop given to him by his grandparents.
Now eighteen years old, he is reportedly the third highest-paid NFT creator in 2022. He is most well-known for selling an NFT collection for over 2 million dollars. Since then he is said to have sold thousands of different artworks estimated to be worth over $22 million.
Fewocious NFT wallet addresses:
0x35860583266f6c6cad540ef07b4d36ec0d925916
fewocious.eth
5. Gary Vee
Gary Vee or Gennady is a tech entrepreneur, investor, and social media icon. He is most well-known for making $91 million in 90 days selling his series of NFTs called "VeeFriends". VeeFriends is comprised of over 10,000 tokens depicting 268 artworks of characters like "Logical Lion" and Curious Crane". These tokens are presented as digital collector cards showing simple animal drawings on their faces.
Gary Vee is now chairman of the communications company VaynerX. He's the CEO of VaynerMedia and VaynerSports and is a bestselling author. His net worth is estimated to be over $200 million. And in this blog post here, he perfectly explains how careful you should be with believing what you read online and how to spot scams using his name.
Gary Vee's NFT wallet address: 0x5ea9681C3Ab9B5739810F8b91aE65EC47de62119
6. Richard Chan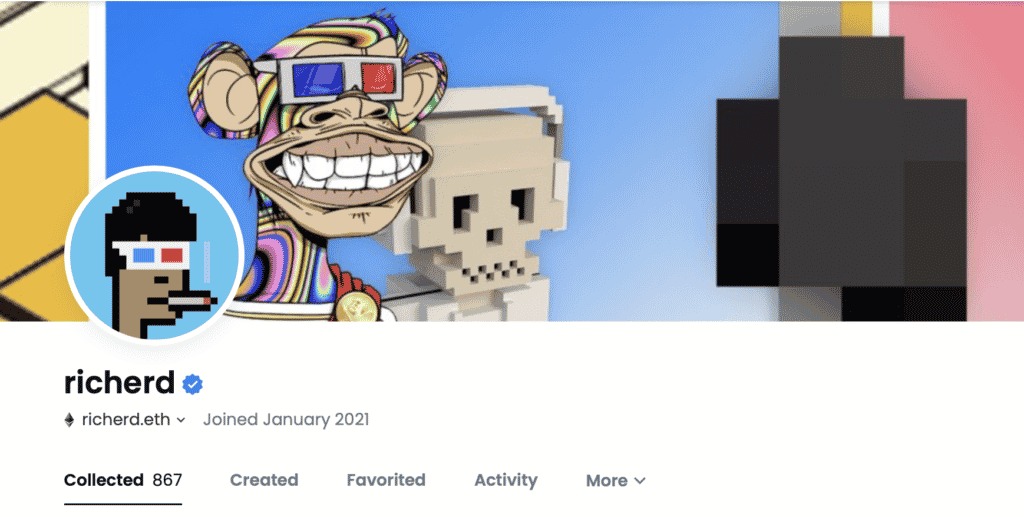 Richerd Chan is a web developer and founder of manifold.xyz. He's most known for making blockchain products for NFT artists like Roger Dickerman and Mad Dog Jones. His company manifold.xyz is a tech company that supplies NFT infrastructure, free open-source minting, and smart contracts.
Manifold's goals are to give the artist full control over their smart contracts, eventually aiming to make this the industry standard.
Richard Chan's wallet addresses:
0xeB1c22baACAFac7836f20f684C946228401FF01C
richerd.eth
7. Beeple
Beeple or Michael Joseph Winkelmann is a digital artist animator and graphic designer known for his unique style in which he uses comedy and references to pop culture for political and social commentary. He is most known for his "Everydays: the First 5000 Days" series which includes images that sold for almost $70 million.
He's also worked on visual art for live concerts for Justin Bieber, Katy Perry, Eminem, Zedd, One direction, and deadmau5 to name a few. Bleeper has been creating digital artwork and posting it online every day for over a decade.
Beeple NFT wallet address: 0xc6b0562605D35eE710138402B878ffe6F2E23807
8. ThankYouX
Ryan Wilson or ThankYouX, is an American visual artist, painter and NFT creator. He started his career as a graffiti artist in Los Angeles spray painting his own renditions of Andy Warhol paintings. Known for his use of bright colours and geometric figures, ThankYouX has published multiple works in several different formats. His paintings have been displayed in galleries around the world including in London, New York, Hong Kong and Los Angeles.
Recently ThankYouX has become a big name in the world of NFTs. After teaming up with photographer JN Silva he started releasing NFTs via his Instagram account.
ThankYouX NFT wallet addresses:
0xa84234Ee92A65e31aF7bA40af58cD5B89E8b52B4
thankyoux.eth
9. Fvckrender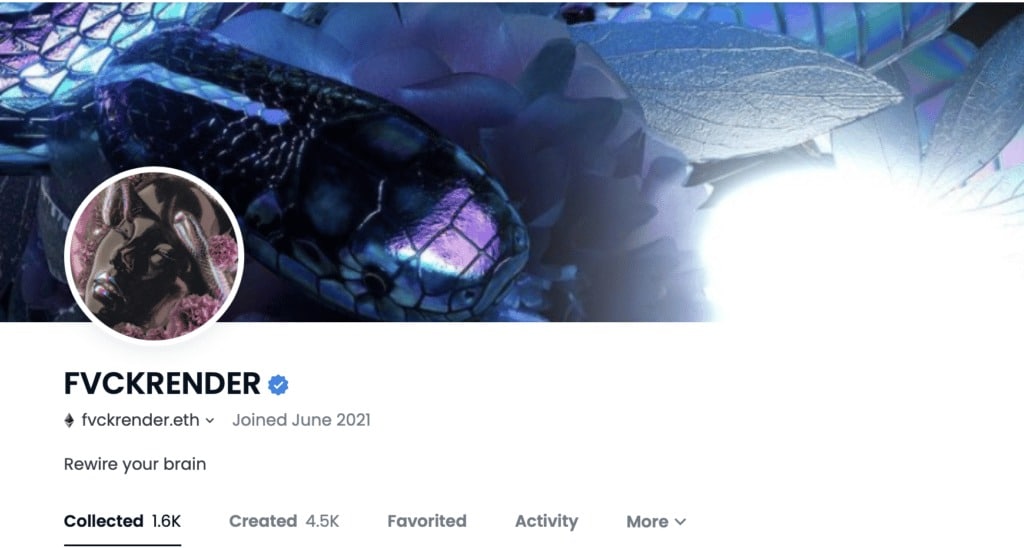 Fvckrender or Frederic Duquette is a 3D artist and NFT creator from Vancouver. He is known for using shiny geometric aesthetics and futuristic landscapes in his work which has been featured on Nifty Gateway and SuperRare.He is quickly becoming one of the biggest names in NFTs and is best known for selling a single piece of artwork for 25 ETH.
Fvckrender has collaborated with many brands and other artists throughout his career including Instagram, Supreme, Columbia Records, Lil Nas X, Puma and Spotify. Fvckrender's recent collaboration with the sculptor Matt Gondek featured NFTs at the core of a multifaceted experience released on Nifty Gateway.
Fvckrender NFT wallet addresses:
0xfDeD90A3B1348425577688866f798f94d77A0D02
fvckrender.eth
10. DCLBlogger
DCLBlogger otherwise known as Mateen Soudagar is an NFT investor and founder of DCLBlogger.com which is a prominent voice in the Decentralized Computing space. He is well known for his commentary and insights into the world of blockchain, NFTs and cryptocurrency. He regularly shares his thoughts via his Twitter account and enjoys a following of over 206K.
DCLBlogger NFT wallet address: 0x8b51C1Ba09EE33e7649CAc62cCb6d0f410F5647A
11. Olive Allen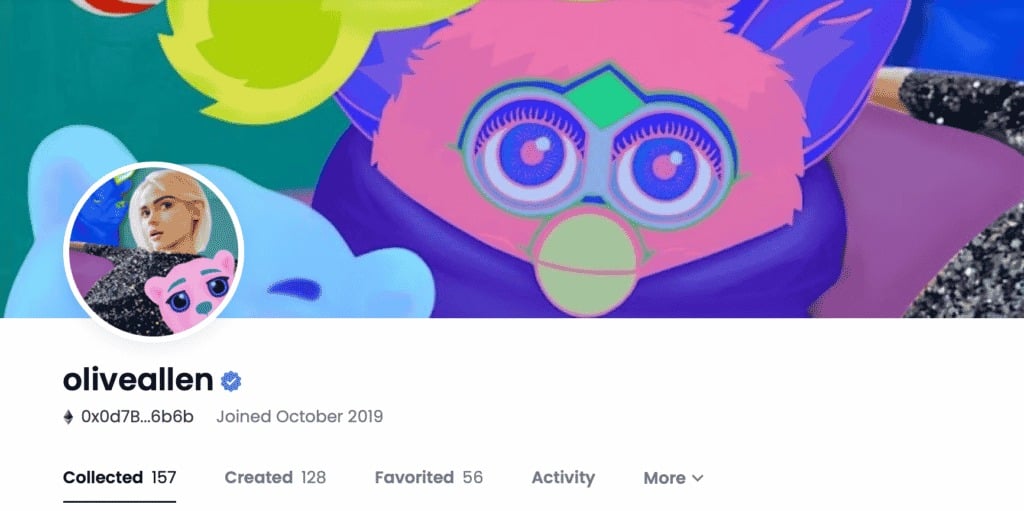 Olive Allen is an entrepreneur, filmmaker, and visual artist from New York. She is the creator and CEO of Decadent Inc, a social platform designed for the peer-to-peer exchange of NFTs and in-game collectibles. Her digital art contains frequent references to pop culture and is said to explore concepts through the lens of personal experience.
Olive started using Bitcoin in 2013 and since then has been an active voice in the crypto/blockchain community. Through her work, she aims to make a positive impact on the world by encouraging creativity and exploring new ways to communicate.
Olive Allen NFT wallet address: 0x0d7B35D672a35Cf21f707853810C467fABEc6b6b
12. Mark Cuban
Mark Cuban is an American entrepreneur, TV personality, and investor worth an estimated $4 billion. Cuban was one of the first well-known investors to show interest in NFTs long before they gained worldwide popularity. He owns stakes in well-known NFT platforms like Mintable, SuperRare Cryptoslam and OpenSea as well as owning the Dallas Mavericks and part of the company 2929 Entertainment.
Mark Cuban uses Twitter as a platform to educate his 8 million + followers on the potential of NFTs and other aspects of the crypto/blockchain space.
Mark Cuban's NFT wallet address: 0xa679c6154b8d4619Af9F83f0bF9a13A680e01eCf
13. Illestrater
Illestrater or Tim Kang is a well-known collector in the NFT space. He is the founder of the Sevens Foundation. Sevens is a non-profit organization dedicated to helping artists develop their careers by offering grants to those from disadvantaged backgrounds. Illestrater started to make a name for himself in the crypto world when he bought Pak's "mobius knot". Since then he has collaborated with Beeple and amassed almost 14K followers on Twitter.
Illestraters NFT wallet addresses:
0xeEE5Eb24E7A0EA53B75a1b9aD72e7D20562f4283
tim.eth
Getting on this NFT account list
Here are a few tips on how to make your way to NFT fame and possibly onto this list;
Create an NFT collection
To take your personal PR to the next level, you'll want to create and promote your very own NFT (collection). For that, you'll want to create a website and social media accounts to showcase and promote your NFT collection.
There are plenty of free and paid options out there that allow you to build your own websites like WordPress or Wix. Adding a blog to your webpage is another way to further promote your NFT collection and start sending more traffic to your site.
You must also promote your NFTs via social media and messenger groups. These platforms allow you to network with other NFT artists, collectors, and investors. It's a good idea to post at least once every two weeks to keep your followers up to date with your progress. Using social media also makes it easier to share your collection with like-minded people via discord or telegram groups.
Create Teasers
A teaser is a short video or animation designed to be shared on social media and posted on your website. It's used to create interest in your collection by hinting at an upcoming announcement or release. The best teasers create hype and keep your followers engaged with your projects.
Get featured
Getting featured in a weekly newsletter or in a guest post is a great way to get exposure for your NFT collection or personal accounts. Most newsletters nowadays are sent via email. There are many promotions you can approach to be featured in their newsletters.
Wrapping up
The NFT market is growing faster than anyone expected. In an industry that's moving at such a fast pace, it's important to find new ways to stay ahead of the curve.
Following the accounts of professionals within the NFT, space is a great way to stay informed and be inspired in your own NFT ventures. With the right habits and inspiration in place, you'll be sure to stay ahead of the NFT game in 2022 and beyond.