The emergence of AI art generators has sparked an exciting new era in the art world. Artists no longer need to rely on their own creative ability when creating works of art; they can tap into the powerful tools of artificial intelligence and machine learning technology to take their creative output to a whole new level.
With AI art generators, artists can quickly generate creative content that is tailored to their individual needs, allowing them to explore the boundaries of their imagination and express themselves in ways that may not have been possible before. AI art generators can be used in a variety of different contexts, from creating unique digital artwork for website designs to generative art for print or canvas.
It is all in your hands now not to paint the perfect piece of artwork but to write the perfect prompt to become the digital artist from a new era of AI-generated art.
Here are some crazy examples while using the same simple prompt to create a piece of artwork in the style of different famous painters.
Prompt: Playground at a city park
Pretty awesome right? And these AI artworks are among the simplest. With some prompt writing under your belt, you can generate much more immersive and impressive pieces of art right from your computer with the help of one of the AI generators outlined below.
We'd love to see in the comments what you will come up with so please feel free to share your art below!
The Best AI Art Generators for Realistic Artwork
To help you explore the realm of AI art generators, we've rounded up 11 of the best AI art generators out there. Each one offers something different that can bring your creative projects to life.
1. Jasper Art
Jasper Art AI is a revolutionary artwork generator that has earned its spot atop our list of the best art generators. With a sophisticated artificial intelligence engine, it can create stunning visual art with ease. Using advanced algorithms, Jasper Art AI produces images that look as if they were created by a professional artist.
Key Features of Jasper Art
Create stunning compositions with Jasper Art's library of over 10,000 royalty-free images.
Easily manipulate photos and add filters to create a unique look.
Use the brush tool to add custom details and textures.
Play around with the color palette to create vibrant visuals or muted tones.
Add text, shapes, annotations, and other elements to your artwork.
Seamlessly export your masterpiece in various resolutions and formats.
Get access to exclusive tutorials and tips from our experts.
The powerful technology of Jasper allows anyone to create impressive artwork with minimal effort. Whether you're a digital artist or just looking to add some aesthetically pleasing visuals to your project, Jasper Art AI is an excellent choice.
Pricing Jasper Art: $20/month per use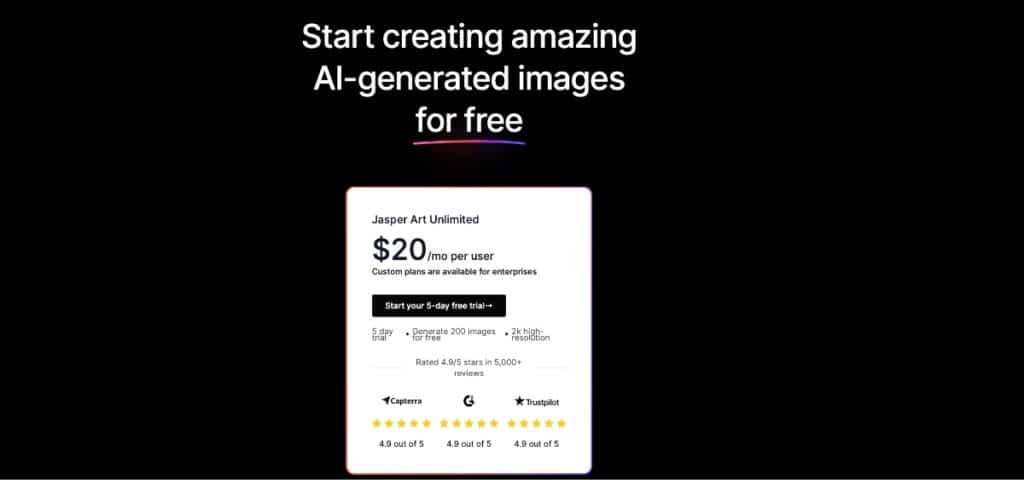 2. HotPot AI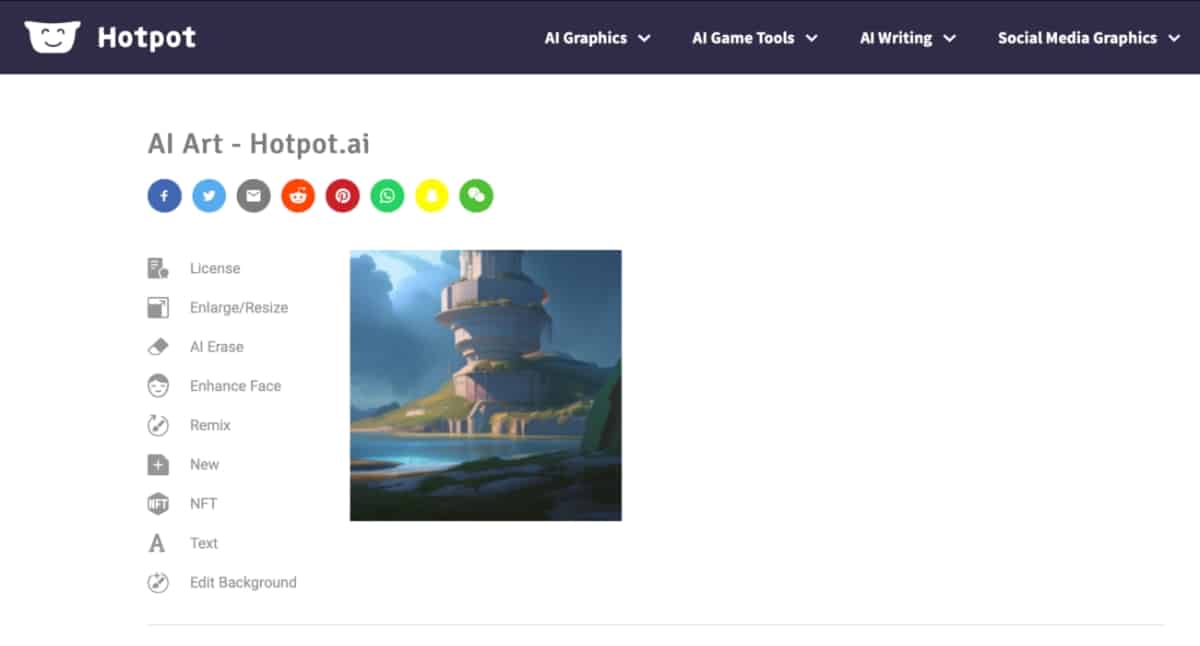 HotPot AI is a perfect solution for creating realistic digital art. What makes HotPot AI so special that it's ranked high on our AI Artwork list? Firstly, it's powered by GAN (Generative Adversarial Network) technology, allowing users to create artwork without needing any technical skills or experience.
Key Features of HotPot AI
Generate high-resolution digital images in just a few clicks of a button
Easily customize artwork with an intuitive user interface
Generate and share art quickly, without needing to have artistic skills or knowledge
Create artwork with a wide range of color palettes, sizes, and shapes
Incorporate your own images to create unique art pieces
Save your artwork for later editing and sharing
Share your art on social media quickly and easily.
Users simply upload a photo or other image and HotPot AI does the rest. It can be used for everything from creating digital art prints to designing unique wallpaper patterns―the possibilities are truly endless!
Pricing HotPot: $10/month for 1000 credits
3. NightCafe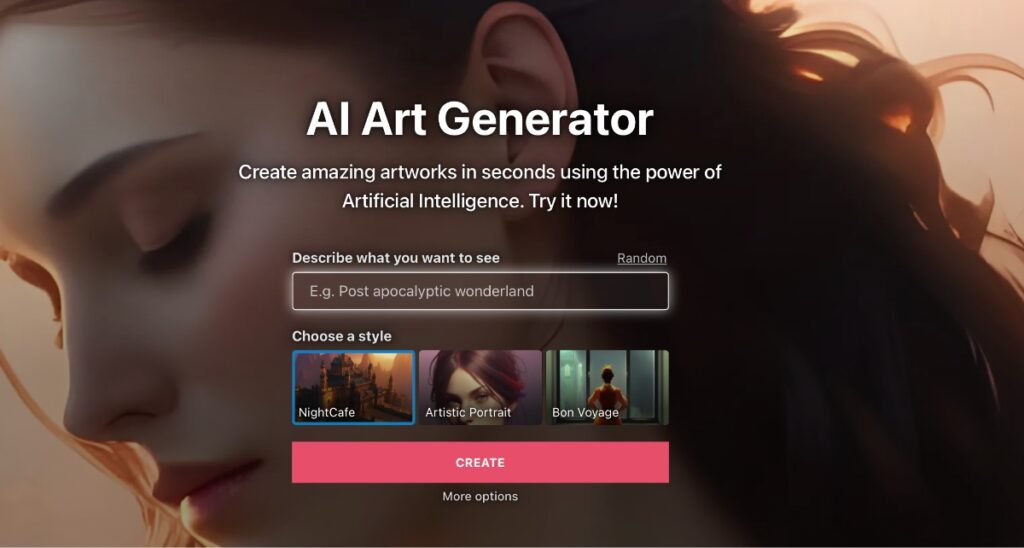 With its intuitive design platform and deep learning technology, NightCafe is the perfect tool for anyone looking to produce professional-level digital art quickly and easily. That's why it's ranked third on our list of the top AI art generators!
Key Features of NightCafe
Variety of art styles to choose from
Customizable tools to personalize your artwork
Easy-to-navigate user interface
Ability to share artwork with others online
Support for popular file formats, including JPEG and PNG.
Whether you're looking for an abstract landscape or a beautiful portrait, you're sure to find something creative and unique with NightCafe AI Art Generator.
Pricing Nightcafe: $9.99/month – $19.99/month – $49.99/month $79.99/month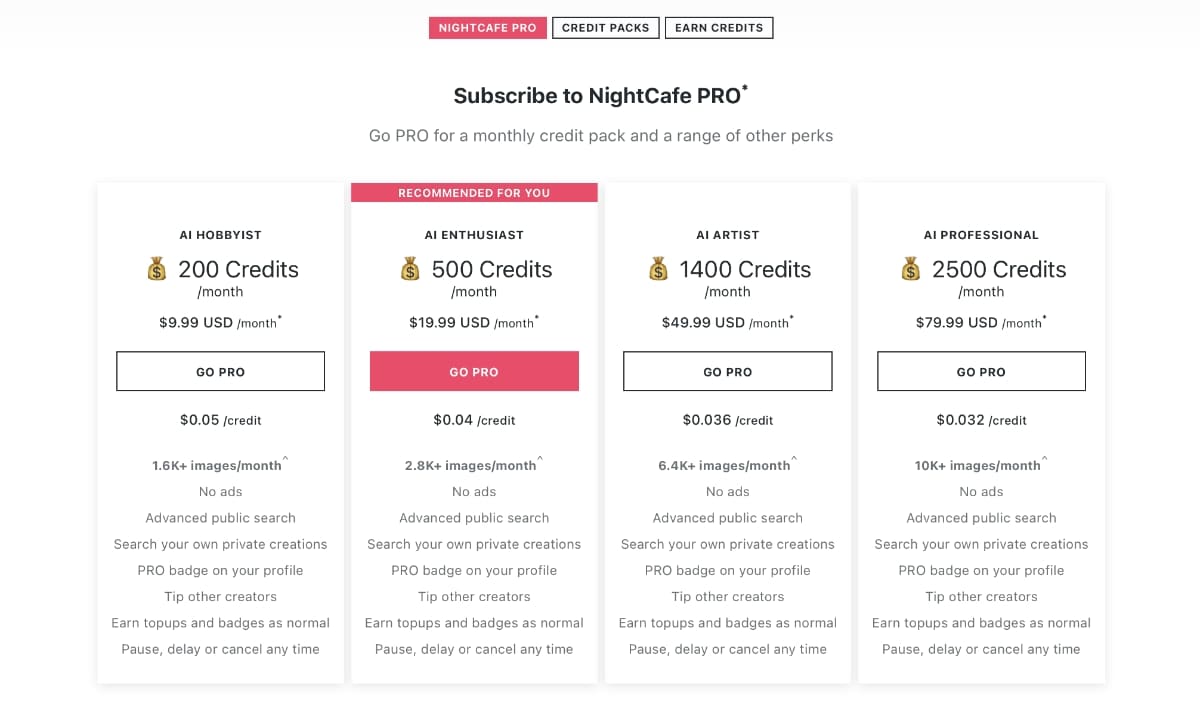 4. Playground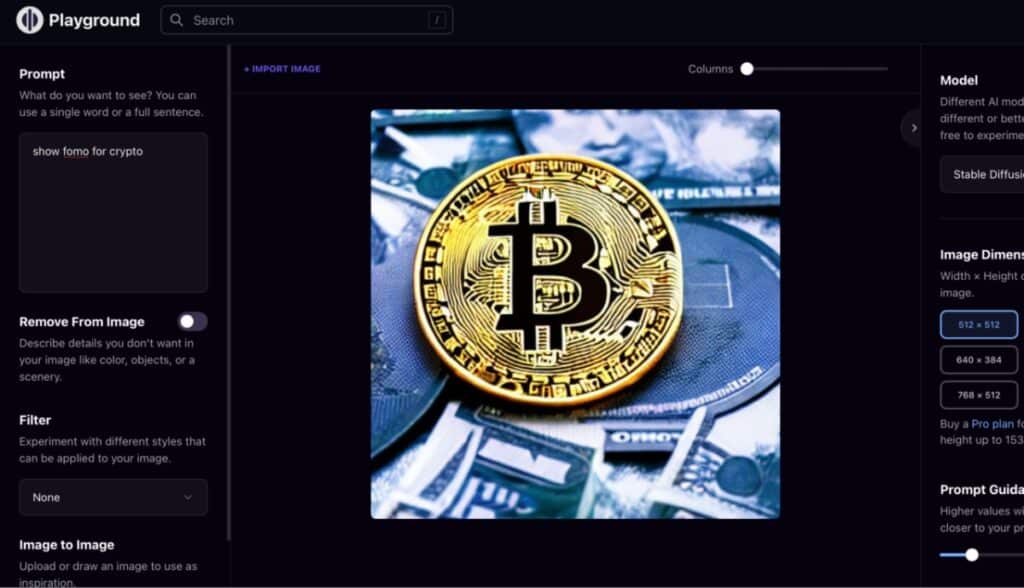 By leveraging deep learning algorithms, Playground users to create realistic and beautiful art with minimal effort. With its easy-to-use interface, the software allows people of all skill levels to create stunning visuals in a few clicks.
Key Features of Playground
Generating art from images and text with just one click
Automatically adding effects and colors to the artwork
Sharing artwork directly with social media platforms
Allowing users to collaborate on projects in real-time
What sets Playground AI apart from other art-generating tools is its ability to generate art with a unique "Playground feel". Its proprietary deep learning algorithms give users the ability to craft pieces of art with a truly unique style, different from what other programs are capable of.
Pricing Playground AI: free – $15/month
5. Mage.Space
Mage.Space has been ranked highly on our list due to its unique features, such as the ability to mix different colors and shades to get the desired look, an easy-to-use interface, and a plethora of options for customization.
Key Features of MageSpace
Intuitive drag-and-drop store builder for easy customization
Flexible payment options so you can accept payments from all major credit cards and more
Advanced reporting and analytics to help you track store performance
Comprehensive customer service management tools for efficient order processing
Powerful search engine optimization features for higher visibility and better ranking in search results
Robust security protocols protect your data from intruders.
With Mage.Space Art Generator, the possibilities are endless. You can create stunning visual art, logos, and more in no time. It is easy to use for all levels of expertise, so anyone from a beginner to the experienced artist can make great-looking artwork with it.
6. OpenArt.ai
OpenArt.ai is a tool for designers and creatives that quickly generates unique digital works of art. It allows users to customize the output of the generator, creating even more unique art from a single image.
Key Features of OpenArt.ai
Easy-to-use interface with intuitive navigation
Rich library of artwork to choose from
Personalized art recommendations tailored to your taste and style
Advanced order tracking to ensure timely delivery
Support for digital downloads and print-on-demand services.
The OpenArt Generator is capable of generating visualizations with an impressive level of detail and complexity, making it ideal for both commercial and personal projects. Additionally, the tool is easy to use, requiring no coding knowledge or technical expertise. This makes it accessible to a wider range of users, including those with minimal design experience.
Pricing OpenArt: $9.99/month
7. DreamLike.Art
DreamLike.Art is an AI-powered image generator that makes it easy to create photorealistic images using just a few clicks. Its results are impressive: the generated images look almost identical to real photographs, making them ideal for use in marketing, advertising, and other creative projects. D
Key Features of DreamLike.Art
High-quality photo filters and effects for creating beautiful images
Intuitive user interface for efficient workflow
Ability to share creations with friends and family
Ability to save and store artwork for future use
Hundreds of templates and resources for inspiration and guidance
Professional brushes, textures, shapes, and more for adding unique flair to artwork
Support for popular file formats, such as PDF, JPEG, TIFF, and PNG.
DreamLike.Art also enables users to customize their images with text, filters, and other elements for a truly unique look. Using the generator is simple and intuitive, making it an invaluable tool for graphic designers, photographers, marketers, and anyone else who needs to create stunning visuals quickly and easily.
Pricing DreamLike.Art: $15/month – $30/month – $75/month
8. Starry.AI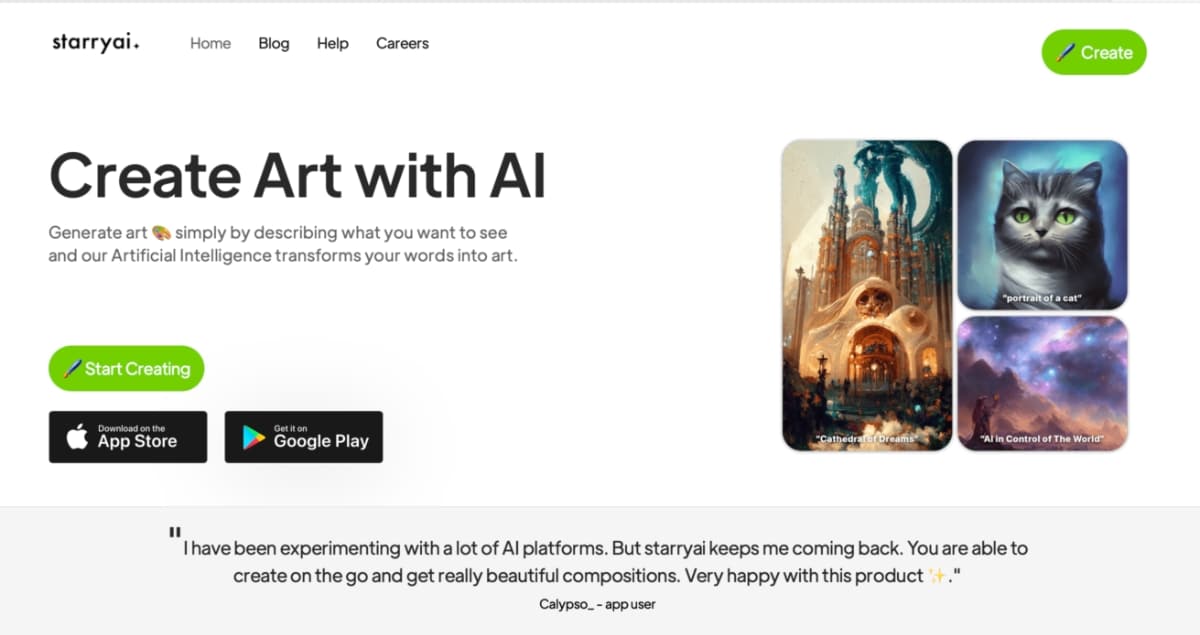 The StarryAI generator is a powerful tool for speeding up development and prototyping. It allows developers to quickly create custom AI models, as well as modify existing ones, without having to write any code. This makes it easier for teams to experiment with different approaches and test ideas faster, resulting in accelerated development timeframes.
Key Features of Starry.AI
AI-powered smart brush allows users to automatically generate art in minutes
Intuitive interface makes it easy to create and edit artwork
User database has a large number of user-created artworks, making it easy to find inspiration.
A range of different color palettes are tailored to different styles and moods
Artworks can be exported in a variety of formats
The platform is supported by an active community of creatives.
This generator also provides access to a library of tools and resources that help developers optimize the models they build, including tutorials, coding templates, and model evaluation metrics. With its intuitive interface and fast prototyping capabilities, StarryAI is an invaluable resource for AI development projects.
Pricing Starry AI: $8/month – $10/month – $11.00/month
9. Lexica.Art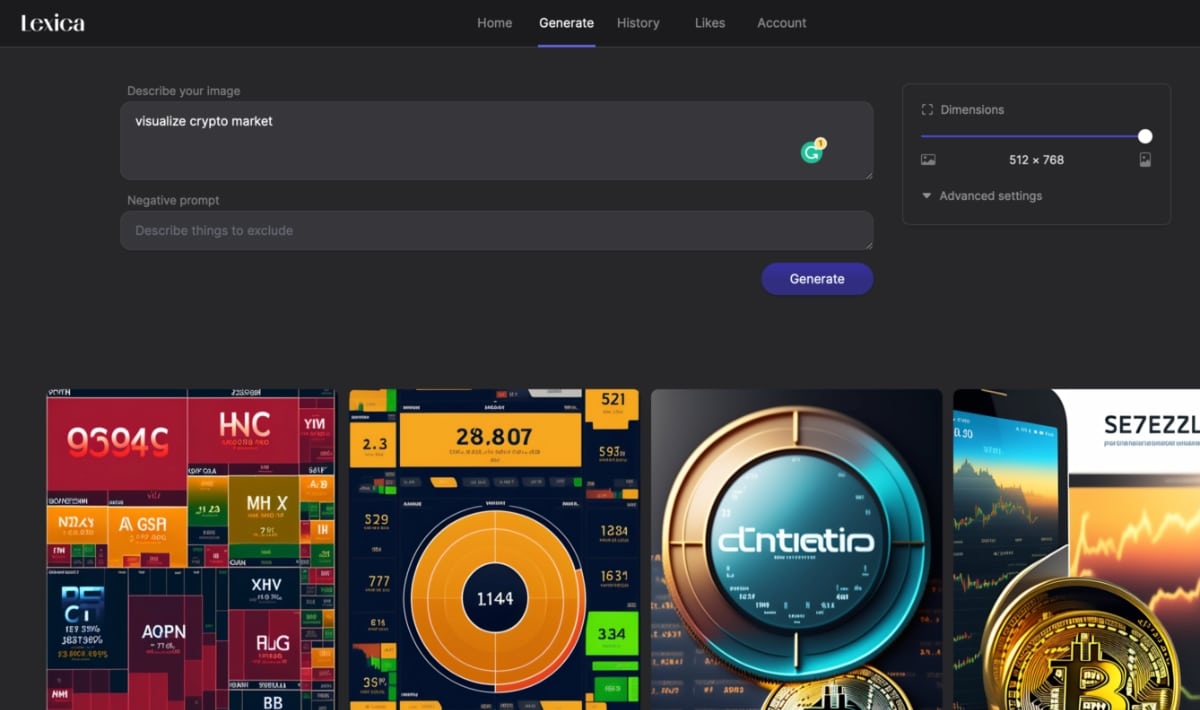 Lexica.Art was launched in 2020 as a tool to help artists create unique and captivating art pieces quickly and easily. Using the power of artificial intelligence, Lexica.Art can generate high-quality digital art from a photo, logo, or artwork uploaded by the artist.
Key Features of Lexica.Art
Unique, customizable design options
Easy-to-use interface with intuitive controls
Generates high-resolution images
Extraordinary design library with hundreds of styles to explore
Professional-grade quality images
User-friendly design tools with professional results
Ability to create art from your own photos and videos
The technology uses neural networks to analyze an image and produce completely original artwork. Artists can then customize the work with a variety of filters, effects and brushes to create unique art that stands out from the crowd.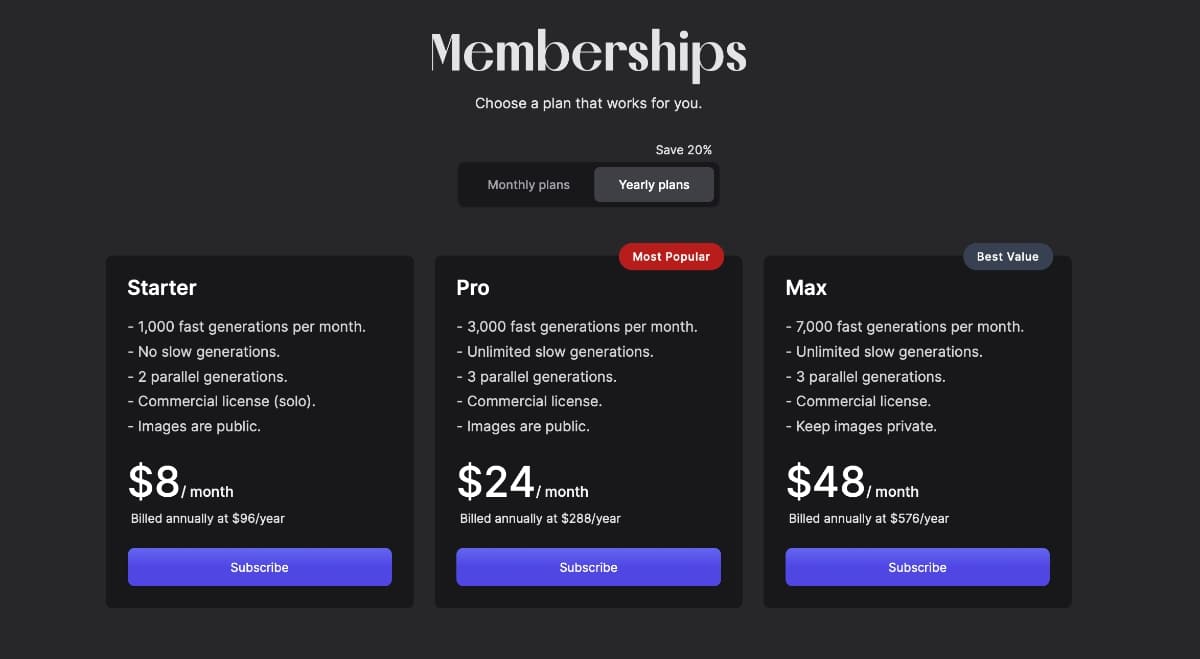 10. Fy!Studio
Fy!Studio art generator makes use of an algorithm that automatically generates images from the user's input, producing unique results every time. Artists can set parameters such as resolution and color palette to customize their images and make them truly unique. The generator also has a library of pre-made images that can be used as inspiration or even used directly in the artwork.
Key Features of Fy!Studio
An easy-to-use interface that lets you customize and tweak your artwork.
An ever-growing library of creative elements that can be used to enhance your artwork.
An AI-based color palette system that helps you get the perfect look for your artwork.
An advanced sharing feature to let you showcase your artwork to the world.
A comprehensive suite of tools to help you refine and polish your artwork.
Integration with popular image editing software so you can easily import and export your artwork.
A helpful online community of artists, designers, and developers
The website doesn't feature any information about the software pricing policy, which is why it's so low on our list.
11. DaVinciFace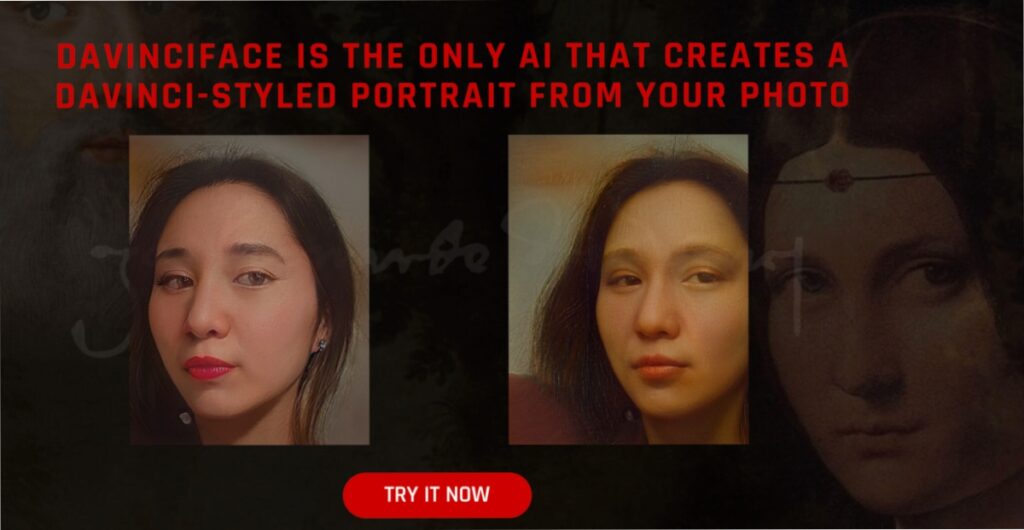 The DaVinciFace was launched in 2020 as an interactive tool that helps artists create realistic 3D faces. The generator is powered by artificial intelligence and uses a neural network to take 2D digital images of people and generate 3D versions of them. The AI-driven software can be used to make detailed facial simulations, enabling artists to create lifelike portraits with realistic textures and proportions.
Key Features of DaVinciFace
Generate a variety of realistic faces using AI algorithms
Create different ethnicities, age groups, and genders
Control the facial features to create the exact look you want
Easily export the generated faces in a variety of formats
Automatically generate multiple faces with one click
Customize the generated faces with accessories and hairstyles
Utilize advanced settings to fine-tune your results.
Artists can then use the 3D models in their artwork, whether it be for animations, video games, or traditional art pieces.
Becoming an AI Artist Yourself
AI art generators like Jasper AI, HotPot AI, NightCafe, and others mentioned above have revolutionized the way we create and appreciate the artwork. With these intuitive tools, anyone can create and explore art in a new way – no matter their artistic experience.
Whether you're looking for an automated generator to create realistic artwork or an AI-assisted editor to refine existing images, these tools provide a wide range of options for creating unique and beautiful works of art, drawings, paintings, or even photorealistic sculptures.